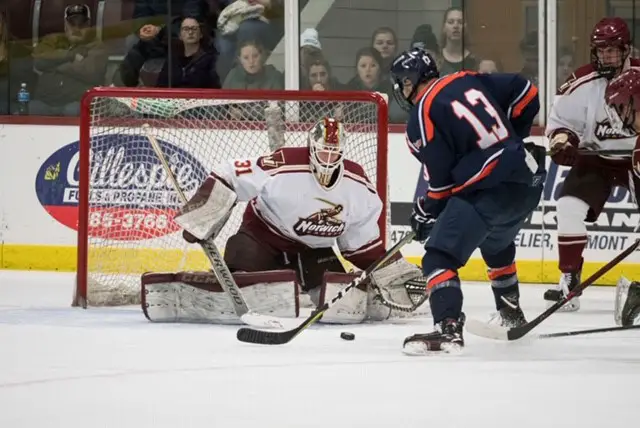 There seemed to be a lot of scoring last week with several teams posting six or more goals in conference play contests. This week the story may be more focused on the defensive end and whether Norwich will surrender a goal after three shutout games to open the season. Great contender match-ups this weekend to set the tone for great hockey. Last week my picks finished at 5-3-1 (.611) so I cooled off from the strong start in week one. Overall, the record is 11-5-2 (.667) so room for improvement with some challenging marque games from which to choose a winner. Here are this week's picks:
Thursday, November 14, 2019
Massachusetts-Dartmouth @ Worcester State
Both teams got off to a good start in conference play and will look to build on that momentum. Steven Leonard is the difference for the Corsairs in a key road win – UMD 4, Worcester State 2
Friday, November 15, 2019
Wentworth @ No. 11 University of New England
The Leopards are not a team to be overlooked in the CCC, but the Nor'easters proved to be an offensive powerhouse last week and continue the momentum on home ice – UNE 5, Wentworth 1
No. 1 Norwich @ No. 5 Hobart
Just three weeks into the season and the league favorites match-up in an early season big game. Hobart has home ice but Norwich and Tom Aubrun have been unscored upon to open the season. Shutout streak is broken but two points are more important – Norwich 3, Hobart 1
Nazareth @ No. 12 Utica
The Golden Flyers laid an eight-spot on Neumann and then seven goals on Manhattanville on the road last weekend. Not the big numbers at Utica but enough for a win and a 3-0 start in the league – Nazareth 4, Utica 3
Brockport @ No. 3 Oswego
Hey Lakers – TRAP GAME alert! Know you are at Geneseo on Saturday but best not look past this very talented Brockport team on Friday. Home team gets the job done but may need some extra time to do it – Oswego 3, Brockport 2
Saturday, November 16, 2018
No. 3 Oswego @ No. 2 Geneseo
Another great game this weekend for early season positioning for the top spot. These two teams are ranked two and three in the country for a reason and the game will not disappoint. Would pick a tie if I could but taking the visitors in an upset – Oswego 3, Geneseo 2.
St. Michael's @ Assumption
This one has overtime written all over it and the Greyhounds look to knock off the overtime tested Purple Knights for key NE-10 points. David Zulauf steals the win for the home team – Assumption 4, St. Michael's 3
Tufts @ No. 7 Trinity
The Bantams have quietly moved up in the rankings without playing a game yet this season. NESCAC kicks off this weekend and the defending champions show they are ready to contend again – Trinity 5, Tufts 2
Plymouth State @ Westfield State
The Panthers have always been very strong at home and this week look to state their case against a talented Owls squad led by former Panther goalie Thierry Messervier. An empty-net goal is the deciding tally in a close game – Plymouth State 4, Westfield State 2
Everybody is now at the party with NESCAC teams joining play this week. Great match-ups across the board so look for some playoff caliber hockey – "Drop the Puck!"