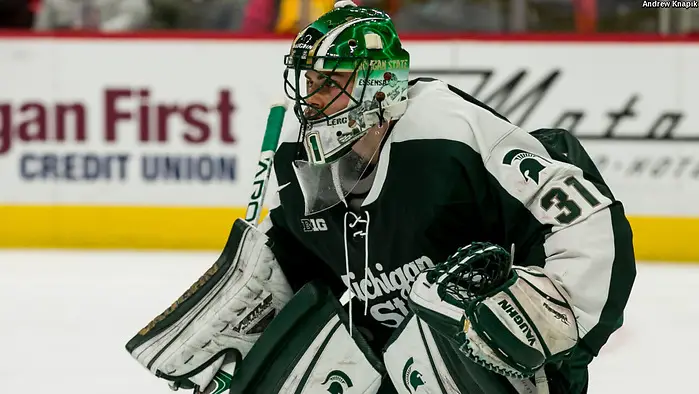 A mixed bag for our picks last week. Neither of us picked Michigan State to pull the upset in Happy Valley or saw Notre Dame coming away with a seep. Picking a split, the wrong way, came back to bite Paula once again in the Wisconsin/Omaha series. Here's how we did.
Last week
Drew: 4-3-1 (.563)
Paula: 2-5-1 (.313)
This season
Drew: 35-15-3 (.689)
Paula: 30-20-3 (.644)
This week
Three B1G series spread across three nights this weekend. Ohio State takes the weekend off. All times are local.
Michigan State at/vs. Michigan
Thursday at 6:30 p.m., Saturday at 7:00 p.m.
It's early in the conference slate, but this could be a big series if one of these two wants to climb out of the lower echelon and make some noise. Michigan State's John Lethemon was spectacular last Friday against Penn State, picking up a 48-save shutout as the Spartans dropped the Nittany Lions 2-0. Michigan, on the other hand, suffered a power outage against Minnesota, scoring only two goals on the weekend against the Gophers.
Drew: Michigan State 4-2, 3-1
Paula Michigan 4-2, Michigan State 3-2
No. 8 Penn State at Minnesota
Friday and Saturday at 7:00 p.m.
The young Gophers will look to keep the momentum they gained at Yost last weekend rolling, but, as I noted in the column this week, their schedule leading into Christmas is daunting. That starts this weekend when Penn State comes to town. In theory, the larger ice sheet at Mariucci should be a welcome sight for an offensive-happy team like Penn State, but that's not always the case for opposing teams. This is also the first road test of the season for Penn State, so maybe they've been a little coddled playing in front of the home fans so often.
Drew: Minnesota 4-3, Penn State 6-2
Paula Minnesota 3-2, Penn State 5-1
No. 4 Notre Dame at No. 15 Wisconsin
Friday and Saturday at 7:00 p.m.
Both of these teams come into this series with good offensive-numbers, so it'll be fun to watch and see if it lives up to the hype. With all the talented-offensive players on the ice, defensive-pressure and special teams will obviously be important, too. The Badgers, who are 2-4 since they swept Minnesota Duluth, would welcome a positive result this weekend to get back on track. Notre Dame's only blemish so far this season, a tie against Minnesota, came on the road.
Drew: Notre Dame 4-3, 4-3
Paula Wisconsin 3-2, Notre Dame 3-2
Tweet us!
Follow Paula (@paulacweston) and me (@drewclaussen) on Twitter.
Enjoy the games, everyone!