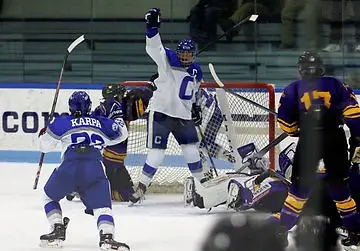 Colby sweeps No. 6 Williams
In the opening weekend of NESCAC play, No. 6 Williams traveled up to Maine and was swept by Colby, losing 2-1 and 4-3. The Mules split their goaltending duties, with sophomore Nina Prünster starting Friday and making 25 saves and junior Cierra San Roman getting the nod Saturday, making 24 saves. Friday, Williams held the edge going into the third period, but Cindy Giandomenico scored at 12:26 to tie it, and Lexi Cafiero scored with 26 seconds left in the game to give Colby the win. Saturday, Colby rallied again, as Tess Dupre scored twice, scoring at 1:07 of the second to tie the game at 1-1, and then scoring 58 seconds into the third to complete Colby's second rally, giving the Mules a 4-3 lead they would hold. All of Williams' goals in the game came on the power play.
Adrian romps over Marian
Adrian scored 18 goals in a sweep of Marian, winning 10-0 Friday and 8-0 Saturday. Jacqueline White had a hat trick Friday, while D-I transfer Nicole Guagliardo continues to key the Adrian offense. Friday, she had two goals and three assists, while Saturday she had a goal and assist. White added a goal and two assists to her weekend total. Guagliardo currently leads the nation in scoring with 12 points.
Nazareth continues hot start
Nazaerth swept its opening UCHC games over the weekend, defeating Wilkes and King's, 7-0 and 10 respectively. Sophomore Keeley Rose had a goal Friday, and followed that a two-point night Saturday, keeping pace with Guagliardo for the national scoring lead. Nikolle Van Stralen had two goals and two assists Saturday, while she had two goals and an assist Friday. Nazareth faces a much stiffer test next weekend when they play No. 3 Elmira.
No. 7 Norwich rolls
Norwich swept its weekend, defeating New England College, 8-0, on Friday, and following that with a 4-1 win over Trinity Saturday. Amanda Conway and Kelley Madden each had two goals and an assist Friday, while Morgan Tefft had three assists. Conway chipped in another two goals Saturday, while Brynn Wopperer's short-handed tally midway through the second period proved the game-winner.