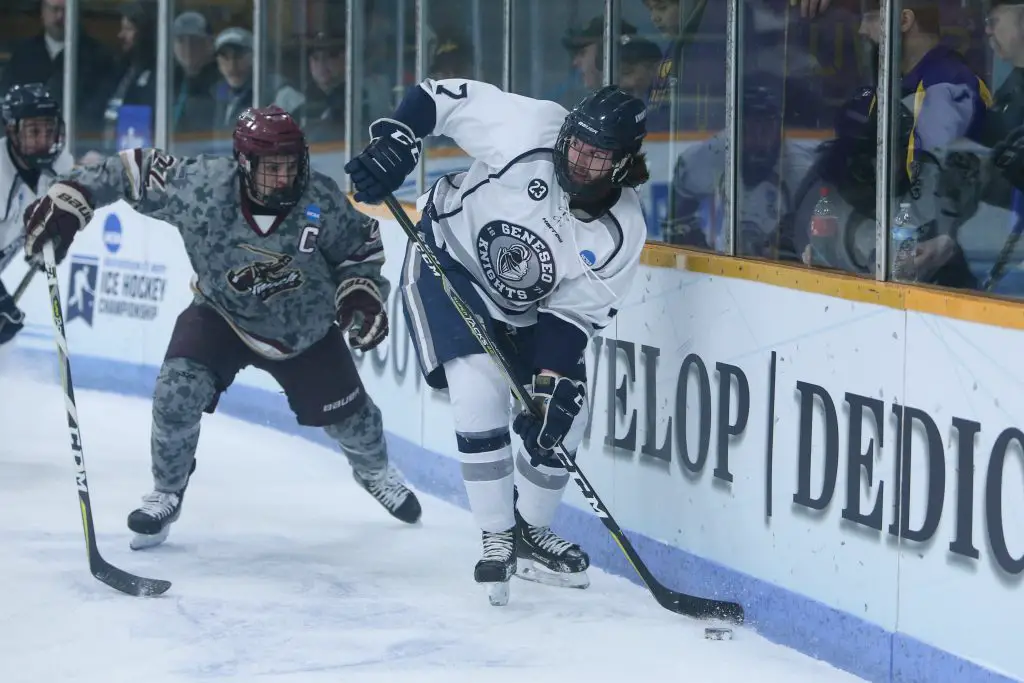 Several "statement" games were played in conference play with some surprising results. Oh, and then were the dramatic last second goals for wins from Endicott and Brockport. The coaches always say it needs to be a sixty-minute effort, so it really hurts when 59:59 or 64:59 isn't good enough.
Here is this week's recap of the D-III action in the East:
CCC
Endicott played Nichols this weekend and Friday's game finished regulation tied at 3-3 after the Bison rallied from two goals down in the third period to send the game into overtime. Endicott's Eric Manoukian scored his first goal of the season with just one tick left in overtime to give the Gulls a 4-3 road win. On Saturday, goals from Jake Simons, Eric Johansson and Svet Kuchynski gave the Gulls a 3-1 lead at home that Conor O'Brien's 31 saves protected for the win and two-game sweep.
The University of New England used a 20-save shutout from goalie Ben Churchfield to down Wentworth on Friday night, 5-0. On Saturday, things were a little tighter as the Leopards battled the Nor'easters to a 4-4 score in the third period before Ryan Burr's power play goal gave UNE the road win and weekend sweep, 5-4.
Independents
Anna Maria moved to 3-1-2 on the season with a 3-2 overtime win over Suffolk on Saturday night. Sam Cyr-Ledoux scored the game-winner just 1:09 into the extra session after teammate Jack Sitzman tied the game with an unassisted goal in the third period.
Bryn Athyn picked up a 3-1 win over Albertus Magnus last Sunday and then tied Nazareth on Saturday night, 3-3. After building a 3-0 lead on goals from Cameron Shorrock, Brett Dillon and Tanner Congdon, the Lions held on for the tie behind 27 saves from goaltender McKenzie Chalmers.
MASCAC
Westfield State picked up a pair of conference wins starting with Thursday night's 8-2 win over Salem State. Five different players recorded three-point games for the Owls in their first conference win of the season. On Saturday, the Owls served notice to the defending champs from Plymouth State with a 5-2 win. Robert Neuwith and Danny Ferri scored in the third period to break open a tight 3-2 game and goaltender Thierry Messervier made 30 saves in the upset win.
After spotting Massachusetts-Dartmouth a 3-0 lead on Thursday night, Worcester State scored five unanswered goals, including a pair from Brian Smith in a come-from-behind 5-3 win over the Corsairs. On Saturday, the Lancers stayed unbeaten in MASCAC play with a 5-0 win over Framingham State. Smith again got the offense started with the opening goal of the game and goalie Ryan Hoff made 30 saves to earn the shutout win.
NE-10
Assumption was atop the standings entering play this weekend but fell to St. Michael's 2-1 on Friday night. Thomas Flack and Sel Narby's first period goals were enough offense and Tim Decker was outstanding in goal making 15 of his 26 saves in the third period to preserve the win for the Purple Knights.
After outshooting Stonehill 50-39 on Friday night, St. Anselm needed an extra-attacker goal to earn a 3-3 tie. Matthew Schoen was outstanding in goal for Stonehill making 47 saves. On Saturday night, the Hawks again had a big shot advantage but leveraged power play goals from Mike Ferraro and Liam O'Sullivan for a 3-1 win moving the Hawks to 2-0-1 in conference play.
NEHC
Norwich had not surrendered a goal through their first two weeks of play but figured to get a stern test at Hobart on Friday night. Felix Brassard provided all the offense goalie Tom Aubrun would need in a playoff style 2-1 win over the Statesmen. Hobart outshot the Cadets 33-27 but could only muster a late extra attacker goal from Lawson MacDougall. On Saturday, Norwich got back to their shutout ways with a 2-0 win at Skidmore. Brassard picked up his third goal of the weekend and Aubrun recorded his fourth shutout in Norwich's first five games.
New England College picked up two big wins over Massachusetts-Boston and Babson to announce their contender status in the league. The Pilgrims scored four unanswered goals to rally from a 3-2 deficit for a 6-3 win. The first line of Carlos Fornaris, Daniel Bergqvist and Nikita Pintusov combined for three goals and six assists in the win. On Saturday against Babson, Pintusov scored a hat trick including two goals in the final four-minutes of play to break a 3-3 tie and give NEC a 5-3 win. The Pilgrims are now 3-1-0 in conference play.
NESCAC
The conference opened play this weekend with ranked Trinity playing host to Conn College and Tufts to open their season. The Bantams outshot the Camels but needed a power play goal from Dylan Healey and an empty-net goal from Cole Poliziani to seal the 3-1 win. Saturday, Trinity got goals from four different players in a 4-1 win over Tufts. Goaltender Tedy Loughborough picked up both wins for Trinity.
Williams surrendered an opening period goal to Colby's Brendan Murphy and then scored four straight goals, including three in the second period for a 4-1 opening night win over the Mules. On Saturday, the Ephs jumped out to an early 2-0 lead against Bowdoin but needed 40 saves from netminder Evan Ruschil and two third period goals to break open a close game on the way to a 5-1 win over Bowdoin. Niko Karamanis scored a pair of goals for Williams.
Amherst raced to a 3-0 lead in the first 4:07 of the first period and cruised to a 5-2 win over travel partner Hamilton on Saturday night. Pieter von Steinberg's shorthanded tally and PJ Conlan's power play goal extended the lead to 5-0 for the Mammoths.
SUNYAC
Oswego stayed focused and took care of business against Brockport on Friday night in advance to the marquee game of the weekend against Geneseo on Saturday. The Lakers didn't bring their "A" game to face the Knights as Tyson Empey scored a hat trick and the Geneseo converted on 7 of 12 power plays to rout Oswego, 9-1. Defensemen Chis Perna and Matthew Doran also recorded four-point nights while junior goalie Aaron McKay moved to 3-0 on the season making 24 saves in the win.
Brockport regained their footing on Saturday against Cortland in dramatic fashion as Jordan Renaud's goal with just 0.4 seconds remaining in regulation gave the Golden Eagles an exciting 2-1 win and split of the weekend's conference games.
After tying Fredonia 1-1 on Friday night, Plattsburgh got second period goals from Joe Drabin and Rich McCartney to earn a 2-0 win over Buffalo State. Goalie Jimmy Poreda made 39 saves as the Bengals outshot the host team but could not get anything past Poreda.
UCHC
Utica did not look past an upstart Nazareth team on Friday night earning a 4-1 win over the visitors. Conor Landrigan, Daniel Fritz and Kasper Kjellqvist scored in the first period to give the home team a 3-0 lead and help Sean Dickson earn his first win in goal.
Wilkes picked up a pair of wins in conference play. On Friday, goals from Phil Erickson, Donald Flynn and Jivan Sidhu were enough for the visitors to pick up a 3-2 win over Stevenson. Saturday night, the Colonels needed three power play goals in an offensive game that featured 10 goals. The 6-4 win over Chatham keeps Wilkes unbeaten in UCHC play.
Three Biscuits
Tyson Empey – Geneseo – scored three goals and added an assist in the Knights' blowout win over Oswego on Saturday night.
Eric Manoukian – Endicott – the Gulls forward picked up his first goal of the season with just a second remaining in overtime to give Endicott a 4-3 win over Nichols.
Tyler Hyatt – Wesleyan – scored four goals in the Cardinals' opening game to lead Wesleyan to a 5-3 win over Tufts.
Norwich, Geneseo and Utica certainly flexed their muscles in big early season match-ups this weekend and several other teams showed that they will be contenders in their conferences moving forward this season.