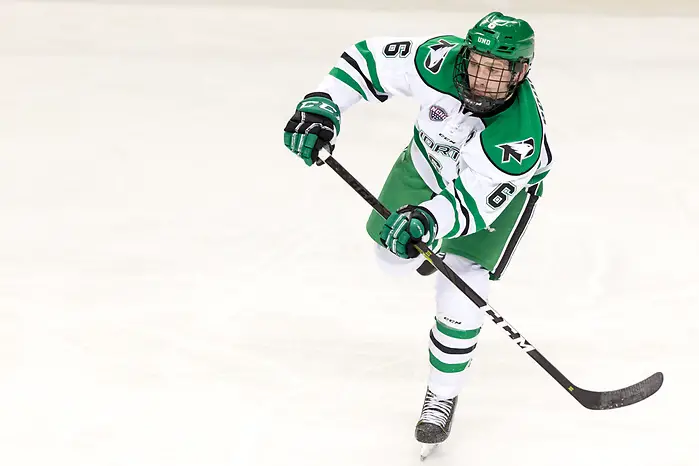 Each week, USCHO.com will pick the top 10 moments from the past weekend in our Monday 10 feature.
1. North Dakota makes a statement
We've been mentioning it for the past few weeks, but the Fighting Hawks continue to rack up victories. Last week, it was a home sweep of Miami — which isn't quite as impressive as what UND was able to do this past weekend in Denver, getting a tie and a win for five points and a series victory over the No. 2 ranked Pioneers at Magness Arena — something they hadn't done since the 2003-04 season.
On Friday night, the only thing that really separated the two teams was Colton Poolman's 3-on-3 overtime winner, which followed a 1-1 tie but gave UND the extra point. It set them up nicely for Saturday's game, which can't be described as anything other than a rout. Cole Smith scored twice — including short-handed in the second period — and the Pioneers were held off the scoreboard until midway through the third.
The Fighting Hawks are 8-1-2 and, after missing the NCAA tournament the past two seasons, look like a team that's ready to put those years behind them. They haven't had any shocking nonconference losses (like Canisius, who they routed this year already) and already have some marquee wins.
Fear not, Grand Forks. Your team looks to be "back."
2. York gets to Hockey Hall of Fame
On the weekend that legendary Boston College head coach Jerry York was set to be inducted into the Hockey Hall of Fame (and despite some baffling comments made by members of the Canadian media), York was not in Toronto for the pregame festivities.
He was where he normally was — behind the Eagles' bench.
Boston College swept Vermont over the weekend, winning 5-1 and 3-0. With the wins, York earned victories No. 1,074 and 1,075 — the latter a nice round number for Monday's induction ceremony. The Eagles, now 7-4-0, have regained their form after some early losses and have won five in a row going into games against Harvard and Yale after Thanksgiving.
3. Irish finally lose
The ranks of the undefeated have been thinned to two. Wisconsin scored two power-play goals on Friday night in Madison to defeat Notre Dame 3-0 and end Notre Dame's eight-game unbeaten streak to start the season. The Badgers outshot the Irish 35-22 and gave Daniel Lebedeff his first shutout of the season.
The Badgers almost handed Notre Dame its first losing streak of the season, too. On Saturday, the Irish managed to pull out a pulse-pounding 5-4 overtime victory. Wisconsin trailed 3-2 after two periods but Wyatt Kalynuk tied the game 30 seconds into the third and K'Andre Miller gave the Badgers a brief 4-3 lead with a power play goal 10 minutes in. But the Irish weren't about to go away. Colin Theisen tied the game with six minutes to go before Alex Steeves ended it in overtime to give Notre Dame the win.
4. Cornell still undefeated
We mentioned the two teams still left with zeros in the loss column. The Big Red are one of them. They're now 6-0 after an outstanding road victory at No. 7 Clarkson and another at St. Lawrence.
Friday's game lived up to the top-10 hype. Six different players scored in the game, with Cornell's Travis Mitchell and Jeff Malott scoring two minutes apart midway through the second period to make it 2-0. But Clarkson shot right back. Connor McCarthy scored on the power play then Devin Brousseau added another with two minutes left in the frame to make it 2-2 going into the third.
In the end, the Big Red won it with Cam Donaldson's power play goal 10 minutes into the third period being the game-winner; Michael Regush added the empty netter to give the Big Red a statement win. They kept rolling the next night, too, with a 6-1 win against St. Lawrence.
5. Harvard, too
The other team without a loss also happens to have a red color for its mascot. The Crimson moved to 5-0 on the weekend following a pair of road routs against Brown and rivals Yale.
Harvard, which has outscored its opponents 27-7 in five games this season, got scoring contributions from seven different player on the weekend. R.J. Murphy, Reilly Walsh and John Farinacci scored two goals apiece. The Crimson have been so dominant that they haven't trailed in a game since the second period against Dartmouth in their season opener — a game they won 7-3.
6. UConn upsets UMass Lowell
The big upset this weekend was in Hockey East, where UConn tied UMass Lowell 3-3 on Friday night at home before winning 2-1 in Lowell the next night.
Perhaps most notable was just how good the Huskies were both nights. In Friday's game they outplayed the RiverHakwks, outshooting them 32-15. On Saturday, they held UML to just 14 shots through the first two periods before a furious UConn comeback attempt sae them get 16 in the third period. Still, the only goal Tomáš Vomáčka allowed the whole game was a 6-on-4 extra-attacker power-play goal with just over a minute left. He held on to help the Huskies get a win.
7. Colorado College sweeps St. Cloud State
The other big upset on the weekend happened in St. Cloud, where the Tigers swept the Huskies 4-2 and 5-2. It was CC's first sweep of the Huskies since 2010 and the first time St. Cloud has lost back-to-back home games since 2016 at North Dakota. Christiano Versich scored three times and Nick Halloran scored twice for the Tigers, who are now 4-3-0.
Meanwhile, the Huskies are 2-4-4 and haven't quite played up to their potential. They've been able to generate offense this season — scoring 29 goals — but letting them in has been a major issue. They've allowed 37 goals through 10 games, which is in the bottom 10 nationally. They'll need to fix those defensive issues real quick — they head to North Dakota this week.
8. Three-way tie in the WCHA
It's still early, but enough teams have played conference games in the WCHA that the standings are starting to take some meaningful shape.
And there's a bit of a surprise as to who is on top. And, no, Minnesota State does NOT count as a surprise. The Mavericks have 15 points after six league games but share that lead with two other squads. Northern Michigan and (drumroll please…) Alaska.
Perhaps this is no surprise to anyone who has been following the league closely this year, but the Wildcats and Nanooks have arguably been the two strongest teams in the league in terms of nonconference success. (Aside, of course, from the Mavericks, but we talk about them all the time and they were off this week.) NMU and Alaska faced off against one another in Marquette, and, unsurprisingly, the teams split the series. NMU took game one 2-1 before the Nanooks rallied with a 3-2 win Saturday.
It should be noted that both the Mavericks and Wildcats have two games-in-hand on the Nanooks, but the way Alaska is playing — they've earned points from every series this season since being swept by Denver — expect them to be in the mix all season.
9. Sacred Heart sweeps RIT, leapfrogs into second in Atlantic Hockey
The Pioneers displaced the Tigers this weekend with a convincing road sweep. On Friday night, a five-goal first period led to a 9-5 rout that saw Viton Baravo and Jordan Kaplan each score twice. Sacred Heart had 44 shots on goal.
On Saturday, it was a much tighter affair. The Pioneers didn't score until Jason Cotton's power play goal midway through the second period. SHU scored again 47 seconds into the third before Cotton's shorthanded empty-netter with just over two minutes left all but sealed it. RIT got one back with Caleb Motetz's power play goal with 56 seconds left, but it was basically over.
The Pioneers (18 points) are three points behind league-leading Robert Morris, who swept Bentley this weekend, and are four points ahead of RIT.
10. Splits in Hockey East
Aside from BU's sweep of Vermont and that big UConn upset, much of the rest of Hockey East was splitsville.
Providence beat Northeastern 3-2 on Friday before the Huskies scored a touchdown on the Friars the next night for a 7-3 win. Boston University beat UMass 4-3 on Friday at home before the Minutemen took Saturday's 4-1 win in Amherst. The other conference series was, however, a sweep, with Maine beating New Hampshire both nights and moving into a tie with Boston College for second in the standings — just one point behind first-place Lowell.
Providence, Northeastern and Boston U are still close behind.