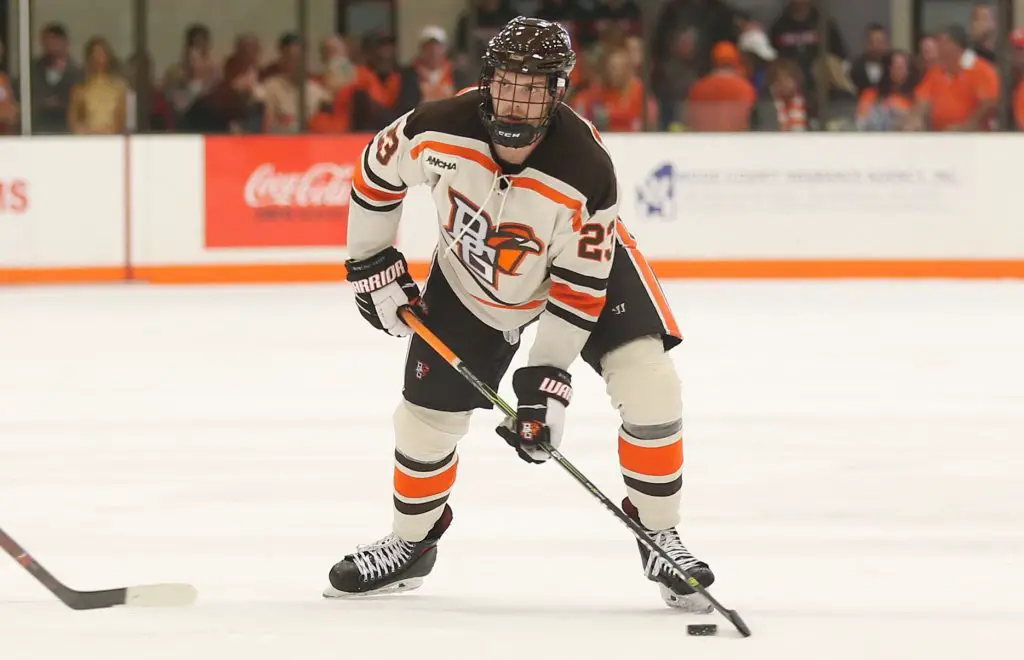 Every team wants one — a player who, by mere virtue of getting on the scoresheet, can make victory that much more certain.
British soccer fans have a name for this type of player — a "talisman." Often it's someone who scores a lot of goals or creates a lot of chances and, when they score, the team wins. Usually it's a striker or a forward. It's not often a defenseman.
Bowling Green has a talisman — senior defenseman Alec Rauhauser. The Bismarck. N.D., native leads the Falcons with five goals and seven assists through 11 games this season. He's had at least a goal or an assist in nine of BGSU's 11 contests. The two games he hasn't gotten on the scoresheet have resulted in Bowling Green losses.
While Rauhauser scoring isn't an automatic Falcons win — Bowling Green is 7-4 overall so there have been games where he scored and they still lost — Rauhauser's influence on the offense can't be understated.
"Alec plays as many minutes as any player we have — 5-on-5, power play, penalty kill," Bowling Green coach Ty Eigner said. "He's out there a lot, and when he's out there, he has the puck on his stick a lot. He's a huge piece to our puzzle — offensively, defensively, leadership, everything."
Rauhauser's scoring output maybe isn't a surprise — he switched between forward and defense during his time at Century High School in Bismarck, culminating with 67 points from the blueline in his senior season. Those offensive instincts carried directly over to the USHL, where he scored 37 points in both of his full junior hockey seasons with the Des Moines Buccaneers.
"His numbers in Des Moines were outstanding," Eigner said. "When we were recruiting Alec, it was never about the numbers. It was about the skating."
Rauhauser has answered those questions. Eigner said he's gotten better at that aspect of his game every year and has made himself into one of the country's elite defensemen. He made the WCHA All-Rookie team as a freshman before being selected as an All-American as a sophomore, netting nine goals and 39 points.
Last season as a junior, he was disappointed by his standards — he was still an All-WCHA player but "only" had 26 points.
"The difference between his sophomore and junior year, I'm going to honestly say he probably hit the post about 10 times last year, and those pucks didn't go in. His sophomore year, those went in," Eigner said. "If he scored four or five more goals last year, I don't think he's still with us now, but I think this year, those pucks are starting to go in again."
But what Eigner and the Bowling Green coaching staff appreciates most about Rauhauser isn't necessarily how much he putas the puck in the back of the net. His hockey sense is outstanding.
"The way our team plays, the defense gets involved in the offense a bunch, and he's just really good at doing it. He's got really good patience at the blue line… he does some things with the puck in the offensive zone that you just can't teach," Eigner said. "There are some guys who are good offensive defensemen because they get the puck and they go and they can really skate… that's not Alec. He's got a guy who has a great stick and is real patient, and he can look guys off and makes passes that other guys can't see. He's just really good with the puck in the offensive zone."
That trickles down to the rest of the team's defensive corps. The Falcons lost three senior defensemen who played a lot of minutes to graduation in Chris Pohlkamp, Connor McDonald and Adam Smith. As a captain, Rauhauser's influence on the team looms large.
"Everybody on our team respects Alec, because they appreciate and respect how good of a player he is for our team," Eigner said. "He's not the most vocal guy, but he's also not a 'Look at me' guy. The guys respect what he's done and what he does for us on a daily basis."
After last weekend's sweep at Alaska Anchorage, in which he scored in one game and had an assist in the other, Rauhauser is now sitting on 99 career points. Chances are, he'll reach 100 during this weekend's series against Lake Superior State. Whatever happens, when he leaves Bowling Green he is going to be remembered in the Falcons' long tradition of outstanding defensemen that includes Rob Blake and Ken Morrow, to name a few.
"He's a great player, and we believe that he's as good a college defensemen as there is in the country," Eigner said. "He's the type of kid you want to be around every day. He's got a smile on his face all the time, he's low-maintenance, and he just comes in and does his job…. He's going to have a career as a defenseman that hasn't happened around Bowling Green that hasn't happened in a long time. I think he's going to be pretty special."
Power surge
Northern Michigan's power play is arguably one of the best in the country, and they showed why this past weekend.
Of the four goals the Wildcats scored in their split with Alaska, three of them were scored with the man-advantage. Joseph Nardi scored both in their 2-1 win over the Nanooks on Friday, while Ty Readman netted another in their 3-2 loss on Saturday.
NMU has scored 16 times on the power play — more than anyone in the country — and their 28.1 percent clip (16-for-57) is good enough for No. 6 nationally.
Serratore joins 300-win club
Last weekend's Bemidji State/Ferris State series in Big Rapids, Mich., was the WCHA's first meeting of the 300-win club in quite some time.
That's because on Nov. 9, Serratore joined the club following the Beavers' sweep of Lake Superior State. Ferris State coach Bob Daniels has been there since 2011. Serratore is second on the all-time coaching wins list at BSU, trailing Bob Peters, who is No. 7 all time in wins with 744.
"It means I've been here a while, and I've got 400 and how many more to catch Bob Peters, so I'll be 91 when that happens," Serratore joked to the Bemidji Pioneer after that series.
Serratore got one closer this past weekend, as the Beavers and Bulldogs split their series. He's now got 301 wins to Daniels' 457.
Daniels and Serratore are the only two current WCHA coaches with 300 victories. The next closest to the milestone is Minnesota State's Mike Hastings, who has 191.