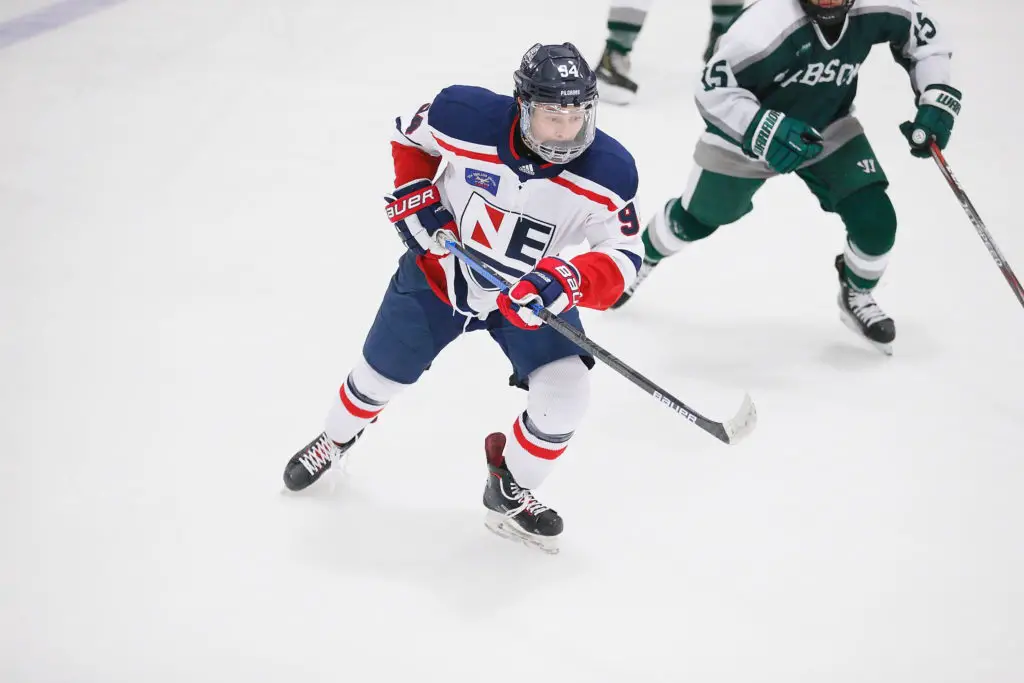 Following this weekend's two wins over conference rivals Massachusetts-Boston and Babson, the New England College Pilgrims are off to a 3-1-0 start to the NEHC season. Leading the way with ten goals in his first six games is sophomore forward Nikita Pintusov whose nose for the net has the Pilgrims scoring in bunches.
"It was a really good weekend," said head coach Tom Carroll. "Anytime you get wins over good teams is a good thing. We played well and Nikita certainly is off to a good start so early in the season."
Pintusov already has a four-goal game and a hat trick game this season and in his brief career at NEC has a total of 25 goals in just 32 games played to date.
"He had a super freshman year," said Carroll. "I thought he should have been on the All-Rookie team with his 15-goal season, but this league is so good and there is so much talent coming in every year. Nikita has been a goal scorer everywhere he has played and although he is not a big kid, he finds the open ice and seniors Carlos [Fornaris] and Daniel [Bergqvist] have found him in those areas for great opportunities and so far, a lot of goals. Playing with Carlos isn't new to Nikita as he was on his line last year with Connor Fries who graduated. There are lots of new pieces for us this season and Daniel has fit in with those two nicely – the results have been on the scoresheet."
"Last year was a good start for me with the 15 goals," said Pintusov. "I think that takes a little of the pressure off knowing I could score at this level. I keep the pressure on myself to score with high expectations and really enjoy playing with Carlos and Bergy. We have really good chemistry on the ice, and we are good friends. Bergy is the hardest working player I have ever seen, and Carlos knows where to find me for good scoring chances. We play the game one shift at a time but like creating chances to score."
After a loss to Fitchburg State to open the season, the Pilgrims have gone 4-1-0 with the loss taking place on the road against the no. 1 ranked Norwich Cadets. NEC rebounded with a big win against Castleton and added the two home wins to move them into a tie for second in the conference standings with Hobart.
"The game at Norwich was really a tough one for us," stated Carroll. "I don't think that game or the 7-0 score was indicative of our team and it was good to see us rebound the next day against a Castleton team riding a high after beating Southern Maine. There was some adversity after we took a two-goal lead and let them back in it in the second period but that is when we found our game, got some big goals from Nikita and others and some key saves from [Anthony] Pupplo to earn the win. This past weekend we carried that momentum back home with the added celebration of 50 years of hockey here at New England College. All around it was a special weekend."
Pintusov and company hit the road again this weekend with conference match-ups with Johnson & Wales and Suffolk before closing out the first half against Hobart, Skidmore, Salve Regina and Anna Maria at home.
"It's very early in the season," said Carroll. We will focus on being better and trying to get points out of every conference game we can. Things are always so tight and come right down to the final games on the schedule for knowing playoff seeding and your opponent. We ended up on the outside and had to travel to Hobart last year, so every game is important when there are only 18 on the conference schedule. Hopefully Nikita and the rest of our team can keep us going in the right direction."
"I am a little dumbfounded with the number of goals this early in the season but want to continue to help the team win games," said Pintusov. Ideally, we would like to win the conference and play in the NCAA tournament. It is a big goal playing in such a tough league. We need to keep our momentum and team focus on the road this weekend."