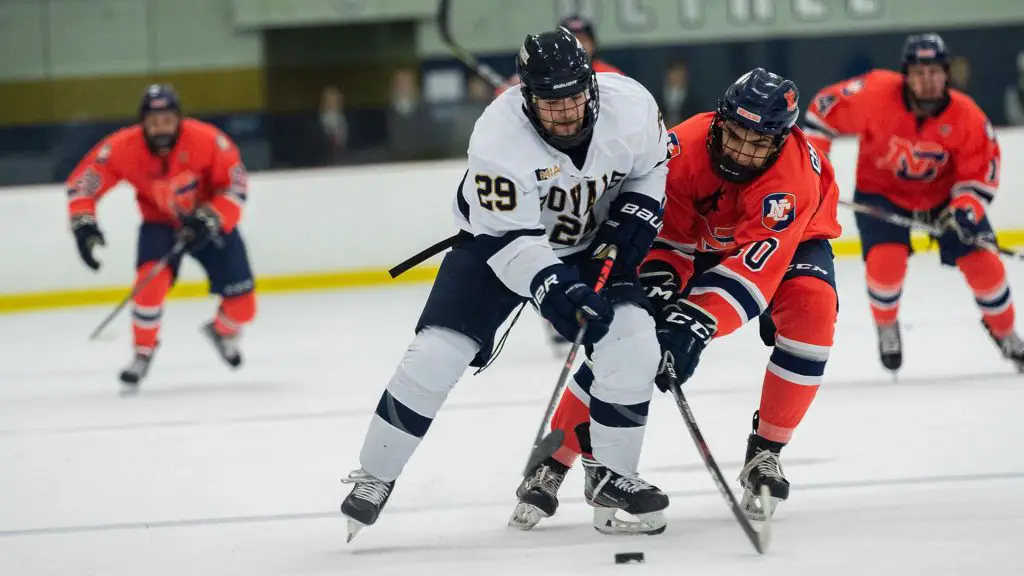 There were no shortage of big moments in the west region this past weekend. Two upsets went down in the MIAC, with Bethel and Gustavus both picking up wins over nationally ranked opponents.
Speaking of stunning wins, reigning national champ Wisconsin-Stevens Point lost a road game to Wisconsin-Superior while Wisconsin-Eau Claire remained unbeaten in WIAC play.
Over in the NCHA, Marian swept St. Norbert and Carson Rose was on another level in helping St. Scholastica split a series with Trine.
Weekend Storylines from the MIAC
Royals end drought against Tommies
Bethel opened its weekend with a 3-1 win over nationally ranked St. Thomas Friday. Michael Piehler scored twice and also dished out an assist to record his second career multi-goal game.
The win for the Royals was their first over the Tommies since Nov. 21, 2015. Jarrett Cammarata scored a goal as well for Bethel and Ridge Gerads came through with a season-best 38 saves.
Bethel ended its four-game winless streak but it wasn't as fortunate Saturday in a 5-1 loss to the 13th-ranked Tommies, who fell behind 1-0 but scored five unanswered goals to earn the win.
Gusties pull off upset
Gustavus didn't let a 3-1 loss in the series opener against national power Augsburg faze it too much, bouncing back with a 2-1 win Saturday night in the series finale.
The Gusties evened their overall record at 4-4 and are 1-1 in the MIAC while handing the seventh-ranked Auggies their first league loss of the season.
Down 1-0 in the second, Gustavus tied the game on a power-play goal by Logan Norman. Gustavus scored off another power play later in the period to take the lead for good. Caleb Anderson punched the puck in with 19 seconds to play.
Robbie Goor rose to the occasion in goal, stopping 20 shots to help Gustavus end a three-game losing streak.
Cobbers and Johnnies square off in the MIAC
Concordia capitalized on three power-play goals to take out Saint John's 4-2 Saturday in the opening game of this MIAC series.
The Cobbers notched their first MIAC win of the season. Christian Cakebread, Tyler Bossert, 
Tanner Okeson all scored off the power play for Concordia. Travis Brown and Troy Dobbs scored goals for the Johnnies.
Jacob Stephan started in goal and made 24 saves, picking up his second consecutive win.
The Johnnies and Cobbers skated to a 2-2 tie Sunday, but the Cobbers won the shootout 1-0. Saint John's scored twice in the second period to take a 2-1 lead.
Davis Kirkendall and Dan Wieber scored the goals. Concordia got goals from Aaron Herdt and Beau Wilmer.
Storylines from the NCHA
Sabres sweep Green Knights
Fresh off a shutout win over St. Norbert Friday, the Sabres completed their sweep of the 15th-ranked Green Knights Saturday with a 2-1 win in overtime.
Connor Blanck delivered the game-winner in the extra session, helping the Sabres improve to 4-3 overall and 3-3 in the league.
Marian has won three of its last four games against St. Norbert. Hunter Vorva picked up his third win as he stopped 33 shots.
Friday's win was Marian's first shutout victory for the Sabres this season. Gianni Vitali scored twice while Vorva recorded his ninth career shutout. He stopped 33 shots.
Rose lights up the Saints
Carson Rose was in a zone Friday, scoring four goals to help St. Scholastica rally for a 5-3 win. 
Rose scored all three goals in the third period to spark the comeback. He finished with four goals in all.
Rose became just the seventh player in program history to score at least four goals in a game.
Zane Steeves made 23 saves to notch his second consecutive win.
Trine bounced back on Saturday with a 3-1 win. TJ Delaney scored a goal and dished out two assists for the Thunder.
Storylines from the WIAC
Yellowjackets notch stunning win
Wisconsin-Superior nailed down an impressive 4-2 win over third-ranked Wisconsin-Stevens Point Saturday night.
The Yellowjackets dominated most of the night, scoring three times in the second period to take control. It's their first win over the Pointers since Nov. 10, 2012.
Liam Blais got the scoring started for Wis.-Superior in the first perod. Blais also scored the second goal of the game before Troy York scored in his first game back from an injury, giving the Yellowjackets a 3-0 lead.
Chad Lopez also scored while Coltyn Bates dished out two assists. Oscar Svensson came through with 26 saves.
Falcons battle through solid weekend
Wisconsin-River Falls played Wis.-Stevens Point to a 5-5 tie on Friday night, but the Falcons earned their first WIAC win the following night, edging Northland 4-3.
The Falcons scored three times in the third period to take control. 
Christian Hausinger, Cayden Cahill, Gabe Wahl and Joel Freeze all scored for Wis.-River Falls, which is now 5-1-2 overall and 1-0-1 in the WIAC. The goal by Wahl was the first of his collegiate career. 
Zac Quinn rose to the occasion in goal with 26 saves.
Blugolds extend winning streak
Wisconsin-Eau Claire pushed its win streak to six games over the weekend with wins over Wis.-Superior (3-2 in overtime) and Wisconsin-Stout (4-1).
The Blugolds have scored three or more goals in each of their wins and have not allowed more than two goals in any of the games during the streak.
Jake Bresser scored the game-winner in overtime for the Blugolds Friday. On Saturday,Jon Richards scored twice for the Blugolds, who improved to 6-0-1 overall and 2-0 in the WIAC.
Bresser and Derek Hammer added goals as well for Wis.-Eau Claire. Zach Dyment made 50 saves in the two games, including 30 on Friday night.