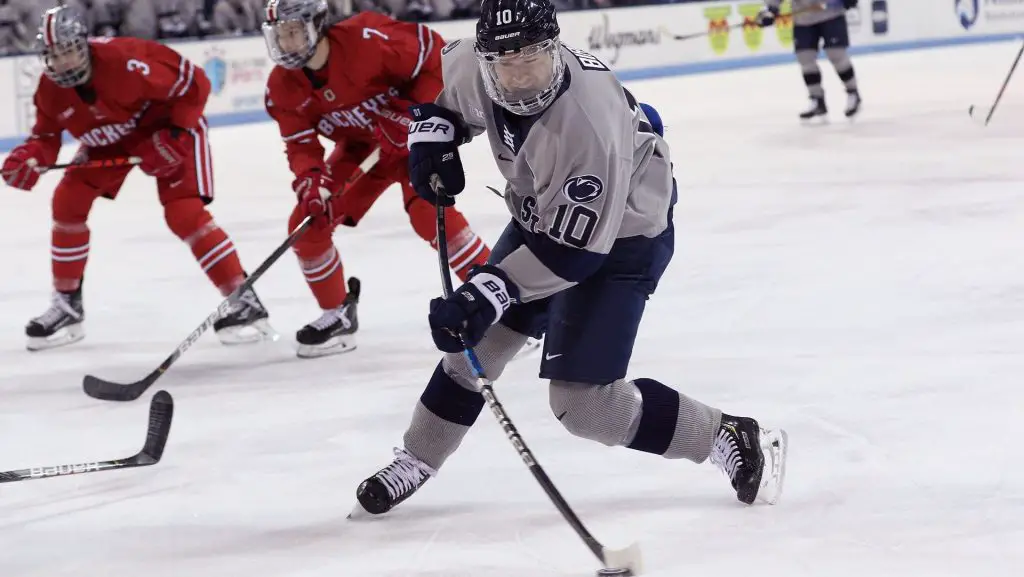 Each week, USCHO.com will pick the top 10 moments from the past weekend in our Monday 10 feature.
1. Haaaaaang on Sloopy
The primary focus of the weekend might've been on the gridiron in Columbus, but the weekend battle between Ohio State and Penn State extended well beyond the Big Ten football classic. The Buckeyes hockey team traveled east to Happy Valley on Friday to kick off a two-game series that turned into a wild barnburner affair.
On Friday night, Penn State opened up a 3-1 lead in the second period, then traded goals early in the third period to level set a 4-2 lead. Sam Sternschein scored a late empty netter to push the lead to 5-2, but the Buckeyes stormed back with two goals in 30 seconds with under 90 seconds left. Matthew Jennings scored first before Tanner Laczynski drew Ohio State within one.
It ultimately wasn't enough, and the empty-net goal wound up as the difference in a 5-4 victory. It was, however, a jumpstart for the next night. The teams again traded the lead, scoring two goals apiece in the second period as part of a wild 3-3 game through 40 minutes. But Gustaf Westlund, who registered a power-play goal on Friday, scored his second of the weekend to give Ohio State a 4-3 victory.
For the 11th-ranked Buckeyes, the win, combined with the late game comeback, showed a resilience against the No. 6 Nittany Lions. It also kept them close in the early season conference race since the three points kept them within pace of Minnesota, which took four points from Wisconsin at home.
2. Don't let go
A No. 1 team usually causes chaos and confusion when it loses, so the best way to stabilize the rest of the poll is simply to keep winning.
Hence, Minnesota State is a good No. 1 team. The Mavericks dusted Alaska Anchorage this weekend, winning 7-1 and 3-0 to continue a march through the national college hockey landscape.
Parker Tuomie scored twice in the Friday win, with Jake Jaremko, Charlie Gerard, Nathan Smith and Nicholas Rivera joining into a 6-0 lead before the Seawolves' Brayden Camrud spoiled the shutout bid. On Saturday, Marc Michaelis, Connor Mackey and Jared Spooner all scored, marking nine different goal scorers for Minnesota State this weekend (Reggie Lutz added the team's seventh goal the night prior).
3. Huskies stop the Maine-iacs
Northeastern entered Saturday with an 0-3-0 record when trailing after two periods over the course of this year. So nobody could likely blame Matthews Arena if a nervous energy ran through its rafters when Mitchell Fossier and Adam Dawe scored to rally the Black Bears to a 2-1 lead after 40 minutes.
Until the hockey gods seemingly interfered.
Four minutes into the third period, Neil Shea banked a puck off goaltender Jeremy Swayman's back from several feet behind the net, and it landed in the back of the cage, tying the game at 2-2 on his first career goal. It provided to be the cornerstone for Zach Solow's fourth goal of the year, with under five minutes left, which in turn delivered a four-point weekend to the Huskies.
With their weekend sweep, Northeastern thrust past four different teams, including BU and UMass, which each had three-point weekends, into a tie for second place with UMass-Lowell, one point behind Providence.
4. Here we go again, Atlantic Hockey
One of Atlantic Hockey's biggest selling points is its ability to create carnage and mayhem right from the beginning of the season. A couple of weeks ago, RIT stood alone as the clear-cut first place team.
All of that changed, though, when Sacred Heart swept the Tigers. Robert Morris caught fire, as did Air Force, and Army West Point rode steady goaltending to a sweep of Holy Cross.
It set up a parade of tight matchups this weekend, which, of course, proved nothing. RIT and Army West Point split, as did Sacred Heart and Holy Cross. Air Force took five points from Robert Morris (more on that in a bit), and Niagara swept Mercyhurst.
It's created a scenario where the end of the first semester will likely have teams expected at the top of the standings chasing down teams that opened up on fast starts. Niagara is only 11 points behind RMU but was a preseason favorite to win the league. AIC, the defending league champion, is in ninth place but has played the least amount of games.
5. Hawks keep flying
North Dakota just keeps on winning. The Fighting Hawks put on a defensive clinic against St. Cloud State this weekend, beating the Huskies by simply not allowing them to shoot the puck on net. On Friday, a 3-2 lead for North Dakota went into the third period, where the defense promptly held its opponent to four shots on goal. On Saturday, St. Cloud only had 12 shots in the entire game, including one in the third period.
North Dakota needed overtime to win that second game, but it continues a scary trend across the early part of the season. The Fighting Hawks are averaging less than 20 shots per game, and in conference games, they are allowing less than seven shots in the first and third periods. They haven't lost in over a month, and with the exception of a couple of individual contests, they haven't really been challenged much either.
6. This Is. Sparta.
If there's going to be any chaos in the national poll, it'll come from the No. 3 spot, where Notre Dame lost to Michigan State a night after formally finishing in a 1-1 draw.
On Friday night, the Irish cannoned the Spartan net for 37 shots on goal, including 19 in the third period and overtime but couldn't crack John Lethemon until the winner-take-all shootout round. On Saturday, the Irish took a 1-0 lead, then went up 2-1 less than 30 seconds into the third period when Nick Leivermann scored on the power play.
From there, Michigan State simply clawed back. Logan Lambdin scored 14 minutes into the period before Sam Saliba touched off a Munn Arena celebration with his third of the season with just over a minute remaining.
The Irish split joined splits by Denver and Penn State. That should open the door for North Dakota to launch forward while also factoring in UMass' win and tie and Clarkson's sweep of Brown and Yale.
7. Cruising altitude
The list of current unbeaten streaks is normally a similar read at any given time of year. A couple of NCHC teams are joined by a Hockey East team, and a WCHA or Big Ten School pepper in with the ECAC.
But since starting with losses in its first seven games, Air Force is joining that grouping with a five-game unbeaten streak that's rocketed the Falcons up the Atlantic Hockey standings.
This past weekend, Air Force traveled to Robert Morris and shut out the first place Colonials, who themselves owned a four-game winning streak and were 6-1 to start league play. Then came Saturday's game and a back-and-forth, 1-1 game in which the Falcons peppered the RMU cage for 41 shots. The game ultimately ended in a tie, but the extra point in conference play went to Air Force in the ensuing 3×3 overtime period.
8. Simply golden
Clarkson's weekend continued a steamroller drive through the first two months when the Golden Knights picked up four conference points with a sweep of Brown and Yale. On Friday, senior defenseman Greg Moro scored his eighth career goal in overtime to hold off the Bears in Providence.
It provided the springboard for the next night, where the Golden Knights allowed an early goal to the Bulldogs but responded by simply settling down in a 4-1 victory. Goalie Frank Marotte was as steady as ever, and Clarkson just hummed along. The team is now 7-1 in its last eight games, with the defeat coming against Cornell. It draws a game against rival St. Lawrence next weekend as the first of a run that sees just four road games between now and February 8.
9. Case for No. 1
The best team nobody seems to be talking about remained entirely undefeated this weekend when No. 10 Harvard beat RPI 6-3. Casey Dornbach completed a hat trick in the win, scoring his first goal on a penalty shot before adding one in the second and one in the third. Harvard never trailed, though the Engineers did rally to tie the score on two separate occasions, including once from down 2-0 in the first.
The Crimson are blazing hot to start the season with a completely undefeated 6-0 record. They are averaging just under six goals per game and are dominating opponents with a 1.67 goals against average. They scored six goals in three of their last four games, including their last two. This despite the fact that they're flying under the radar without a non-conference game yet played.
Harvard has been steadily climbing the national rankings, which can prove a tough nut to crack at times if teams ahead don't lose badly enough, but there's a case that the Crimson, despite ranking tenth in last week's USCHO poll, might actually be the best team in the country right now.
10. Technically speaking
The Michigan Tech-Northern Michigan series this weekend was everything anyone could have hoped for at a surface level. Tech rallied from down 2-1 to win, 3-2, in the third period on Friday night at home, then built a 3-0 lead on Saturday before holding off a feverish third period storming that produced two Northern goals in the home-and-home's return match.
Saturday reached a fever pitch and bubbled over in the last two seconds when a line brawl resulted in 17 penalties. Officials assessed two five-minute majors and game misconducts for the foray, one of which went to Griffin Loughran, who earned a grand total of 19 penalty minutes. It was a wild scene that included two minutes for roughing for goaltender Matt Jurusik.