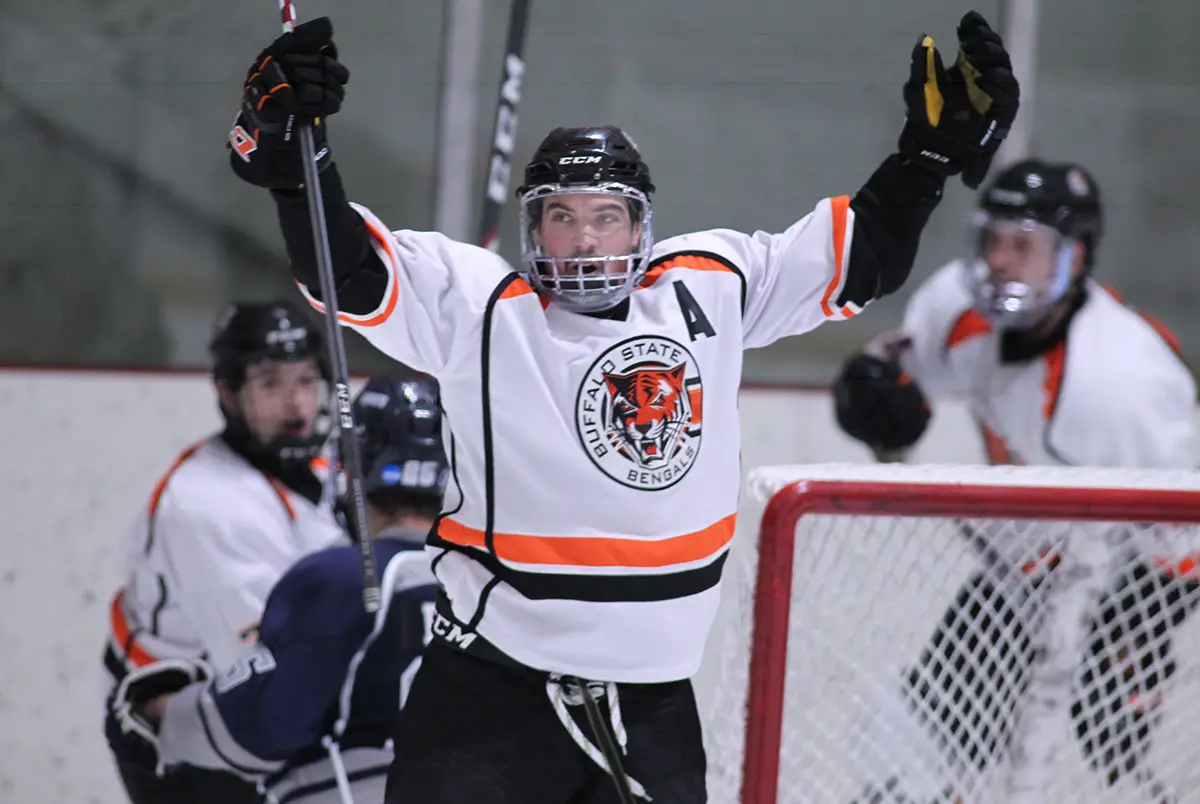 The upsets continued this weekend led by Buffalo State knocking off Geneseo. Conference play continues to heat up and pivotal non-conference games are showcasing some of the country's best as evidenced in Hobart downing Oswego. Heading into Thanksgiving tournament time, teams are starting to find their game and that will help in pursuit of hardware next week for many.
Here is this week's recap of the great action in the East:
CCC
Salve Regina remained unbeaten on the season with a weekend sweep of Wentworth. Friday night the Seahawks won a close one on the road, 4-3, behind two goals from Paul Boutoussov. Saturday it took an overtime goal from Eric Lipa to down the resilient Leopards who battled back from a 3-1 deficit to send the game into overtime.
Curry handed Nichols two more conference losses as they try to keep pace at the top of the standings. Michael Curran scored two goals in Friday's 4-1 win and he added four assists in Saturday's 8-1 blowout win over the Bison.
Becker broke into the win column in league play with a 4-1 win coming off Jason Diamond's hat trick against Western New England. The Golden Bears took the back-end of the series, 5-4 in overtime to earn their first CCC win with Nolan Zweep scoring in the extra session.
Independents
Anna Maria continued their winning ways on Tuesday with a 2-1 win over Southern Maine. Sam Cyr-Ledoux opened the scoring for the AmCats in the first period but the home team needed Jack Sitzman's goal to break a 1-1 deadlock early in the third period. Julius Huset made 26 saves for the win including 11 in the third period when the Huskies outshot the AmCats 11-3.
Canton split a weekend series with Skidmore winning on Friday night 3-2 behind two goals from Max Routledge and 30 saves from goaltender Michael Cerasuolo. Saturday, the Kangaroos fell 6-4 with forward Matthew Headland picking up two points in the losing effort.
Albertus Magnus and Conn College played a wild one on Tuesday night with the Camels emerging with an 8-5 win over the Falcons. The Falcons had leads of 3-0, 4-1 and 5-2 but could not slow down the pair of Ryan Petti and Anthony Quatieri who combined for four goals and nine points for the Camels. After tying the game, 5-5 late in the second period on an extra-attacker goal on a delayed penalty, the Camels scored three unanswered goals in the third period to take the win.
MASCAC
Plymouth State went on the road Thursday and knocked Worcester State from the ranks of the conference unbeatens with a 5-3 win on Thursday night. The Panthers got balanced scoring from five different players, three- power play goals and a three-point night from Jake Gerbner, in the key MASCAC win. Goaltender Andreas Pettersson made 31 saves to remain unbeaten on the season for PSU. The Panthers picked up another big win on Saturday against Massachusetts-Dartmouth. JR Barone and Marcus Seidl scored in the second period and Andreas Pettersson made 33 saves in the 2-1 win over the Corsairs.
Two goals apiece from Josh Vertentes and Dillon Radin along with three points from Steven Leonard pushed Massachusetts-Dartmouth to a 7-0 win over Salem State on Thursday keeping the Vikings winless in MASCAC. Chris Stangarone stopped all 25 shots he faced to earn the shutout win and move the Corsairs to 2-10 in league play.
In a non-conference match-up, Worcester State and Assumption played a very entertaining 5-5 overtime tie on Saturday that saw several momentum shifts. After the Lancers took a 2-0 lead, Assumption rallied to take a 5-4 lead late in the third period. Worcester State's Matthew Manning scored his second of the game in the final two minutes of regulation to earn the tie.
NE-10
The marque game of the weekend saw Southern New Hampshire travel across town to meet rival St. Anselm. Just like the NE-10 title game a year ago, Penmen goaltender Kurt Gutting was the bane of the Hawks offense recording 50 saves in a dramatic 4-3 win. After surrendering two goals in the first period to the hosts, Gutting and SNHU rallied to a 4-2 lead and the senior netminder stopped 41 of 42 shots in the final two periods to pick-up the win. The Penmen scored three goals in the second period to take the lead led by George Thurston's power play goal and DJ Goldstein's shorthanded tally that ended up as the game winning goal.
The Hawks didn't have much time to put the loss behind them as they traveled to Post on Saturday and rallied from a goal down for a 3-2 win. John Femia and Matt Chisholm scored in the third period to give the Hawks and goalie Michael Soustal the win.
Franklin Pierce followed up Tuesday's non-conference win with a strong 8-4 win over St. Michael's. Eight different players scored for the Ravens led by Jonathan Busolin who recorded one goal and three assists.
NEHC
Norwich remained unbeaten on the season with wins over Babson and Massachusetts-Boston. Tom Aubrun picked up his fifth shutout in the team's first six games in Friday's 2-0 win over the Beavers. Maxime Borduas scored both goals for the Cadets in the win. On Saturday, the Beacons became the first team to score more than a single goal against Norwich in a contest. In a game that featured five power play goals, Norwich broke open a 3-3 tie in the third period on Brett Ouderkirk's first of the season and an insurance power play marker from Borduas with just over a minute remaining.
Babson earned a split on the weekend with a 3-2 overtime win at Castleton on Saturday. Mike Egan scored the game winner in the final 30 seconds of the overtime period to give head coach Jamie Rice his 247th career win at Babson, surpassing Steve Stirling for the most wins at the school.
New England College and forward kept up their hot play and torrid scoring in taking wins over Johnson & Wales and Suffolk. Pintusov scored two goals in each game bringing his season total to 14. Saturday's 7-1 win over the Rams also saw multi-point performances from Connor Inger (1-2-3), David Good (2-0-2) and Trevor Momot (1-1-2).
NESCAC
Trinity remained unbeaten as they continue to win close, playoff style games in earning 2-1 wins over Amherst and Hamilton this weekend. Nicholas Polsinelli scored twice in the first period against the Mammoths, including a shorthanded goal to pen the scoring. Tedy Loughborough made 40 saves surrendering only Christian Powers second period goal for Amherst. On Saturday, Loughborough gave up a first period goal to Hamilton's Jordi Jefferson, but Lucas Michaud and Taggart Corriveau scored in the second period to earn the bookend win for the Bantams.
Williams also stayed unbeaten with a 3-1 win over Connecticut College and a 2-1 win over Tufts on Saturday. Niko Karamanis picked up his third goal in the team's first four games in the win against the Jumbos.
In the last of the Bowdoin-Colby rivalry games to be played in Alfond Arena, the Mules scored three unanswered goals in the final period to break open a 2-2 tie and emerge with a 5-2 win. Alex Bourhas, JP Schuhlen and Justin Grillo opened up the game for Colby with Bourhas' goal coming just 39 seconds after Graham Rutledge had tied the game for the Polar Bears.
SUNYAC
Buffalo State earned the upset of the weekend in knocking off the No. 2 ranked Geneseo Knights on Friday night. The Bengals broke open a 1-1 tie on goals by Vadim Vasjonkin and Zach Remers in the second period. Anthony Romano's power play goal closed the deficit to one in the third period, but Nikita Kozyrev iced the 4-2 win with an empty-net goal with 17 seconds remaining in regulation. The Bengals didn't rest on their laurels on Saturday as they shutout Brockport, 3-0 behind 31 saves from Emil Norrman and a goal from Vasjonkin and two more from Remers.
In another marque game, Oswego traveled to face Hobart on Friday in a game of top ten teams in the country. The Statesmen took a 4-1 win on the strength of goals from four different players including Ryan Lynch and Mark Benemerito in the first six minutes for the home team.
"I am disappointed in the outcome," said head coach Ed Gosek. "I thought our attitudes and efforts were very good but, as far as execution, we just made too many critical mistakes that they capitalized on. But it is a heckuva improvement over last weekend as far as our discipline, work ethic and attitudes – I was proud of them tonight. We made too many mistakes with the puck – it was really self-inflicted. Not taking anything away from [Hobart], they capitalized on the chances and mistakes we made in our own end."
UCHC
Stevenson broke out the offense this weekend picking up a pair of road wins over Manhattanville and Neumann. Against the Valiants, the Mustangs raced to a 3-0 first period lead on goals from Chris Lee, Chad Watt and Nick Gray and cruised to a 5-0 win. On Saturday, Stevenson won 6-1 on the strength of four power play goals and a three-point night from Gray.
Elmira also earned two road wins starting with Friday's 5-2 victory over Nazareth. After giving up Zander Pryor's first period goal, Elmira scored five of the next six, which included two empty-net goals from Matthew Cuce and Patrick Schmelzinger in the final 16 seconds to ice the win. On Saturday, Elmira jumped out to a quick 2-0 lead in the first period at Utica with goals from Graham Denomme and Nick Ford. Christian Lloyd and Cuce extended the lead to 4-1 and the visitors dropped the Pioneers by a 4-2 final. The loss was Utica's first in UCHC play.
Three Biscuits
Kurt Gutting – Southern New Hampshire – recorded 50 saves in backing the Penmen to a big conference win over rival St. Anselm on Friday night. Gutting made 41 of his 50
saves in the final two periods where he surrendered just one goal to preserve a 4-3 win.
Jason Diamond – Becker – the Hawks forward broke open a 1-1 tie with Western New England with a goal in the second period before completing his natural hat trick in a 4-1 win.
Anthony Quatieri & Ryan Petti – Connecticut College – the Camel linemates combined for four goals and nine points overall in a crazy 8-5 win over Albertus Magnus on Tuesday night. Quatieri picked up a hat rick and four points while Petti added a goal and four assists.
Some big wins that can set momentum for teams this past weekend and others looking for starting momentum in what will be a richly talented slate of Thanksgiving tournaments next week.
Thanks to USCHO's Russell Jaslow for supplying quotes from games this weekend.