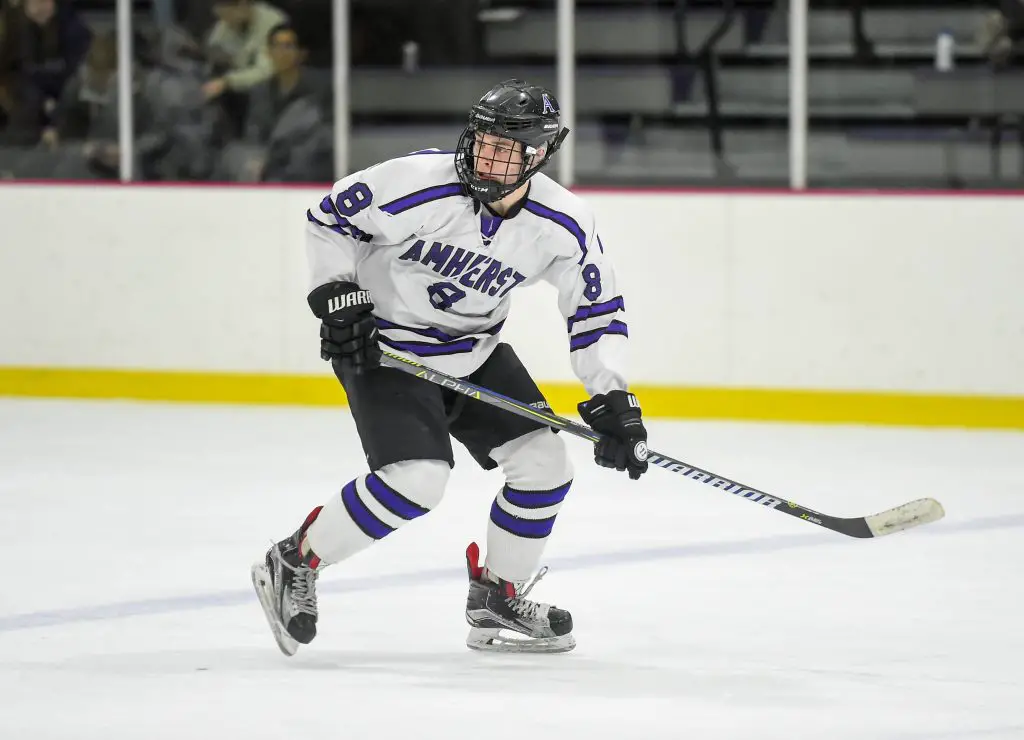 After scoring five goals in game one against Hamilton, Amherst found themselves offensively challenged in consecutive losses to Trinity and Wesleyan. Entering a stretch of games that includes Geneseo, Babson, Middlebury and Williams, the Mammoths are looking to improve on the number of quality chances and goals produced in some winning hockey.
"I think some of the goals against Hamilton came a little easier than they should have," said head coach Jack Arena. "Against Trinity, that is just a tough roster to generate offense against when you look at their forwards, strength of the defensive group and Tedy [Loughborough] in goal. What was frustrating was the Wesleyan game where we had less than 50% of the shot attempts in the prime scoring areas as compared to the Trinity game. We track those stats for a reason and it's clear we need to jump-start the offense a bit. It is early in the season so need to panic, but we want to make sure we are putting in the work and the effort to attack the net. We have a game with St. Michael's today and our pre-game practice yesterday was a bit non-traditional with the level of competing we put the team through."
Amherst, as part of NESCAC, is among the last group of teams to start the season and immediately jumps into conference play from the drop of the opening face-off. While early season tune-ups are going to happen everywhere, Arena is not concerned that last weekend's setbacks are indicative of his team's compete level or performance looking ahead.
"We are all in the same boat," noted Arena. "If we were starting out playing against teams that already had several games under their belt, it would be different. All the NESCAC teams open with each other in starting the season so it is a level playing field. We maybe had it easier than expected in our opener and didn't respond to a challenging second weekend. Wesleyan was a little shorthanded roster wise but played with some desperation that we didn't match. We will be looking to ramp up the intensity starting with an always competitive St. Michael's team later today."
While experienced scorers Patrick Daly, Joey Lupo and Sean Wrenn have yet to score this season and the power play is just 1 for 11 in their first three games, the coaching staff knows the talent and experience is there to score goals and isn't afraid to tinker with the personnel and systems to improve the production.
"We pride ourselves on our special teams," noted Arena. "The penalty kill has been outstanding (13 for 13 kills) but the power play is a place where we need to be more productive. We made some small changes with some personnel on the two units and an approach to attacking the goal with one of the two units that hopefully will improve our success rate. It's a bit of tinkering and expecting that some of our proven players will be in the best position to get better chances and score more goals."
The Mammoths are looking for positive momentum and that offensive spark starting today to fuel their final two weekends of games in the first half. They play on the road against Geneseo on Saturday and return home to host Babson on Sunday before closing out in conference play against Middlebury and Williams.
"These are all good teams in front of us," said Arena. "It is time for us to step up and play our brand of hockey and compete at a level where we can get the results we want."