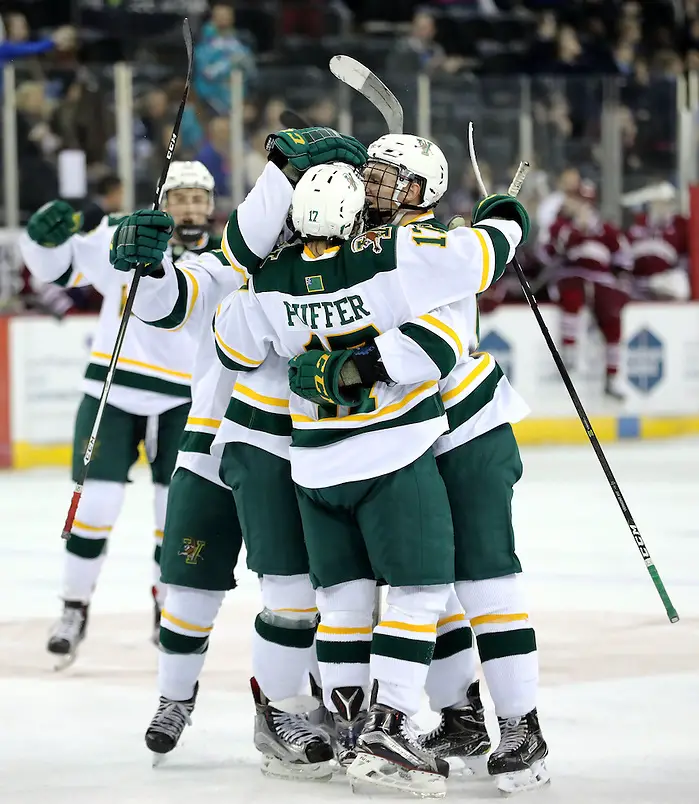 After all of the Thanksgiving turkey is devoured, Hockey East fans can put out their leftovers early on Friday to once again watch what has become one of the best events on the college hockey calendar: the Friendship Four.
The tournament (TV: Fri. NESN, 10 a.m., 2 p.m.; Sat. NESN, 10 a.m., 2 p.m.), played at SSE Arena in Belfast, Northern Ireland, will once again pit two Hockey East and two ECAC Hockey opponents against once another with the champion taking home the Belpot Trophy.
This is the final year where the four participants are guaranteed to come from Hockey East and the ECAC. Next year, three Atlantic Hockey teams will travel overseas along with one ECAC club.
For this year's edition, it will be a maiden voyage to Northern Ireland for one Hockey East club, New Hampshire, and a return trip for the other, Northeastern. The Huskies participated in the inaugural event in 2015, finishing third after losing to eventual champion, UMass Lowell, in the semifinals and beating Brown in the third-place game.
The Wildcats will be wide-eyed, said coach Mike Souza, particularly given that many of his players have never been to Europe.
"I asked the kids how many had been to Europe, and I was surprised at how many had not," said Souza. "It was definitely more than half the players."
His team faced Michigan last Saturday and Souza had a chance to talk with Michigan assistant Kris Mayotte, who himself was part of a Friendship Four when he coached at Providence.
"He had nothing but incredible things to say about the Friendship Four and the experience," Souza said of his conversation with Mayotte. "There's obviously two huge games on the line, but there's an educational component to going over there."
Asked what he is most looking forward to on the trip, Souza – ever the coach – said it was the hockey and hopefully winning games. But he's more than aware that the eight-day trip will mean a lot to his players.
"[UNH assistant] Jeff Giuliano and I were lucky enough to play over there in Europe," said Souza. "So we know it will be a really neat experience — something you don't know if you'll ever have the chance to do it again."
One team that is returning yet again is Northeastern. Along with Lowell, Brown and Colgate, that quartet was helped launch the tournament in 2015. Heading to Northern Ireland back then, it wasn't the best of times for Madigan and his club. They left Boston with a 1-10-2 record having been swept the weekend prior by Providence.
But Northeastern used the trip to help bring the club together. Though they lost to Lowell in the semifinal round, the Huskies had a late lead before the River Hawks scored an extra attacker goal and won the game in overtime.
A 7-1 victory over Colgate the next day started what would be an impressive remainder of the season for Northeastern. From that point, Northeastern went 20-2-2, the final win in that run coming as a bit of revenge, a 3-2 victory over Lowell in the Hockey East title game.
So while Northeastern left Northern Ireland without the Belpot Trophy, they came back with something equally – if not more – valuable: a focused, more bonded team.
"There's no doubt [that 2015 trip] helped our team," said Madigan. "I talked about it when we came out of there, our team started to come together. We made some changes to our systems that we executed just before going over to Northern Ireland, then we executed well in Belfast.
"The experience of that helped us coming back."
This year's club enters with a significantly better record – 8-4-2 – but Madigan hopes that the voyage can still bear fruitful for his team. And maybe this time yield the Belpot Trophy.
"Belfast is a great bonding experience," Madigan said. "We've got nine freshmen and two grad transfers, and we've certainly melded together over the last eight-to-ten weeks. But this is an opportunity where we're away from home, it's just us, there's no distractions. Guys get to see each other in a different light and spend more time with each other.
"The people in Northern Ireland and Belfast are so hospitable and so nice. They're such generous people that we look forward to interacting with them while we're there."
Farrance relishing opportunity as top blueliner, major offensive contributor
One of the best stories of the first half of the season for Hockey East is the emergence of Boston University's David Farrance as one of the best two-way defensemen in the nation.
Through 14 games, Farrance has already notched 10 goals and nine assists and is a plus-5. In comparison, Farrance scored just seven goals in 68 games in his freshman and sophomore years combined.
Farrance's 10-9-19 stat line is slightly ahead of last year's Hobey Baker winner, Cale Makar, who possessed a 6-12-18 scoring line through 14 games en route, to a 16-goal, 49-point, 41-game season.
He is the key component to Boston University's power play, having scored eight of his 10 goals with the man advantage. The eight power play goals is double that (four) of the rest of the team combined.
Farrance's coach Albie O'Connell has known since the first day of camp that this could be a breakthrough year for the junior blueliner, a 2017 third-round pick of the Nashville Predators.
"It all started in the summer; he's in the best shape he's ever been in," said O'Connell. "He had a really good summer, took care of his body, so he's able to play more minutes from the offensive side and the defensive side of it.
"The other thing he is doing more is using his shot. He's always had that as a weapon, but he's always deferred and tried to pass the puck."
O'Connell notes that with the graduation and early departure of other bluelines, it's given Farrance the opportunity to earn more ice time and become the quarterback of BU's top power play unit.
"He's become the guy," O'Connell said. "He's always sat behind guys like [Dante] Fabbro and Chad Krys and some other guys we've had over the last two years. It's kind of his time.
"He had some growing pains his first year. He was playing a little bit of forward, a little bit of D. He was in the lineup and out of the lineup. He was learning how to play at our level. Last year, he had some good stretches of hockey he played for us. It wasn't as consistent as it is now, but that's in part due to confidence."
All of that said, O'Connell feels his name does and will stand alongside some very talented BU defensemen over recent years.
"He's as good from an offensive [defenseman] standpoint since I've been at BU," said O'Connell. "We hold him in the highest regard with [Charlie] McAvoy, [Matt] Grzelyck, [Dante] Fabbro. Guys who were All-Americans.
"He's always had the talent and we've believed in him. It's just the maturity to get to where he is."
UMass and its luxury between the pipes
Many coaches approach goaltending differently. Every coach would like to have two solid goaltenders that they can count on night-in-and-night-out. Most, though, do seem to like to be able to label their goaltenders as a No. 1 and a No. 2.
Since the beginning of last season, that hasn't been the exact case for Massachusetts and coach Greg Carvel. Certainly, he has two very talented goaltenders in Matt Murray and Filip Lindberg. But Carvel has been careful never to place any labels on this duo.
The time split isn't always equal and Carvel admits most times be goes with his instinct.
But as he has learned this season more than once – most recently last Saturday against Merrimack – when that gut instinct isn't right, another must take over: the ability to change goaltenders mid-game.
"We think as a staff, we've had these kids for a couple of years where we know when they're on and when they're off," said Carvel.
The first occurrence came at Boston University on November 15. Murray started the game and allowed three goals on 10 shots. Carvel switched to Lindberg, who stopped 11 of the 12 BU shots he faced, the team got energized and fell just short in a comeback, dropping a 4-3 decision.
Last Saturday, Lindberg got the start and gave up two goals. Carvel saw something he didn't like and was quick to make the change. This time it paid off as Murray shut the door and the Minutemen rallied for a 3-2 victory.
"I wasn't really happy with either goal [that Lindberg allowed] and there were a couple of other signs," said Carvel. "We couldn't afford to get down 3-0 in that building. It was a knee jerk reaction, but we decided to go with that decision."
It certainly is a luxury to be able to change goaltenders midgame, but it also speaks to the mental stability of both netminders. Neither goaltender seems bothered ed by being pulled and both have proven when they come in off the bench, they can still perform at a top level.
"We know that when we put the other kid in whose on the bench, they're usually pretty hungry," Carvel said. "We find that … even though they're coming in cold, they play pretty well."