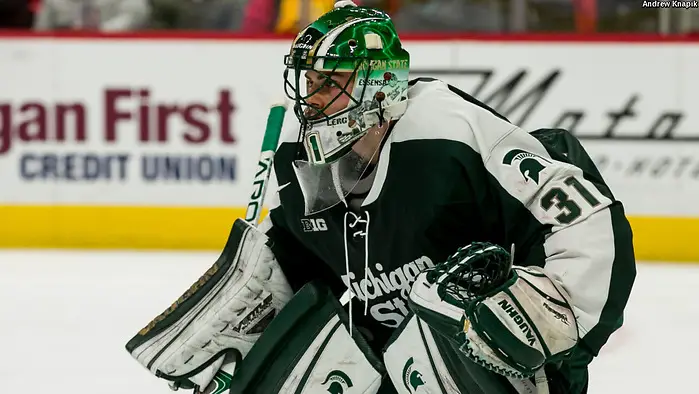 Happy Thanksgiving, everyone! I have a lot to be thankful for — not the least of which is college hockey. My picks record, though, does not get noted in the gratitude journal. Drew Claussen and I were both cursed with a case of the wrong-way splits last weekend for the Ohio State-Penn State series. I did correctly call one OT New Hampshire win over Michigan and I'm clinging to that bit of prescience. Yeah, Drew did call that series split correctly.
Otherwise … ouch.
Last week
Drew: 2-4-2 (.375)
Paula: 1-5-2 (.250)
This season
Drew: 41-21-5 (.649)
Paula: 35-27-5 (.560)
This week
There is a lot of great hockey on tap for the holiday weekend, including a renewal of the North Dakota-Minnesota rivalry right on Thanksgiving Day. All times are local.
No. 16 Bowling Green vs. No. 5 Notre Dame
7:00 p.m. Friday, 7:07 p.m. Saturday
The Falcons split at home against Lake Superior State last weekend while the Fighting Irish came away from East Lansing with two points after a tie and a loss to Michigan State. These old CCHA rivals last met in 2012-13, when Notre Dame went 5-1-0 against Bowling Green, including a home playoff conference sweep.
Drew: Notre Dame 3-2, Bowling Green 3-2
Paula: Notre Dame 3-2, 3-2
Michigan at No. 19 Wisconsin
7:00 p.m. Saturday, 4:00 p.m. Sunday
Last weekend, the Wolverines broke a seven-game winless streak when they beat New Hampshire on Friday before dropping Saturday's game in overtime. Wisconsin took two points from Minnesota on the road with a tie and a loss. The teams last met in March in Wisconsin, two overtime wins for the Badgers.
Drew: Wisconsin 5-3, Michigan 3-1
Paula: Wisconsin 4-2, Michigan 2-1
No. 20 Michigan State at No. 11 Ohio State
5:00 p.m. Saturday, 2:30 p.m. Sunday
At home last weekend, the Spartans took four points from Notre Dame with a tie and a win. The Buckeyes split on the road with Penn State. Ohio State is 7-2-1 in their last 10 against Michigan State and were 2-1-1 last season.
Drew: Ohio State 3-1, 5-4
Paula: Ohio State 4-2, Michigan State 3-2
No. 7 Penn State at Merrimack and No. 15 UMass-Lowell
7:00 p.m. Friday, 6:00 p.m. Saturday
Penn State suffered just its third loss of the season last weekend in a home split against the Buckeyes. Merrimack is looking to end a four-game winless streak (0-2-2), all against ranked teams. UMass-Lowell tied and lost to Connecticut last weekend and because Hockey East likes to play OT this season (apparently), the River Hawks have played to overtime in six of their 14 games this season.
Drew: Penn State over Merrimack 6-2, UMass-Lowell over Penn State 4-3
Paula: Penn State over Merrimack 5-2 and over UMass-Lowell (maybe in OT) 4-3
No. 3 North Dakota at Minnesota
7:00 p.m. Thursday and Friday
The Fighting Hawks ride a nine-game unbeaten streak (8-0-1) into Mariucci for the Thanksgiving holiday, having swept St. Cloud last weekend. The Golden Gophers took four points at home from Wisconsin last weekend and have two wins in their last 10 games. These former WCHA rivals last met in the 2018 Hockey Hall of Fame Game, a 3-1 North Dakota win.
Drew: North Dakota 4-2, 4-2
Paula: North Dakota 4-2, 3-2
On Twitter
Follow Drew (@drewclaussen) and me (@paulacweston) on Twitter.