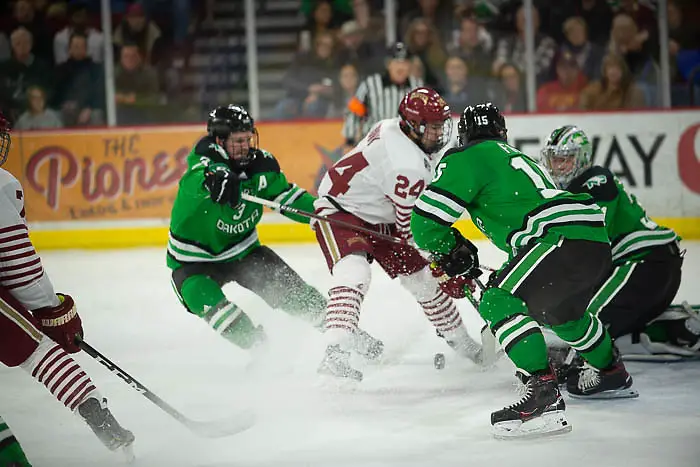 It's that time of the year when Americans are supposed to express their gratitude for what they have in their lives, although, let's face it, most will be eating up a storm and watching football.
That's OK, though.
In the meantime, let's think about what each coach in college hockey's most dominant conference over the last five years can be thankful for this season.
We'll do these in alphabetical order; it's not about anything else, K?
Colorado College
A 4-5-1 (2-3-1) record may not be something to be super thrilled about, but Colorado College has the building blocks to make a push for home ice in the NCHC playoffs and perhaps return to the NCHC Frozen Faceoff for the second time.
CC has been in every game it's played so far except for two. They held two-goal leads in two of their losses and were also up twice on Minnesota Duluth in Friday's loss. While coach Mike Haviland has yet to find a goaltender who can replace Alex Leclerc's consistency, he has to be thankful that oft-injured Chris Wilkie and Nick Halloran are back to being healthy and are off to great starts. Wilkie has 11 points in the first 11 games, while Halloran, who has missed two games, has 10 points.
CC's offense and power play are ranked 26th and 22nd in the country, respectively. That is a strong base from which they can hopefully improve their defense.
Denver
If this had been written a month ago, all DU would be asking for is more of what had them off to a hot start and the top ranking in the country.
However, since Denver started NCHC conference play, the Pioneers are just 1-3-2, with Saturday's 6-1 win finally getting DU untracked. Prior to that, they blew a two-goal third period lead against Minnesota Duluth and got a tie, then somehow salvaged a 1-1 tie with a North Dakota team that had outplayed them in the first game of two. Denver hasn't won on a Friday night since Nov. 1. Perhaps coach David Carle is happy about his team being off this weekend so that he can tinker a little and build off the offensive explosion from last Saturday.
Carle is also likely happy with the play of rookie goaltender Magnus Chrona, who is 7-3-2 and has a .920 save percentage, one reason DU's defense is currently ninth in the country.
Miami
First-year coach Chris Bergeron must feel the RedHawks are going in the right direction, as they are 3-3-2 after opening the year 1-3-1.
Last weekend, Miami came within a whisker of sweeping a good Omaha team, giving up two goals in the last minute on Friday for what ended up being a 3-3 tie, though Miami got the extra conference point by scoring in the 3-on-3 OT. Bergeron is thankful for his team's recent play, as well as the performance of seniors Gordie Green and Karch Bachman, who have 15 and 11 points, respectively.
Like CC, Miami is struggling a little on the back end, though if they can clamp down defensively, they will be a team no one wants to play. Miami is one of three NCHC teams playing this weekend, traveling east to play Connecticut twice.
Minnesota Duluth
Inconsistency, thy name is Duluth.
At least, sometimes it has felt that way. However, since starting the year 1-3, UMD has only lost once, going 6-1-1. That loss to Miami doesn't look quite so bad in retrospect, as many teams may be underestimating the RedHawks. Duluth hasn't quite been on it defensively, but Duluth coach Scott Sandelin usually has his team peaking come playoff time, so don't fret, Bulldogs fans, that Hunter Shepard's save percentage is only a .909 and the team defense is only 19th in the country, giving up 2.33 goals per game.
Meanwhile, Sandelin is looking at his offense and thanking the stars that defenseman Scott Perunovich came back for his junior year, as he has 20 points in just 12 games, while sophomore forward Noah Cates has also displayed the hot hand with 12 points. Further, considering Duluth has sometime struggled on the power play in recent years, their 30.19 percent conversion rate is another thing Sandelin is thankful for.
Duluth will host No. 1 Minnesota State this weekend for two games.
North Dakota
Coach Brad Berry must be looking at his team and smiling, as the Fighting Hawks seem to have fixed the offensive woes that have plagued them in recent years.
It is just one reason they are 10-1-2 and currently ranked third in the country. North Dakota's offense is currently fifth in the country, averaging 3.85 points per game, and what is especially noteworthy is that the offensive improvement hasn't come at the expense of the back end, as the defense is third in the country, giving up only 1.54 points per game.
As a comparison, last season North Dakota's offense was 41st nationally, only averaging 2.43 points per game. Berry can look to junior Jordan Kawaguchi having a breakout year with 18 points as one reason for UND's success, and he can also be thankful that Westin Michaud decided to transfer to UND from CC for his final year of eligibility. Michaud is second on the team in scoring with 11 points.
Ahead of an actual Thanksgiving Day clash with Minnesota in Minneapolis, Berry just needs to keep his team focused.
Omaha
With a 6-4-2 start and ranked 18th in the polls, Omaha is one of the early surprises of the season.
That start is all the more impressive when you realize the Mavericks have two rookie goaltenders. Isaiah Saville has played the lion's share of minutes, posting a 2.48 GAA and .905 save percentage. Austin Roden has the same save percentage and a 2.00 GAA in two appearances.
Those aren't the only rookies that have coach Mike Gabinet smiling.
Ryan Brushett has nine assists in 12 games, while defenseman Brandon Scanlin has eight points and has played well defensively. Nolan Sullivan has also made a mark with six points. Both Scanlin and Sullivan have been named NCHC rookies of the week so far this season.
Considering senior scoring phenom Tristan Keck got hurt and hasn't played the entire month of November, Gabinet is also likely happy his team is off this weekend ahead of a major clash with Minnesota Duluth Dec. 6-7.
St. Cloud State
It's fair to say that St. Cloud State has not gotten out to the start that coach Brett Larson wanted or expected.
After dominating the regular season last year, St. Cloud's 2-6-4 (0-4 NCHC) record is not what the team is used to. However, considering the offense is only ranked 30th nationally (2.67 goals per game) and the defense is one of the worst in the country at 53rd (giving up 3.58 goals per game), perhaps Larson can be happy that things aren't worse. One bright spot has been the St. Cloud power play, currently averaging at 21.74 percent success. However, the penalty kill is a woeful 69.77 percent success, so just like team defense, Larson knows his team has a long way to go.
With that, Larson can also be thankful for the scoring of sophomore Sam Hentges, who has 18 points so far this year, nearly equaling the 20 points he had his freshman year, and that junior Easton Brodzinski is finally showing signs of success, with 12 points in 12 games.
Lastly, Larson can be thankful that his team has been in most of its contests; St. Cloud has played a lot of OT games (six) so far, so perhaps they can make a push in the second half.
Western Michigan
With a 7-5-2 start (3-2-1 NCHC), why is coach Andy Murray thankful?
Well, for one, the Broncos have that record despite playing nine of those games on the road. Western has always been a better home team, and Lawson Ice Arena has a hostile crowd for any visiting team.
Murray is also thankful for the breakout season of junior Paul Washe, who has more points (14) this year than he did all last season. Also playing well is junior Ethen Frank, who has 12 points and is averaging 0.92 points per game.
Lastly, Murray is thankful that his team is getting healthy. Senior defenseman Cam Lee is back in the lineup after missing the first 10 games, and sophomore Mattias Samuelsson seems to be healthy again.
Murray is likely hoping that senior Wade Allison can get healthy before the second half of the season starts; Allison has only played in seven games so far. Western will close its first half by hosting North Dakota Dec. 6-7 in a huge series for both teams.