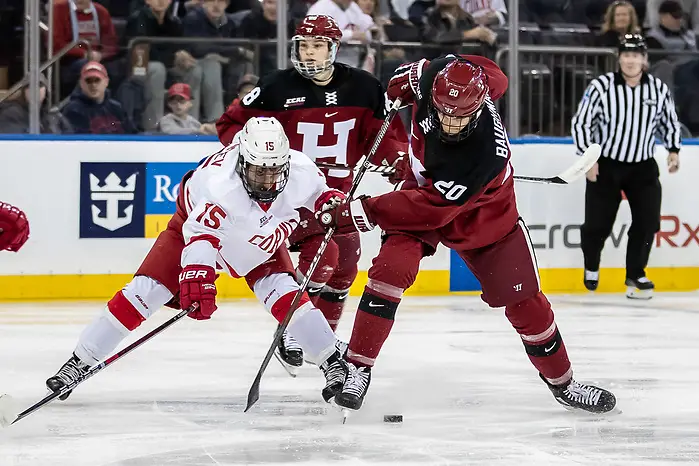 As a freshman defenseman at Cornell, Mike Schafer experienced the bitter side of his school's rivalry with Harvard.
"I was on the ice and coughed up the game-winning goal in overtime,'' said Schafer, now the longtime Cornell coach, referring to a 3-2 loss in 1983.
As the home crowd at Harvard celebrated the win, a full beer can heaved from the seats hit Big Red goalie Darren Eliot in the head, knocking him flat. It took several minutes to break up the melee that followed.
Afterward, The Harvard Crimson quoted Harvard coach Bill Cleary: "I've never been this upset about a win before. If those are the fans we've got, then we'll play in an empty rink."
Thankfully, it never came to that. But the bottom line is stuff happens when the Big Red and the Crimson collide. It's one of college hockey's great rivalries, and it will be renewed at Harvard on Friday night.
Adding extra spice to an already fiery mix is the fact that Cornell at 9-0 is the only unbeaten team in the country. It's their best start since the 1969-70 season, when they rolled to a 29-0-0 record and the school's second NCAA title. (No, Ken Dryden was not the goalie that year. It was Brian Cropper. Just sayin'.)
At 6-2, Harvard is off to a good start this season, too. They won their first six games, before losing to a strong Boston College team on Friday and to Boston University on Tuesday.
"The rivalry exists because they're a good hockey team and we're traditionally a good hockey team. Without that, it's not a rivalry,'' said Schafer.
Like his counterpart, Harvard coach Ted Donato knows Harvard-Cornell from the inside out.
"These are two programs that have a lot of history and have played some hard-fought games, two programs that hope to remain standing at the end of the season and compete for the ECAC playoff championship,'' he said.
The Big Red have overwhelmed opponents in the second period this season, scoring 22 times while giving up only six. It's not by design.
"I think it's more random than anything else. We're not doing anything different. It's not something where we come in (after the first period) and start changing things up. It has a lot to do with us having depth on our team where we can keep playing the same way,'' Schafer said.
As usual, Cornell has good size, plays with structure and defends well, even with three freshman defensemen in the lineup. They have a top goalie in Matthew Galajda, who has given up just 12 goals in nine games and has a .944 save percentage. They have a balanced attack, with 17 players who have at least one goal. And their power play is third in the country at 30.8 percent.
Going into Tuesday's game against BU, Harvard was averaging five goals per game. They were scoring on 17.3 percent of their shots – best in the country (Cornell is second at 14.5 percent). The Crimson have a pair of terrific defensemen in Reilly Walsh and Jack Rathbone and use freshmen in key roles. Their goalie tandem of freshman Mitchell Gibson and senior Cameron Gornet has combined for a .944 save percentage.
"We have a lot of respect for Cornell,'' said Donato. "We know they are sound defensively. They are scoring a lot of goals this year. They've got great goaltending. They'll pose some challenges. We know their fan base also travels well, so we expect it to be a real electric environment here.''
Said Schafer: "We'll probably have more fans than they'll have there.''
This should be fun.
Bobcat rollercoaster
Quinnipiac has had its ups and downs, but headed into the holiday break on a high note, beating UMass 2-1 on the road on Saturday one night after dropping a 3-0 decision to the Minutemen at home.
"We're young and we've been playing well lately and not getting rewarded, so we'll take it and move on,'' said Bobcats coach Rand Pecknold. "We feel fortunate to come to UMass and win one here, I know they don't lose a lot at home.''
In fact, Quinnipiac's win snapped a 15-0-1 streak at home for UMass.
Offense unplugged
Coming off a 1-0 loss at Bentley in which they mustered only 16 shots, offense continued to be a problem for Brown in its 4-2 loss at Providence College in the annual Mayor's Cup.
The Bears, who were without injured top-six winger Chris Berger against PC, have scored a measly 20 goals in 10 games.
"Up front we're not generating enough. Our margin is very thin, between winning and losing. We've got to find a way to generate a little more than one or two goals a game," said coach Brendan Whittet.
Twenty-five of Brown's 51 shot attempts against the Friars were by defensemen, with captain Zach Giuttari posting a game-high 10.
Shooting pains
Three goals against on three shots within 55 seconds put Colgate in a deep hole in the opening nine minutes against Northeastern in the championship game of the Friendship Four tournament in Belfast on Saturday, but the Raiders didn't throw in the towel.
They battled back and made a game of it before losing 4-3.
"Aside from a couple of minutes in the first period, we played probably our most complete game. To limit a skilled team like Northeastern to 19 shots on goal says a lot about how our guys competed and played to our structure,'' said Colgate coach Don Vaughan.