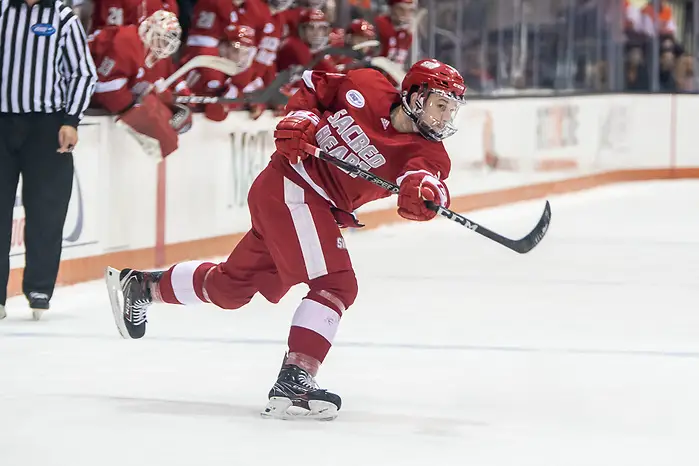 The rise of Atlantic Hockey's eastern teams has always been a long-standing discussion point among my USCHO colleagues.
We always liked talking about parity during the regular season, but the posteason always came with the understanding that western dominance would balance it out. Recent years pointed towards cracks in the glass ceiling, and it felt like every program had its moment in the league spotlight.
Holy Cross represented its tradition and annual excellence, and Army West Point was always an easy program to get behind. Bentley built a new arena, and AIC's Cinderella run to both a regular-season and postseason tournament win made national headlines.
If every team gets a turn in the spotlight, then the first half of the season is making sure Atlantic Hockey is turning a very clear shade of red and white.
The Pioneers rolled past Hockey East's Boston University last week, 4-0, then returned from Thanksgiving break by beating AIC last night. Those three points now means SHU is tied for first with Robert Morris and Army West Point. More than that, they're one of the nation's hottest teams, a surging force worthy of attention from every corner of college hockey with six wins in their last seven games.
"Going up to BU, on the road, and coming away with that result is something we were very happy with," head coach CJ Marottolo said. "We played a full 60 minutes in that game, and our special teams got it done. We had two power play goals and two four-on-four goals. In those types of games, you need your special teams, and you need to win that game within the game. BU has dynamic forward and (really talented) guys on the back end. So I'm happy with that result and how we competed for the full 60."
Those special teams are quickly becoming the team's calling card. Forward Austin McIlmurray is tied with BU's David Farrance for the national lead with eight power play goals, part of a larger power play ranked in the top five nationally with a success rate approaching 30%.
It's big production paying big dividends. Sacred Heart has at least one power play goal in almost every game played, and the Pioneers are a perfect 5-0 when scoring multiple times with a man-up advantage, including the last two games against BU and AIC. It's become an early-season reinvention of the team's reputation, adding another layer to the team's depth and size.
"I have to give my assistant coaches credit," Marottolo said. "We've always had talent and skill on the power play, but we felt like it should've been better. It became a focus of ours as a staff to make it better (this year). Scott McDougall runs it, and he's done a good job getting our players in spots where their skills can shine. A lot of the success is coming from second and third chances. We're not getting goals on initial shots, but our intensity and ability to really crank up our work ethic is helping."
The Pioneer power play is only part of the package. Sacred Heart entered this season boasting plenty of returning depth, and the offense is responding in kind. The team is averaging between three and four goals per game, a number placing it right alongside No. 1-ranked Minnesota State.
Players like Marc Johnstone and Braeden Tuck are turning into assist machines up front, and defenseman Mike Lee leads the team in points despite only having two goals – both on the power play. McIlmurray is a special teams wizard this year, but he's also a proven goal scorer with almost 40 career goals in approximately 120 games played. And others, like Jason Cotton, Matt Tugnutt and Vito Bavaro, are all at or approaching 10 goals scored on the season. That would potentially give Sacred Heart four 10-goal scorers before Christmas, and they only had four all of last season.
"It's a work in progress," Marottolo reiterated. "We didn't lose too many guys up front, but the lines that we returned from last year got stale, so to speak. We tinkered and found chemistry within the group that we have. We feel our depth is our greatest strength, and the guys find a way to create their own identity on each line. Each line has a guy that can score, another guy who can go get the puck, and a guy who can make a play. Right now it's working, but we know that we may need to tinker again (later in the season)."
But SHU is more than a one-trick pony. The scoring defense is averaging under 2.60 goals per game and broke a tie with Brown for 27th-best in the nation with its win on Tuesday. It's one of the four best defenses in the conference, and the special teams boast a success rate over 80%
"Paul Kirtland runs our PK, and he does a great job of preparing it all week," Marottolo said. "The goalie always has to be one of the best penalty killers, and Josh (Benson) has been really good in the pipes."
The Pioneers, who had Thanksgiving off after playing three games in six days, played AIC on Tuesday night, kicking off another three-game week before they host league-leading Robert Morris over the weekend.
Fighting through the jinx
For years, the #RubinJinx was a tongue-in-cheek way to blame me for a team's success or misfortunes. It started when I continually picked against Robert Morris one year in the second half of the season, and the Colonials wound up winning the league title after I picked against them in every round of the postseason.
Before the season, I picked Niagara and Bentley to finish 1-2 in the league standings, and both promptly started the season by struggling to consistently win hockey games. Then I started talking about Air Force's struggles, and the Falcons promptly went on a winning streak. I ranted about RIT not getting love in the national poll, and ever since, the Tigers have run into tough sledding.
This past weekend, I jokingly danced around using the word "shutout" to describe Fraser Kirk's bid for a clean sheet for Bentley against Holy Cross; the Crusaders scored immediately after I talked about it on air with 12 seconds left in the game. I guess I should apologize in advance to Sacred Heart for featuring its success this week.
Anyways, I write about this because I'm about to do the unthinkable and cycle back to Niagara and Bentley. The Falcons went 3-0-0 last week (shoutout to a win in the Rubin Bowl), and Niagara, which was 0-8-1 two weeks ago, enters a bye week this week with a 4-0-1 stretch of hockey (though the tie is a shootout loss for Atlantic Hockey purposes).
Both runs are putting the teams in advantageous spots as first semester ends. Niagara was tied for sixth entering Tuesday and is within one good weekend of jumping up into the top four spots. Bentley jumped from 10th to eighth with its sweep over Holy Cross and is now within a weekend of moving into a bye spot as it heads out to Army West Point, which is 6-1-0 in its last seven games with a pair of three-game winning streaks.
I suppose it speaks to the aforementioned parity. Or maybe it speaks to my ability to kill a team's momentum. Chris annually blew me out in the weekly picks, until we stopped last year, and even though I've gained some mojo with this year's restart, I am 100 percent positive I'm going to have an epic fall from grace at some point.
Bring 'em out
I remember a time when talking about attendance at Atlantic Hockey games was akin to a fashion faux pas. There were so many worthwhile discussions that talking about getting people in the gate seemed secondary. Then came the league's collective initiative to invest and improve from a hockey infrastructure standpoint, and now there's a byproduct worth talking about.
Three Atlantic Hockey programs are now in Division I's top half of attendance when sorted by drawing capacity. Compare that to five years ago, when RIT was the lone entry as the last team in the top half of Division I. This year alone, Holy Cross, Bentley and Air Force are filling their respective arenas at a reported clip of 75% or higher, and Mercyhurst is right behind them at 64%.
I wholeheartedly agree that the number, by itself, is almost impossible to fully measure. A 68% capacity attendance at the Kohl Center in Wisconsin, for example, is going to have a substantially-larger number than the Mercyhurst Ice Center, and there are always going to be other factors in place when it comes to the actual reported number, such as if a team plays a neutral site game or anything else along those lines.
But I can objectively state the following: Atlantic Hockey programs are growing, and more people are taking interest. The league's initiatives to create hockey infrastructure worked, and more people are coming through the turnstiles (do teams still use turnstiles in 2019?).
What I'm Watching This Week
Coming back from a holiday week sets the table for a hockey feast in the upcoming days. Here's some of what I'm catching this weekend:
-The Sacred Heart-Robert Morris clash is going to be absolutely epic. The two teams match up really well against one another when it comes to strength-on-strength discussions, and the goaltending duel between Justin Kapelmaster and Josh Benson is worth the price of admission alone. That first place hangs in the balance gives it just enough dramatic air to complete the perfect recipe.
-Bentley heads to Army West Point for a series between two teams that are both riding aforementioned hot streaks. The Falcons historically play really well at Tate Rink, which makes this series super intriguing. Also, shoutout Army one week before the Black Knights play Navy in football…Go Army! Beat Navy!