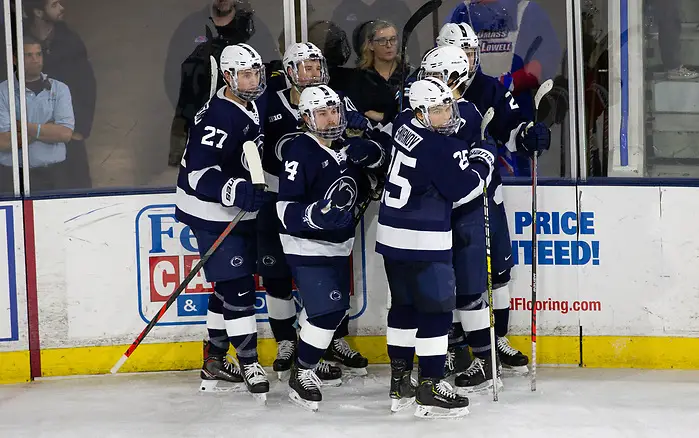 I hope everyone had a great Thanksgiving and has fully recovered from the food, family and fun. There was a plethora of Big Ten action spread across four days last weekend, let's look back on how Paula and I did with our picks.
Last week
Drew: 9-1-0 (.900)
Paula: 7-3-0 (.700)
This season
Drew: 50-22-5 (.682)
Paula: 42-30-5 (.578)
This week
The last full slate of the first half of the season features three conference series and one nonconference battle. All times are local.
No. 19 Wisconsin at Michigan State
7:00 p.m. Friday and Saturday
Since sweeping Minnesota Duluth things, to put it simply, haven't been spectacular for Wisconsin. The Badgers are 3-7-1 since sweeping the Bulldogs in mid-October. Michigan State may be coming off a sweep at the hands of Ohio State, but the Spartans are 4-3-1 in their past eight conference games, including victories over Penn State and Notre Dame and a sweep of Michigan.
Drew: Wisconsin 4-2, 5-3
Paula: Michigan State 4-2, Wisconsin 3-2
Minnesota at No. 7 Ohio State
8:00 p.m. Friday and Saturday
Things have been up-and-down for the Gophers this season, but they consistently haven't showed up against strong top-10 teams. Minnesota was swept by Minnesota Duluth, Penn State and, recently, North Dakota earlier this season. Aside from the Penn State series, the Gophers were able to keep at least one game in those series close, but it takes time for a young team to learn how to win those games. Ohio State rebounded from losing three of four by sweeping Michigan State at home last weekend. Another home sweep would cap off a nice first half for the Buckeyes.
Drew: Ohio State 4-3, 3-1
Paula: Ohio State 4-2, 3-2
No. 6 Penn State at Michigan
8:30 p.m. Friday, 7:30 p.m. Saturday
Michigan picked up a decent road split last weekend, but the Wolverines have failed to get any momentum going this season. It'll be interesting to see if they can carry over some positive vibes from Sunday's win over Wisconsin at home this weekend. Penn State split two games out East last weekend, but the Nittany Lions offense should help them this weekend, even if Michigan has been fairly stingy on defense so far this year.
Drew: Penn State 4-2, 5-2
Paula: Penn State 5-1, 4-3
No. 9 Notre Dame at/vs. No. 10 Boston College
7:00 p.m. Friday, 5:00 p.m. Sunday
This is just your normal run of the mill home-and-home series between two teams from Indiana and Massachusetts. As the crow flies, these schools are about 1,250 miles apart, so Saturday's travel day is well-earned. Notre Dame was swept by Bowling Green last weekend, losing both games 5-2. The Eagles, who are on a six-game winning streak, beat Harvard last Friday.
Drew: Notre Dame 3-2, Boston College 3-2
Paula: Boston College 3-2, Notre Dame 3-2
On Twitter
Follow Paula (@paulacweston) and me (@drewclaussen) on Twitter.
Enjoy the games, everyone!