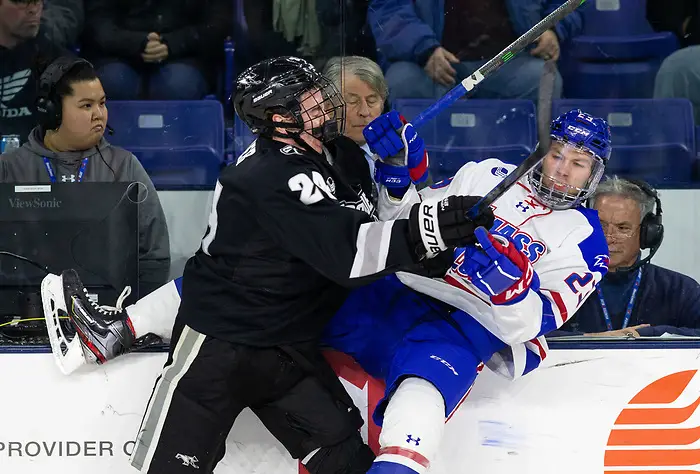 In a game dominated by special teams plays as each team was whistled for eight minor penalties, it was the power play for No. 15 Providence that made the difference as the Friars earned a road victory, 4-1, over 16th-ranked UMass Lowell.
Tyce Thompson and Patrick Moynihan each tallied on the power play for the Friars. Sandwiched between was a 4-on-4 goal by Cam MacDonald.
Perfect stretch pass from Callahan onto the tape of Moynihan and he buries it for his seventh of the season to put us up 3-0!#GoFriars pic.twitter.com/daKcd7Te3H

— PC Men's Hockey (@FriarsHockey) December 8, 2019
Connor Sodergren gave the host River Hawks life in the third when he scored with 12:09 remaining, but that was all Lowell mustered.
Greg Printz's empty net sealed the victory for Providence, which moved past Lowell into first place in Hockey East with the win.
Michael Lackey avenged a 3-2 loss on Friday to Lowell, making 27 saves for the win.
Dartmouth 2, No. 2 Cornell 1
No team is without a blemish in its results as Dartmouth upended No. 2 Cornell, 2-1. The Big Red entered the game a perfect 10-0-0.
Matt Baker's goal 45 seconds into the second period broke a 1-1 tie for host Dartmouth.
UPSTAIRS! Matty Bakes with his 4th of the season to give America's Team the one-goal lead again!

🚨 Baker (4)
🍏 Strong (1), Demler (4) pic.twitter.com/l0x75wr9L5

— Dartmouth Men's Hockey (@Dartmouth_MIH) December 8, 2019
From there, the star was goaltender Dartmouth's Adrian Clark, who stopped 11 shots in the second and 21 more in the third to complete the upset.
Dartmouth never trailed, scoring first just 2:20 into the game off the stick of Jeffrey Losurdo. Morgan Barron evened the score with just 12 seconds remaining in the first, but that was the only offense Cornell could muster.
Colgate 4, No. 12 Harvard 3 (OT)
Ben Sharf's goal at 3:40 of overtime lifted Colgate to a road victory over No. 12 Harvard, handing the Crimson its fourth straight loss.
BEN. SHARF. 🚨

🧹 Raiders earn a 4-3 OT win at No. 9/12 Harvard to seal the weekend sweep! 🧹#PlayFast pic.twitter.com/eAyCqyxiR1

— Colgate Men's Hockey (@ColgateMIH) December 8, 2019
The game was tied at two through 40 minutes before Colgate grabbed the lead with 9:52 left in regulation.
Less than two minutes later, Harvard evened the score on Reilly Walsh's fourth goal of the season to force the overtime.
Andrew Farrier made 30 saves to earn the victory for Colgate.
Boston University 6, No. 8 Northeastern 3
The host Terriers scored the game's final four goals to rally from 3-2 down and win going away, 6-3, over rival Northeastern.
Patrick Harper scored twice and Trevor Zegras tallied three assists to pace the offense for Boston University.
The game featured a wild stretch in the second period in which Northeastern scored three goals and Boston University two, all in the first 4 minutes, 17 seconds of the frame.
Here's how Jack got his first tally of the season… #GoBU pic.twitter.com/xoTCBTiiZr

— BU Men's Hockey (@TerrierHockey) December 8, 2019
After that, though, the Terriers defense settled down and added two more goals before the period ended and then added a late empty-netter.
Sam Tucker stopped 37 shots, including 23 over the final two periods, to earn the victory.
No. 3 North Dakota 8, No. 17 Western Michigan 2
A night after a nail-biting 1-0 overtime victory, North Dakota's offense came alive as Shane Pinto and Judd Caufield each scored two goals and an assist and Westin Michaud added a goal and two assists in a 8-2 victory over Western Michigan.
Make that 2️⃣on the night for Caulfield! #UNDproud @UNDmhockey pic.twitter.com/qHVJbPvwlE

— UND Insider (@UNDinsider) December 8, 2019
The victory extends North Dakota's unbeaten streak to 13 games (12-0-1). The Fighting Hawks haven't lost since October 19, their only loss thus far, a 2-1 defeat at the hands of current No. 1 Minnesota State.
Seven different players posted multi-point games for North Dakota and Adam Scheel made 27 saves and a total of 68 stops in this weekend's two victories.