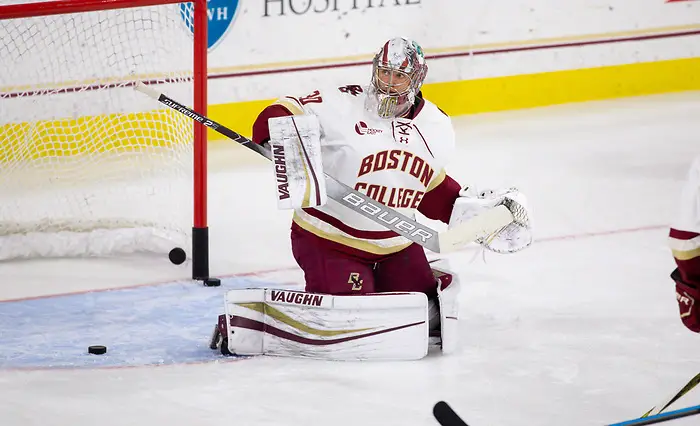 Each week during the season, USCHO.com will pick the top 10 moments from the past weekend in our Monday 10 feature.
1. Cornell loses its first game of the season
After winning its first 10 games for the first time since its 29-0 season in 1969-70, Cornell finally lost one on Saturday night as Ivy League foe Dartmouth pulled out a 2-1 decision in Hanover.
The Big Green struck early in both the first and the second periods. Dartmouth took the lead on its only power play of the night just over two minutes in. After Cornell's Morgan Barron tied the game, Matt Baker of Dartmouth netted what turned out to be the game-winner on a shot from a sharp angle 45 seconds into the second period.
The Big Red dominated possession, outshot Dartmouth 41 to 17 and hit three posts, but couldn't get the tying goal past Adrian Clark in the Dartmouth net.
Next up for Cornell is a trip to Las Vegas to face Ohio State in the Fortress Invitational on Jan. 3.
2. North Dakota continues to tear up opponents
After missing out the last two seasons, North Dakota is well on its way to getting back to the NCAA tournament.
Since their only loss of the season at Minnesota State on Oct. 19, the Fighting Hawks have reeled off a 12-0-1 streak.
In Kalamazoo over the weekend, they edged Western Michigan 1-0 on an unassisted overtime goal by Gavin Hain, then scored early and often in an 8-2 victory the next night.
After Saturday's game, the team vowed to keep the wins coming in the second half.
"When you look back at all the teams we've had at North Dakota, this probably ranks up there as one of the ones that's really special,'' coach Brad Berry told the Grand Forks Herald. "We made a pact to our guys in the locker room after here, saying, 'Hey, we're going to take a breath. We're going to get healthy here.' But we made a pact to each other to keep this going.''
3. BC demolishes Notre Dame
In a meeting of two teams headed in opposite directions, Boston College crushed North Dame by a combined score of 10-1 in a home-and-home series.
BC stretched its winning streak to seven in a row, winning 4-0 at home on Saturday and 6-1 on the road on Sunday.
The Fighting Irish have lost five in a row.
BC freshman Spencer Knight, who stopped 55 of 56 shots, now has a .940 save percentage.
4. Arizona State and Denver butt heads
The two programs – or at least the people who run their Twitter accounts – had a spat heading into the series, with the Pios observing that "It looks like the Sun Devils will be debuting new jerseys for the 2,000th time in their three-minute history.''
But good sportsmanship prevailed in the end, after Arizona State won the opener 4-1 and the two teams played to a 2-2 draw in the second game as Denver scored with 41 seconds left.
Afterward, Denver tweeted "Stick tap to @SunDevilHockey for the battle on the ice and in our mentions." Arizona State replied with "Jerseys & jokes aside, @DU_Hockey sets the bar high for hockey in the west, and we aspire to attain that respect.''
5. Colgate on the rise
In their preseason poll, the ECAC coaches picked Colgate to finish ninth.
After a weekend sweep at Dartmouth and Harvard, the Raiders are fourth, just one point behind Harvard and Clarkson and three points in back of first-place Cornell.
After routing Dartmouth on Friday, Colgate beat Harvard in overtime on Saturday. They killed a penalty in the extra session, then won it on Ben Sharf's goal at 3:40.
"(Assistant coach) Brett Riley has done a great job preparing our guys on the penalty kill and we needed those guys to step up and they did. Having to kill a penalty to start overtime is a tall order but the guys really sacrificed and got the job done,'' said coach Don Vaughan.
6. One to remember for Rensselaer
Brown came into Saturday night's game with five straight wins against Rensselaer, including the last two in Troy.
With Brown up 1-0, the Engineers turned the tables on the Bears late. After pulling their goalie and tying the game on a goal by Mike Gornall with two seconds left, RPI won it on a goal by Tristan Ashbrook just 36 seconds into overtime.
On short notice, Alec Calvaruso made 25 saves for RPI in his first start after transferring from Colorado College last December. He didn't find out he was starting until he arrived at the rink.
"We just kept playing, we didn't over stress anything, we kept hearing on the bench, 'Let's not run out of time' and we pushed that to the limit. We didn't run out of time," RPI coach Dave Smith told the Albany Times-Union.
7. Terriers awaken vs. Beanpot rivals
After a 2-3-2 stretch, Boston University came to life with a pair of home victories against Harvard and Northeastern.
Coach Albie O'Connell last week put together a line of former Avon Old Farms players — Jamie Armstrong, Trevor Zegras and Patrick Harper — and it paid off.
Harper's goal and two assists led the way in a 5-2 win at Harvard on Tuesday, then the senior scored twice as BU beat Northeastern, 6-3, on Saturday.
8. Alabama Huntsville rebounds to earn tie at Bowling Green
It's been a hard road so far for Alabama Huntsville, which is giving up over four goals a game and has only one win in its first 16 games.
And while Saturday's 2-2 deadlock at Bowling Green obviously wasn't a win in the standings, it was at least a moral victory.
On Friday, the Chargers jumped out to a 3-0 lead five minutes into the second period before Bowling Green hammered them with nine straight goals while running up a 55-11 edge in shots.
Instead of more of the same on Saturday, Alabama Huntsville earned a tie, which could be something to build on as they head to Ferris State next weekend.
9. Army on the march
After winning 12 games last year, Army already has 11 wins this season.
The Cadets are 8-3 in their last 11 games after splitting with Bentley.
Army is in second place in Atlantic Hockey heading into next weekend's series at third-place Robert Morris.
10. Better later than never
All was well that ended well for New Hampshire.
The Wildcats were forced to postpone Friday night's game against Merrimack to Sunday night because of problems with the compressor at the Whittemore Center.
With the compressor fixed, UNH scored three times in the first seven minutes on the way to a 5-2 victory.