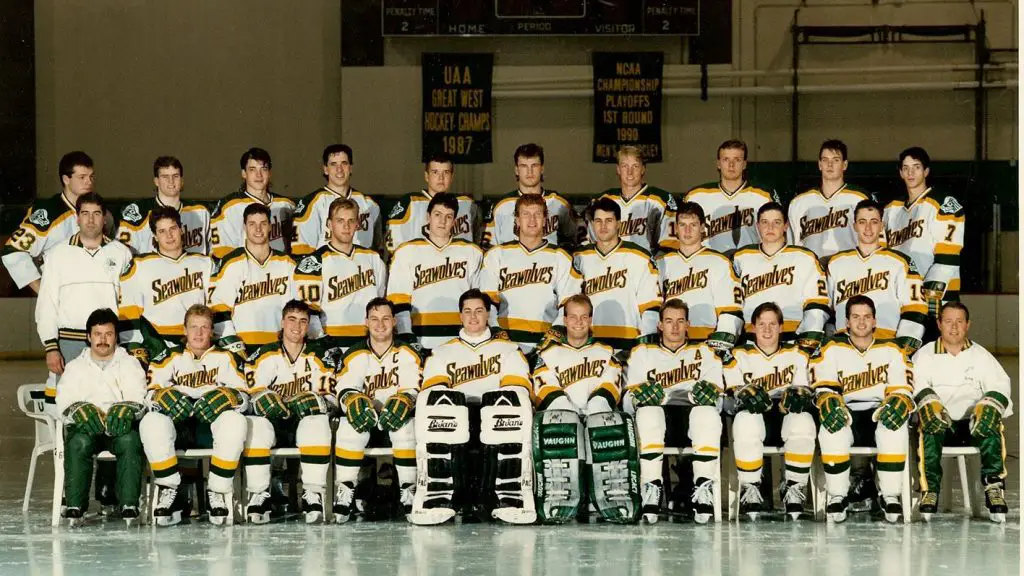 The Alaska Sports Hall of Fame will induct the Alaska Anchorage hockey team's win over Boston College in 1992 as its "moment" for the 2020 class.
The Seawolves were an independent team without a league at the time, while BC, led by Hobey Baker winner David Emma, was a perennial Hockey East powerhouse playing on its home ice in the second round of the NCAA tournament a year after reaching the national semifinals.
"I thought BC would blow them out of the building," said Jack Parker, the coach of BC's rival Boston University, in a 2019 USCHO.com feature article.
But the Seawolves, led by coach Brush Christiansen, showed no fear in the best-of-three series that pitted the West Region's sixth-seeded team against the East Region's third-ranked squad.
Alaska Anchorage beat the Eagles 3-2 in the opener, keyed by goals from Rob Conn and Brian Kraft. The next night, UAA clinched the series 3-1. Goalie Paul Krake was among the heroes, making 39 saves in the second game.
"This was huge news in Anchorage," Doyle Woody, an Anchorage Daily News reporter who attended the series, told USCHO.com. "Both game stories were on the front page of the newspaper, which is, other than radio or TV, how a lot of people found out."
The Seawolves lost to eventual national champion Northern Michigan in the NCAA quarterfinals and finished the campaign 22-17-4, but their victory in the "David vs. Goliath" series against BC was never forgotten.
Inductees to the Alaska Sports Hall of Fame are chosen through a public vote and a selection panel. Upon enshrinement, inductee portraits are permanently displayed at the Alaska Sports Hall of Fame Gallery at the Ted Stevens Anchorage International Airport.