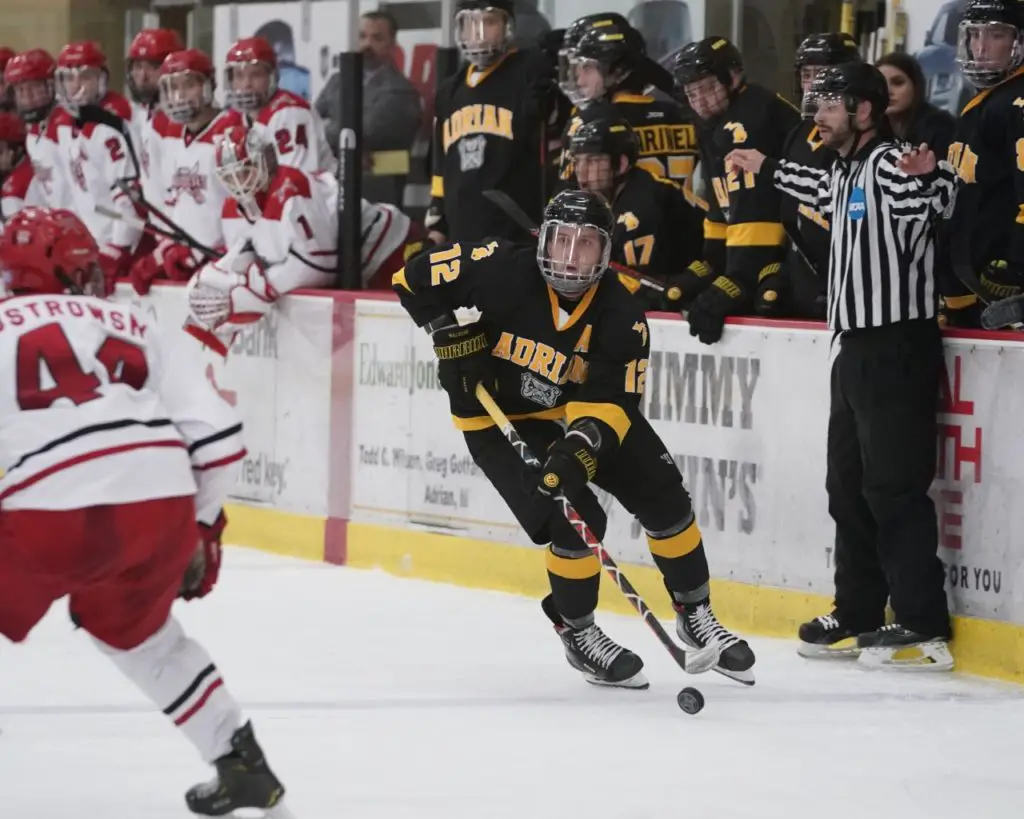 Dino Balsamo has loved the game of hockey for as long as he can remember.
His older brother played it, and naturally, Balsamo wanted to be a part of the sport as well.
"I'd follow him around when I was younger and annoy him sometimes," Balsamo said. "I could probably skate before I could walk. He's the one that made me want to play."
Balsamo has never looked back and has since gone on to become a star at Adrian, currently the 14th ranked team in the nation. He is one of the top goal scorers in the NCHA, tallying 11 on the season, and he's come through with 10 assists as well for the Bulldogs.
Production has never been an issue for Balsamo. He finished his freshman season with six goals and five assists after transferring in from Bentley and came through with 21 goals and 36 assists over the next two seasons.
With this being his senior season, he wanted to raise his game a notch or two.
"I went in wanting to have no regrets," Balsamo said. "Throughout the summer I was dialed in on getting ready to do whatever it takes to help the team. I'm trying to give it my all and hope at the end of it, we get to raise a trophy."
Though Balsamo has established himself as one of the best scoring threats in college hockey, he is quick to note that his teammates have played an instrumental part of that success.
"I have a great team around me," Balsamo said. "We all play for one another. Without my teammates, I wouldn't be successful."
Adrian is in the midst of another solid season. The Bulldogs are 9-5-3 overall and 7-3-2 in the conference. They just came away with a split against rival St. Norbert and could meet the Green Knights again in the NCHA tournament.
Adrian isn't currently sitting in first place in the South Division. However, that hasn't stopped the Bulldogs from believing they can still be the team they went into the season expecting to be.
"We have a lot of confidence in ourselves," Balsamo said. "We just have to focus on finishing games and we'll be in a good spot. Right now, you look at the rankings, and people might say Adrian isn't having a good year. But we're not worried about the rankings. We're focused on us."
The Bulldogs feature an offense that has cranked out 75 goals, the most in the conference, and they are averaging 40.4 shots per game.
Andrew Bellant and Sam Ruffin have played key roles in that offensive success. Bellant has tallied eight goals and 16 assists while Ruffin has come through with seven goals and 15 assists.
Cameron Gray has seen the most time in goal, starting 12 games. He has given up 30 goals and owns a 2.63 GAA. He has made 262 saves.
"We have a lot of great players on this team and we want to continue to have success," Balsamo said. "We love playing for coach (Adam) Krug. He wants what is best for us and pushes us to be the best players that we can be."
While Balsamo is focused on the current season and helping Adrian contend for a conference title and potential NCAA berth, he hopes to be a pro once his collegiate career is done.
"I feel like I'll have a chance to do that," Balsamo said. "I think I have a better chance if the team has success because coaches want players who are winners. I think if we can make a run, it puts me in a better spot to be a pro. I'm looking forward to that possibility after college."
Around the West Region
Jackson Bond is the top offensive threat in the MIAC. The Hamline standout has tallied 21 points. He ranks first in goals with 11 and is tied for fourth in assists with 10.
Daniil Gerasimov of Augsburg ranks first in two goaltending categories. He is first in GAA with an impressive 1.09 and sports a save percentage of .961. Gerasimov has come through with 294 saves on the season as well.
Wisconsin-River Falls head coach Steve Freeman reached a milestone last weekend, earning his 400th career victory. Freeman is in his 24th season at UW-River Falls and is 400-224-59 in his career. The win total is the highest in WIAC history and he's the 14th coach in NCAA Division III history to get there.
The Falcons have won 11 conference titles and have made five NCAA tournament trips under the direction of Freeman. The Falcons are on a roll at the moment, having won their last seven games. They are 12-4-2 overall and 4-3-1 in the WIAC.
Lake Forest has the longest win streak in the conference at nine games. The Foresters lead the South Division with an 11-1 record.  They have scored 67 goals while allowing only 41.
There's a new leader in points in the NCHA. Adam Keyes of Aurora has come through with 26, including 18 off assists. Keyes ranks second in the league in assists. Teammate Josh Boyko leads the conference in GAA (1.86) and is second in saves (504).
In the Poll: Wisconsin-Eau Claire is the lone team from the region in the top five. The Blugolds are fourth this week. Lake Forest is seventh and Augsburg is eighth. Wisconsin-Superior is also in the top 10, checking in at No. 10. Adrian is 14th in this week's poll.