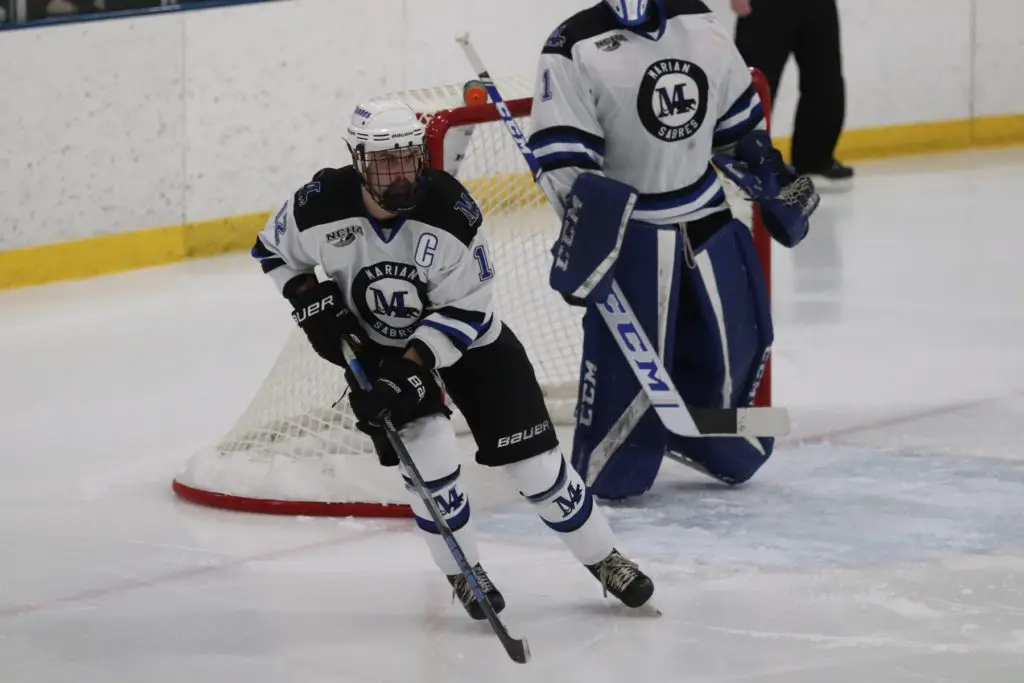 Conference play is heating up, particularly in the WIAC where there is no automatic bid to the NCAA tournament.
Wisconsin-Superior travels to Wisconsin-Eau Claire in a battle of nationally ranked teams while Wisconsin-River Falls heads to Wisconsin-Stevens Point.
Augsburg and St. Thomas are both looking to maintain their hold on the top two positions in the conference in their respective series this weekend. 
NCHA division leaders Lake Forest and Marian are both in action this weekend and lookng to maintain their hold on first place.
Here's a look at my picks for this week
Friday and Saturday 
Concordia (5-8-2, 2-3-1) at Hamline (3-10-4, 1-4-3)
The Cobbers are coming off a huge win over UW-Eau Claire and hope that carries over into a critical stretch of games in conference play. The Cobbers are on the outside looking in at the moment for a playoff berth but can help their cause with a sweep.  This could be an exciting series with two of the best goal scorers in league facing off in Jackson Bond (Hamline) and Aaron Herdt (Concordia). Concordia, 4-3; Hamline, 3-2
Saint John's (4-6-5, 1-1-4) vs. Augsburg (11-4-1, 6-1-1)
The Johnnies have a tall order in front of them taking on the first-place Auggies.
Kyle Wagner leads the way offensively with 15 points and Saint John's has to find a way to get the offense going against an Augsburg team that features Daniil Gerasimov in goal. Gerasimov has a 1.09 goals against average. The Auggies also have 47 goals on the season. Augsburg, 4-2; Augsburg and Saint John's, 3-3
Gustavus (7-6-2, 3-2-1) vs. St. Thomas (8-6-2, 5-3)
This is a big opportunity for the Gusties to move up the standings and solidify their postseason hopes. The Tommies, sitting in second place, need to come up big in both games to make sure the gap doesn't widen between it and Augsburg any further.
Caleb Anderson has been on top of his game for the Gusties, scoring eight goals and dishing out 10 assists. St. Thomas have been paced by John Peterson, who has tallied six goals and eight assists. Gustavus, 3-1; St. Thomas, 5-2
UW-Superior (12-2-3, 5-2) at UW-Eau Claire (12-3-1, 4-2)
No team has scored more goals this season than the Yellow Jackets, who have racked up 70. On the flip side, the Blugolds have allowed the fewest goals in the conference (26). UW-Superior isn't too far behind, giving up just 33. Zach Dyment has made 268 saves while Oscar Svensson has seen most of the time in goal for the Yellow Jackets, appearing in 12 games and tallying 252 saves. UW-Eau Claire, 5-3; UW-Superior, 3-2
UW-River Falls (12-4-2, 4-3-1) at UW-Stevens Point (9-6-1, 3-2-1)
The Falcons have won their last seven while the Pointers have put together a four-game winning streak. This game carries a lot of weight for both teams in terms of conference title hopes and NCAA tourney hopes.
This should be an entertaining two-game series. Christian Hausinger and Ryan Cusin of UW-River Falls are tied for first in the WIAC in points (26) and Luke McElhenie has tallied 21 points on the year for the Pointers. Look for both games to be tightly contested from start to finish.  UW-River Falls, 5-4; UW-Stevens Point 4-3
Lawrence (8-8-2, 4-7-1) at Adrian (11-5-3, 7-4-3)
Adrian needs every win it can get at this point to stay in the hunt for a South Division title. The Bulldogs go into the weekend six points back of first-place Lake Forest. Lawrence has positioned it well to make a run at a conference playoff berth, currently sitting in third in the North Division. But the Vikings have dropped three in a row and need momentum back on their side. Playing well defensively is key for Lawrence against an Adrian team that has scored a league-best 75 goals. Adrian, 4-2 and 3-1
Marian (12-4-1, 8-4) at Trine (8-8-1, 6-5-1)
The Sabres lead the North Division and can solidify their hold on first place with a big weekend against the Thunder. Marian rides a four-game winning streak into this series. The Thunder is in a must-win situation from here on out to salvage its playoff hopes. This one could be interesting defensively with Brett Young (415 saves) in goal for Trine and Hunter Vorva (385) between the pipes for Marian. Marian, 5-2 and 3-2
St. Scholastica (5-12-1, 3-10-1) at Lake Forest (14-2-1, 11-1)
The Saints have struggled mightily as of late, dropping their last six games. Facing nationally ranked Lake Forest probably isn't the ideal situation in which to attempt to end a losing streak but the Saints will go into this with an upset on their minds.
Lake Forest has rattled off nine consecutive wins and riding high as the leader of the South Division. Boyd DiClemente boasts a 2.24 goals against average for the Foresters, who are 9-1 in their last 10 games. Lake Forest, 5-2 and 4-1