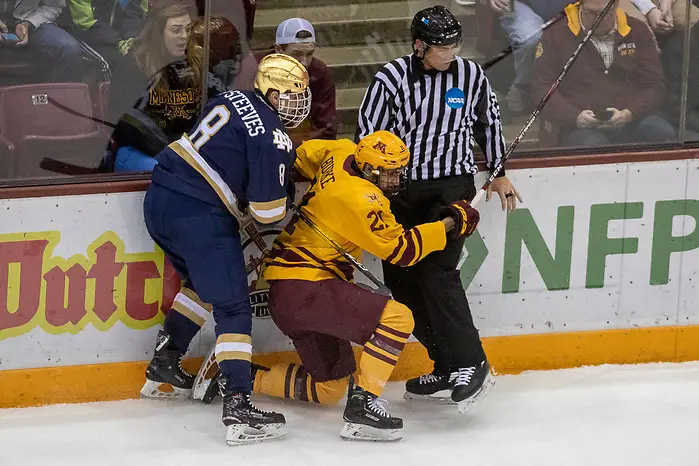 "It's been a funny year."
That may seem like an unusual statement from a coach whose team is struggling, but Jeff Jackson isn't really laughing here.
Nor is he crying.
It's been a peculiar year for Notre Dame, the team picked by coaches to finish second in the Big Ten, the team that returned a Richter Award-winning goaltender, a team that has made the NCAA tournament the last four years straight with back-to-back Frozen Four appearances in 2017 and 2018. Now 10-10-4 overall and in fourth place in conference standings, the Fighting Irish are experiencing something new to everyone on the team. But there's nothing to cry about.
"I give this group a lot of credit because they've stayed positive," said Jackson. "There really hasn't been any in-fighting or any pointing fingers or blame. If anything, I think that confidence has been a factor for us, probably as a team and within a lot of individuals who had a tad higher expectations. You do worry about their confidence, but I haven't seen it result in more selfish play."
After a 8-1-2 start to the season, the Fighting Irish went through a six-game losing streak – a seven-game winless stretch, counting their tie against Michigan State Nov. 22 – and have been 2-3-2 since breaking that skid. This is unfamiliar territory to the players who won the Big Ten playoff championship in 2018 and 2019, the first two years of Notre Dame's membership in the conference.
That's the funny part, said Jackson – funny as in odd, as in different, as in very not the norm at Notre Dame.
"I never like using youth as an excuse – some of the best teams I've ever had were younger teams – but the fact is that we only have five seniors and we have five juniors," said Jackson. "Those guys have known nothing but success since they've been here, and so you've got that element of those guys that this is new territory for them. They have not experienced the losing streak that we had. They haven't experienced going through such a scoring drought.
"And then you've got all the young guys that are following these older guys that are trying to feel their way through their freshman or sophomore years. It's kind of a funny conundrum that we've got an upper class that has known nothing but success and has high expectations, and they're not having that individual or team success that maybe they expected, so they're kind of searching. Then you've got the younger guys that are following that are looking for answers, too, so it's kind of a double-edged thing.
"It's been frustrating for us coaches, and I know it's been frustrating for them, but for me the most positive thing is that they have stayed together, they have stayed positive, and they're competing, they're still working."
Offensively, the Irish are down a tick from last season, averaging 2.58 goals per game as opposed to the 2.80 of last season. It doesn't seem like much, but Jackson said it is having a bit of a cumulative effect.
"Goal scoring is not easy for anybody," said Jackson. "When our depth scoring started disappearing, it really put more pressure on the guys that are expected to score and generally they start clamping onto their sticks a little bit tight. They start getting away from doing the things that they need to do to be successful.
"It's no different than a good hitter in baseball when he goes into a slump; it affects his fielding, his running, his catching. It's the same thing with a hockey player. If you're starting to stress out about scoring goals, then you may not be doing the things that are going to help you score goals."
That's a bit of what happened last Friday night in Columbus, when the Irish watched a three-goal shutout lead over the Buckeyes disappear after the midway mark of the third period. Ohio State scored two, Notre Dame answered to make it a 4-2 game, and the Buckeyes responded with two goals with their goalie pulled within the last two minutes of regulation to send it into overtime.
"Once the other team scores, we take a dip emotionally. That's the confidence factor," said Jackson. "That's why after they scored the second goal, I called the time out. And, frankly, we didn't defend well enough in that situation and we had a chance with an empty net and missed the net. That stuff comes back and bite you. Our guys still played, though. We ended up winning the shootout."
And in spite of how unexpectedly this season has gone for Notre Dame, the Fighting Irish are still in fourth place in the Big Ten, five points behind Michigan State and Penn State tied for second, six points behind league-leading Ohio State. The Irish may be in a more challenging position, but Jackson said that his expectations of the team for the remainder of the season haven't changed at all.
"All it takes is having two, three good weekends where you're getting some points, and all of a sudden you're back in the mix," said Jackson. "You can't change your expectations. It's just too close. We've been sitting in fourth place here for probably two months now. We win two games last weekend or we get another two points and we're right in the mix for being a top three team in the conference. We're not that far away from the top, but we need to win some games. We need to keep pushing forward and take advantage of the next opportunity that's ahead of us."
One expectation that Jackson and the Fighting Irish have every year is to advance to the NCAA tournament. Given that Notre Dame has dropped to No. 21 in the PairWise Rankings, it's likely that the Irish would have to win a third straight Big Ten playoff championship to accomplish that goal.
"I've tried to avoid getting too wrapped up in that," said Jackson. "I'm more concerned about practice tomorrow."
This weekend Notre Dame hosts Wisconsin. The teams split a pair of games in Madison in November and the Badgers need exactly the same number of points to catch the Irish as the Irish do the Buckeyes – six, or just a pair of Big Ten games.
Secret to their success
After last Friday's Big Ten play, Penn State was knocked out of the top spot in the league standings and Michigan State was there – briefly, anyway.
"For a few hours, anyway" said Spartans coach Danton Cole.
He laughed.
It's a funny season and this is a tough league. When the weekend's play was finished, the Spartans and the Nittany Lions were tied behind the new No. 1 in Ohio State.
This weekend, Michigan State hosts Penn State. Each team has 22 points, each team is 8-5-1 in Big Ten play, but each team's season is so very different that it's difficult to point to any further similarities. At Penn State, Guy Gadowsky has made no secret of the team's struggles with identity.
The Nittany Lions like to score a lot of goals and they do, in fact, score goals – just not quite as many as they did last season and they've been shut out four times this season, including last weekend's 6-0 home loss to Michigan. Even though Penn State is still No. 9 in the PairWise Rankings with the fourth-best offense nationally and the seventh-best scoring margin in the country, the Nittany Lions seem by their own admission to be a bit off kilter.
Not so Michigan State.
In preseason, the coaches picked the Nittany Lions to top the league and the Spartans to anchor it, so the Spartans are exceeding everyone's expectations – except, maybe, for what they expect of themselves.
Now in his third season as the head coach of the Spartans, Danton Cole may still be enjoying the honeymoon phase of program rebuilding, but it's clear that he's taking everything in the right direction. Cole, though, gives most of the credit for Michigan State's rise to his upperclassmen.
"They've been outstanding with that," said Cole. "They've kind of pushed the culture and the work ethic and the way we want things done, especially the seniors. Give them tons of credit with their leadership. We only can spend so many hours with the guys per day and the rest of it is kind of on the team leaderships' shoulders and they've done an outstanding job with that."
One senior that has made an enormous difference for the Spartans this season is goaltender John Lethemon, whose .943 save percentage is second-best in the nation and leaps and bounds ahead of where he was a year ago. Cole said that Lethemon took it upon himself to improve, spending last offseason gaining muscle and working on strength, speed, and endurance. Lethemon also has worked closely with assistant coach Joe Exter, a goaltender himself at Merrimack (2000-03).
"Sometimes, it takes a bit for everything to come together," said Cole. "Obviously, this year it has for John. I give him all the credit in the world – his focus, commitment, and he's had the will to get better. He's a good testament to everyone around here that you can always get better. He's made a big jump and it's fun to see when that kind of jump."