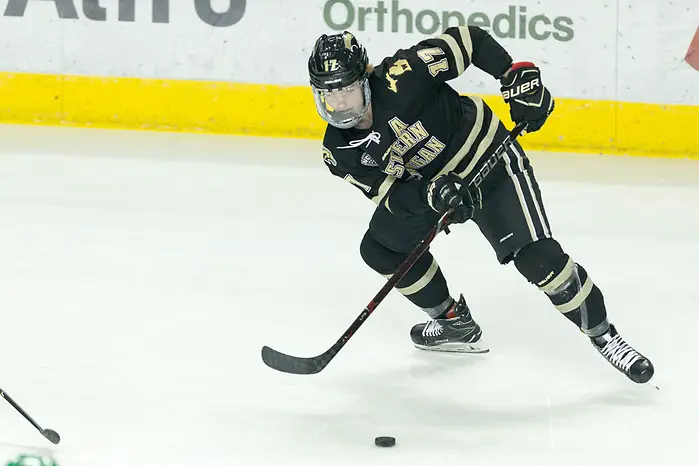 A murderer's row of top teams while your team is fighting injuries is not a good recipe for success, and that certainly was the case for Western Michigan.
Starting with a Nov. 15 series against then-No. 19 Omaha, Western Michigan has played five straight series against ranked teams, including three against top 10 teams, and after beating Denver on Nov. 22 had gone seven straight games without a win.
Last weekend, the Broncos ended that streak with an impressive sweep of Colorado College, winning 5-2 and 6-2.
According to coach Andy Murray, last weekend was the first time Western sent out the team and lines they thought they'd have at the start of the year, and that has affected Western's scoring.
"Well, Wade Allison's played 13 games, Cam Lee's played 12 games, Ronnie Attard missed eight games, Drew Worrad missed four, and Josh Passolt missed six," Murray said. "I can go on and on. We were the fifth-highest scoring team in the country last year. Certainly, you are correct with our lack of offense, but we have not in any series until last weekend been able to play our forward units the way that we envisioned they might be together.
"I think there's some of that in terms of just the right kind of symmetry on our units."
While scoring has been at times difficult during Western's run against ranked teams, shots have come easily, and Murray thinks that has been a positive sign for the team.
"The interesting part, I was telling our guys when the result was clear in the last few minutes somebody put a couple of shots on net because if we get 40 shots again tonight, that's six games in a row that we've had over 40 shots on net," Murray said. "Logical statistics would normally say if you're generating that many shots and quality shots and scoring chances that you would score. No question we've had trouble scoring. I mean, we had 44 shots against North Dakota; I think they had 27 or 28. We're in overtime with them 0-0 and we lose 1-0 with 55 seconds left to go in the overtime, so you don't get anything for it. We played Notre Dame, the two games we generate over 40 shots and we get one tie out of that series. We play Duluth and both nights have over 40 shots, and again, we got a shootout win."
For Murray, however, the defense has been more of an issue. The Broncos gave up eight goals in one game against North Dakota, six in one game against Denver, four in a one game against Notre Dame, and six in one game against Minnesota Duluth.
"We have had trouble scoring, but the biggest thing for me is the goals we've been giving up, more so than the offense," said Murray. "Part of the issue is it's like somebody that's a boxer. I think I used the analogy in our press conference yesterday is when you're doing a lot of punching and you haven't knocked the person out, sometimes you drop your guard and they just nail you and it's all over. We've had a few games like that where we've dropped our guard and other teams have capitalized on us."
Perhaps even bigger than the conference sweep on the weekend for Western Michigan was the play of Allison, who had points in both games. Murray said Allison showed the form that had him near the top of the game a couple of years ago.
"I think the two games he played on the weekend were the best games he's played in two years, since that January game two years ago," said Murray. "I think he had 31 points or something in 19 or 20 games. He was probably top three for the Hobey at that particular time. We won Friday night in St. Cloud and that moved us to No. 2 in the country. If we beat St. Cloud that night, we would have been No. 1 in the country, and (in the game) we lost Colt Conrad for most of the season with a broken jaw, and we lost Wade for the rest of that year and really all of last year. He had some issues at the start of this year with a couple of other things, too. To see him skating and playing and being able to play the way that he needs to play, it was the best he's played in two years, not just the points, but the way he played.
"We're happy for him. It's been a real, real battle for him. It was certainly great to see that."
In talking with Murray, one thing that is refreshing is he doesn't pull punches, either about his team's play or his own work. Asked about the power play and penalty kill units that have struggled mightily this season, Murray looks at himself first.
"The first thing you'd have to say if I was looking at it is it's bad coaching. I have to do a better job as the coach. A bit of the problem on the power play is I don't know from one weekend to the next if we've ever been able to ice the same units. It's been really interesting that way, but no excuses, we have to be better on the power play unit. We're again hoping that now we've got our team back, we can get some continuity going there. Our penalty kill's been a battle for us. We haven't been good enough on that for a couple years. It's still something that we're looking to improve on."
This weekend, the Broncos will host a rejuvenated St. Cloud State team that is coming off a huge sweep of Minnesota Duluth last weekend.
"I would like to maybe have played St. Cloud a little earlier in the season when they were trying to find their game with so many players, but they were outstanding last weekend against Duluth in sweeping them, and guess who we have this weekend?" Murray said. "I don't let our guys use the word 'confidence' or 'momentum' because I don't know what confidence is. You play good, you feel good. If you play bad, you feel lousy. We feel that we've got a lineup, just like every other coach does in the NCHC, that has a chance to win on a nightly basis. That's what we're trying to do, be more consistent with our game and in our effort and the shots generated and so on. We play tough teams, and we play in the toughest conference.
"You've just got to try to win on a nightly basis, and that's all we're doing right now."
Top 10 clash
Most college hockey fans will be looking to Duluth this weekend, as No. 2 North Dakota travels to face the two-time defending national champion Bulldogs.
After seeming to have fixed their consistency issues, Duluth came out flat last weekend and was swept by St. Cloud, dropping the Bulldogs to 12th in the PairWise Rankings. Minnesota Duluth scored only one goal all weekend. North Dakota coach Brad Berry said after his team's win over Miami that Duluth would be "spitting nails" this coming weekend.
Minnesota Duluth is in a critical stretch of the season. After this weekend's series against North Dakota, the Bulldogs travel to Denver to face the No. 5 Pioneers. The Bulldogs likely need at least splits in each series to maintain their standing in the PairWise and have an opportunity to go for the three-peat.
Hobey hunt
When the 78 players for the Hobey Baker Memorial Award were announced last Thursday, 14 NCHC players were among the nominees.
Every NCHC team has at least one player nominated, and six NCHC teams have two nominees. Ironically, league leader North Dakota is one of the two teams with only one player (Jordan Kawaguchi) nominated. St. Cloud is the other team with only one nominee. Fans can vote for their choice online via the Hobey Baker website.
Only one NCHC player, Denver's Will Butcher, has won the award. St. Cloud defenseman Jimmy Schuldt was a Hobey Hat Trick finalist last year.
The NCHC has had a Hobey Hat Trick finalist in five of its six seasons and has produced a total of 10 Hobey top 10 finalists.