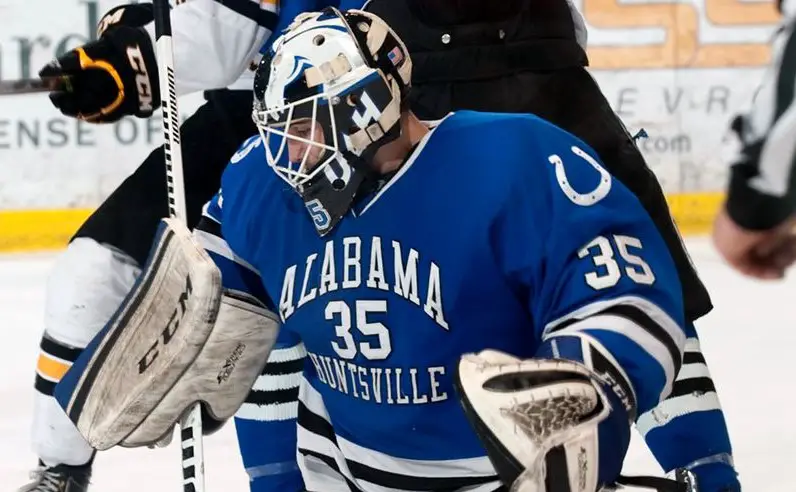 Alabama Huntsville announced recently the hiring of Carmine Guerriero as an assistant coach.
Guerriero, who played for the Chargers from 2013 to 2017, returns to Huntsville after most recently serving as volunteer goalie coach at St. Lawrence.
"I am extremely excited to have Carmine join our staff and return to our program," UAH head coach Lance West said in a statement. "His attitude and passion for coaching will bring a great energy to the entire program every day. He has an incredible sense of pride for the University and the hockey program which is an example of how we want all our athletes to feel after their college experience at UAH.
"I know our players will benefit a great deal having Carmine as a coach. We are very fortunate to add a young coach who understands and wants to help student-athletes in their development as athletes and young men."
"As a proud UAH alumnus, I am incredibly excited to be rejoining the program," Guerriero added. "I am eager to work with and learn from such an experienced coaching staff in Coach West and Coach (Karlis) Zirnis and I look forward to instilling our culture into the program.
"I am grateful for UAH and what it has given to me. I want to be able to give back to the University and I can't think of a better way to do that than to help lead the team that I once played for. I'd like to thank coach Brekke and the staff at Saint Lawrence for giving me the opportunity to get my foot in the door at the Division I level. With that being said, I cannot wait to get back to Huntsville and be a part of this new beginning. More importantly, I am looking forward to helping this group bring UAH hockey back to where it needs to be."
A Montreal native, Guerriero set the WCHA record for saves in a game with 76 in the program's first-ever WCHA playoff game in the 2014-15 season at Michigan Tech.
Following his career in Huntsville, Guerriero played with five ECHL squads in 2017-18 prior to backstopping the French team Albatros de Brest to a regular-season championship in 2018-19.
Additionally in his post-playing career, he served as emergency backup goaltender for the NHL's Ottawa Senators.
The Chargers coaching staff now features three UAH alums, including West (1995), Zirnis (2003) and now Guerriero (2017).