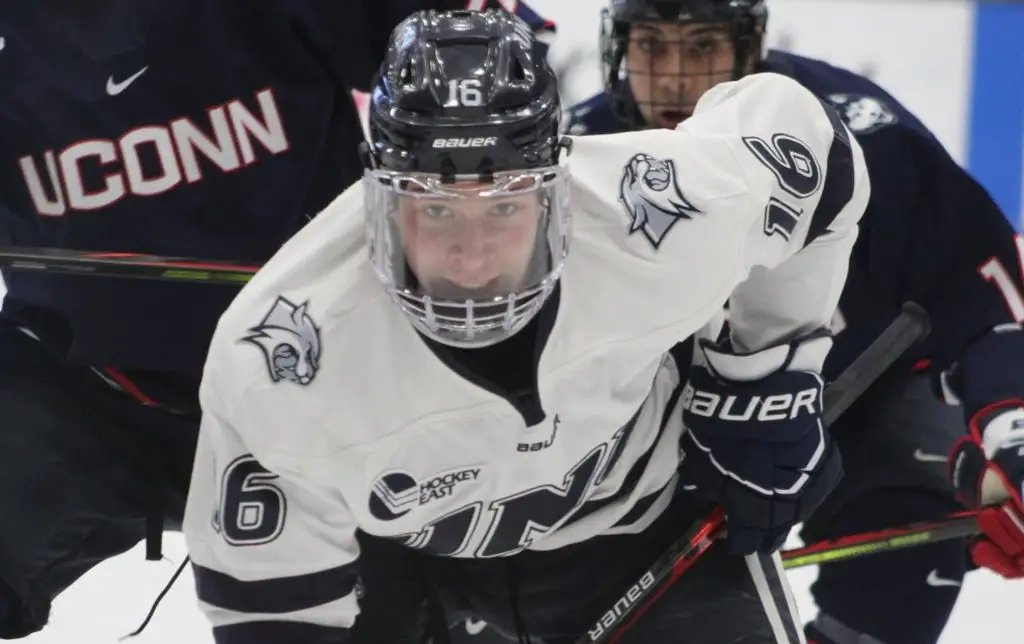 The second round of the 2020 NHL Draft kicked off Wednesday morning and saw a string of NCAA freshmen get picked as defenseman Tyler Kleven (44th overall, Ottawa Senators), defenseman Brock Faber (45th overall, Los Angeles Kings), goaltender Drew Commesso (46th overall, Chicago Blackhawks) and forward Luke Tuch (47th overall, Montreal Canadiens) went consecutively to start the second round.
All four players spent the last two seasons with USA Hockey's NTDP in Plymouth, Mich.
Also in the second round, UConn sophomore defenseman Yan Kuznetsov went with the 50th overall pick to the Calgary Flames.
In the third round, nine players with NCAA ties were taken, followed by 13 in the fourth round, 10 in the fifth round, 10 in the sixth round and then wrapping up with a dozen in the seventh round.
Our list of NCAA players selected in the draft is here:
| Round | Pick | Name | Pos | School | 2019-20 team | NHL team |
| --- | --- | --- | --- | --- | --- | --- |
| 1 | 5 | Jake Sanderson | D | North Dakota | USNTDP | Ottawa |
| 1 | 14 | Dylan Holloway | C/LW | Wisconsin | Wisconsin | Edmonton |
| 1 | 29 | Brendon Brisson | C | Michigan | Chicago (USHL) | Vegas |
| 2 | 36 | Sam Colangelo | RW | Northeastern | Chicago (USHL) | Anaheim |
| 2 | 38 | Thomas Bordeleau | C | Michigan | USNTDP | San Jose |
| 2 | 44 | Tyler Kleven | D | North Dakota | USNTDP | Ottawa |
| 2 | 45 | Brock Faber | D | Minnesota | USNTDP | Los Angeles |
| 2 | 46 | Drew Commesso | G | Boston University | USNTDP | Chicago |
| 2 | 47 | Luke Tuch | LW | Boston University | USNTDP | Montreal |
| 2 | 50 | Yan Kuznetsov | D | Connecticut | Connecticut | Calgary |
| 2 | 58 | Mason Lohrei | D | Ohio State | Green Bay (USHL) | Boston |
| 3 | 67 | Ian Moore | D | Harvard | St. Mark's (USHS) | Anaheim |
| 3 | 74 | Ty Smilanic | F | Quinnipiac | USNTDP | Florida |
| 3 | 79 | Landon Slaggert | LW | Notre Dame | USNTDP | Chicago |
| 3 | 80 | Jake Boltmann | D | Minnesota | Edina (USHS) | Calgary |
| 3 | 81 | Wyatt Kaiser | D | Minnesota Duluth | Andover (USHS) | Chicago |
| 3 | 83 | Alex Laferriere | RW | Harvard | Des Moines (USHL) | Los Angeles |
| 3 | 86 | Dylan Peterson | C | Boston University | USNTDP | St. Louis |
| 3 | 89 | Trevor Kuntar | C | Boston College | Youngstown (USHL) | Boston |
| 3 | 91 | Jackson Hallum | F | Michigan | St. Thomas (USHS) | Vegas |
| 4 | 95 | Michael Benning | D | Denver | Sherwood Park (AJHL) | Florida |
| 4 | 97 | Sam Stange | RW | Wisconsin | Sioux Falls (USHL) | Detroit |
| 4 | 100 | Carter Savoie | LW | Denver | Sherwood Park (AJHL) | Edmonton |
| 4 | 102 | Jack Smith | C | Minnesota Duluth | St. Cloud Cathedral (USHS) | Montreal |
| 4 | 105 | Zachary Uens | D | Merrimack | Merrimack | Florida |
| 4 | 109 | Blake Biondi | C | Minnesota Duluth | Hermantown (USHS) | Montreal |
| 4 | 111 | Mitchell Miller | D | North Dakota | Tri-City (USHL) | Arizona |
| 4 | 113 | Jackson Kunz | LW | North Dakota | Shattuck-St. Mary's (USHS) | Vancouver |
| 4 | 116 | Eamon Powell | D | Boston College | USNTDP | Tampa Bay |
| 4 | 118 | Colby Ambrosio | C | Boston College | Tri-City (USHL) | Colorado |
| 4 | 120 | Ethan Edwards | D | Michigan | Spruce Grove (AJHL) | New Jersey |
| 4 | 121 | Alex Jefferies | LW | Merrimack | The Gunnery (USHS) | NY Islanders |
| 4 | 124 | Sean Farrell | C | Harvard | Chicago (USHL) | Montreal |
| 5 | 130 | Artem Shlaine | C | Boston University | Shattuck-St. Mary's (USHS) | New Jersey |
| 5 | 131 | Matteo Costantini | C | North Dakota | Buffalo (OJHL) | Buffalo |
| 5 | 134 | Brett Berard | LW | Providence | USNTDP | NY Rangers |
| 5 | 136 | Jakub Dobes | G | Ohio State | Omaha (USHL) | Montreal |
| 5 | 139 | Ryder Rolston | RW | Notre Dame | Waterloo (USHL) | Colorado |
| 5 | 140 | Ben Meehan | D | UMass Lowell | Cedar Rapids (USHL) | Los Angeles |
| 5 | 142 | Carson Bantle | LW | Michigan Tech | Madison (USHL) | Arizona |
| 5 | 144 | Jacob Truscott | D | Michigan | USNTDP | Vancouver |
| 5 | 150 | Matt Kessel | D | Massachusetts | Massachusetts | St. Louis |
| 5 | 151 | Mason Langenbrunner | D | Harvard | Eden Prairie (USHS) | Boston |
| 6 | 156 | Kyle Aucoin | D | Harvard | Tri-City (USHL) | Detroit |
| 6 | 157 | Nick Capone | RW | Connecticut | Tri-City (USHL) | Tampa Bay |
| 6 | 159 | Lucas Mercuri | C | Massachusetts | Salisbury (USHS) | Carolina |
| 6 | 166 | Luke Reid | D | New Hampshire | Chicago (USHL) | Nashville |
| 6 | 168 | Veeti Miettinen | RW | St. Cloud State | Espoo (Finland) | Toronto |
| 6 | 169 | Filip Engarås | F | New Hampshire | New Hampshire | Edmonton |
| 6 | 170 | Chase Yoder | C | Providence | USNTDP | Pittsburgh |
| 6 | 180 | Joe Miller | C | Minnesota | Blake (USHS) | Toronto |
| 6 | 182 | Riley Duran | C | Providence | Lawrence Academy (USHS) | Boston |
| 6 | 184 | Noah Ellis | D | Massachusetts | Des Moines (USHL) | Vegas |
| 7 | 187 | Kienan Draper | RW | Miami | St. Andrews College (Canada HS) | Detroit |
| 7 | 189 | John Fusco | D | Harvard | Dexter Southfield (USHS) | Toronto |
| 7 | 194 | Noah Beck | D | Clarkson | Fargo (USHL) | St. Louis |
| 7 | 195 | Wyatt Schingoethe | C | Denver | Waterloo (USHL) | Toronto |
| 7 | 196 | Alex Young | C | Colgate | Canmore (AJHL) | San Jose |
| 7 | 202 | Gunnarwolfe Fontaine | LW | Northeastern | Chicago (USHL) | Nashville |
| 7 | 203 | Chase Bradley | LW | Northeastern | Omaha (USHL) | Detroit |
| 7 | 207 | Ethan Bowen | C | North Dakota | Chilliwack (BCHL) | Anaheim |
| 7 | 209 | Chase McLane | C | Penn State | Tri-City (USHL) | Nashville |
| 7 | 210 | Timofey Spitserov | RW | Massachusetts | Culver Academy (USHS) | San Jose |
| 7 | 212 | Devon Levi | G | Northeastern | Carleton Place (CCHL) | Florida |
| 7 | 213 | Ryan Tverberg | C | Harvard | Toronto (OJHL) | Toronto |