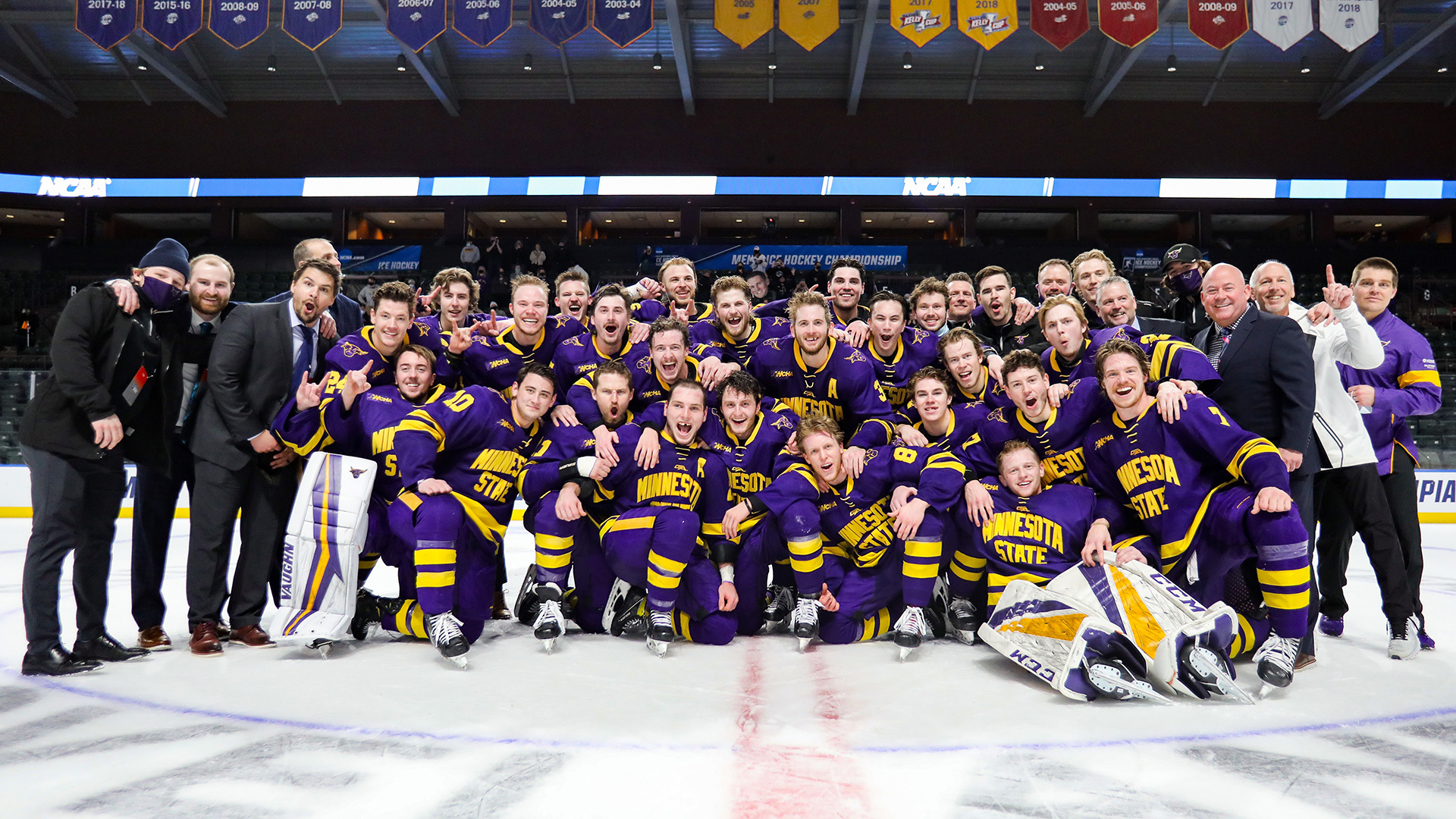 Minnesota State needed a first-round rally to rid itself of the cloud of being winless in the NCAA tournament.
Freed of that burden, the Mavericks made the next step — to the Frozen Four — with a solid start-to-finish effort.
Sam Morton and Ryan Sandelin scored first-period goals, and Dryden McKay made 22 saves for his 10th shutout in Minnesota State's 4-0 victory against Minnesota in the Loveland Regional final on Sunday.
"It was no secret we got the monkey off our back [Saturday] night," McKay said. "It seemed like we were playing much more loose, much more free tonight. That's probably the best team game that I've seen since I've come to Mankato. Just start to finish, everybody was bought in, everyone was dialed in to what we wanted to do."
The Mavericks, 0-6 in the NCAA tournament as a Division I team entering the weekend, will face St. Cloud State in the Frozen Four semifinals on April 8.
Morton and Sandelin scored 2:07 apart in the opening period as Minnesota State completed a reversal from a humbling, 5-1 loss to Northern Michigan at home in the WCHA semifinals on March 19.
"We weren't feeling too good after we lost to Northern Michigan," Mavericks coach Mike Hastings said. "And I know there were a lot of people doubting us. The group really stepped up."
They held the Gophers to nine shots on goal over the first two periods. Minnesota brought pressure in the third but the Mavericks added on with a Nathan Smith score midway through the frame and an empty-net goal by Dallas Gerads.
Minnesota State (22-4-1) blocked 23 shots; the Gophers had only 22 shots on goal.
"I have to tip my cap to the team tonight," McKay said. "I've never seen an effort like that as far as the commitment to blocking shots, the selflessness. That's something we pride our game on. They made my life pretty easy back there."
Minnesota (24-7), which scored seven times in a first-round victory against Omaha on Saturday, had its offense stymied for most of the regional final.
The Gophers were shut out for the first time this season.
"It was definitely a frustrating game when pucks and bounces aren't going your way," Minnesota forward Sammy Walker said. "I tip my hat to them. They played a great game. They shut us down. They're a veteran team. They block shots and sacrifice, and you couldn't really get it in there so that's what they did well tonight."
Sandelin scored the overtime goal against Quinnipiac on Saturday that completed Minnesota State's rally from a 3-1 deficit. On Sunday, he added an assist to his seventh goal of the season and was named the regional's most outstanding player.
Hastings called the line of Morton, Brendan Furry and Sandelin "difference makers."
That was especially true in the first period when the Mavericks set the tone with long stretches of puck possession.
"We wanted to try to get to our game a lot sooner than we did the night before," Hastings said. "I just thought we came out and we were real tight last night. Tonight, I thought the guys came out and played with some confidence."
Minnesota State got 13 saves in the third period from McKay, the only one of 10 Hobey Baker Award finalists to make it to the Frozen Four.
McKay was a freshman in 2019 when the Mavericks lost in the first round for the sixth time. Two of the last three defeats were when they were a No. 1 regional seed, including the top overall seed in 2015.
Minnesota State's step into the Frozen Four was just a start of the process, McKay said.
"We want to earn our respect and we knew the only way to do that was to come to the big stage and get the job done," he said. "We're halfway there."