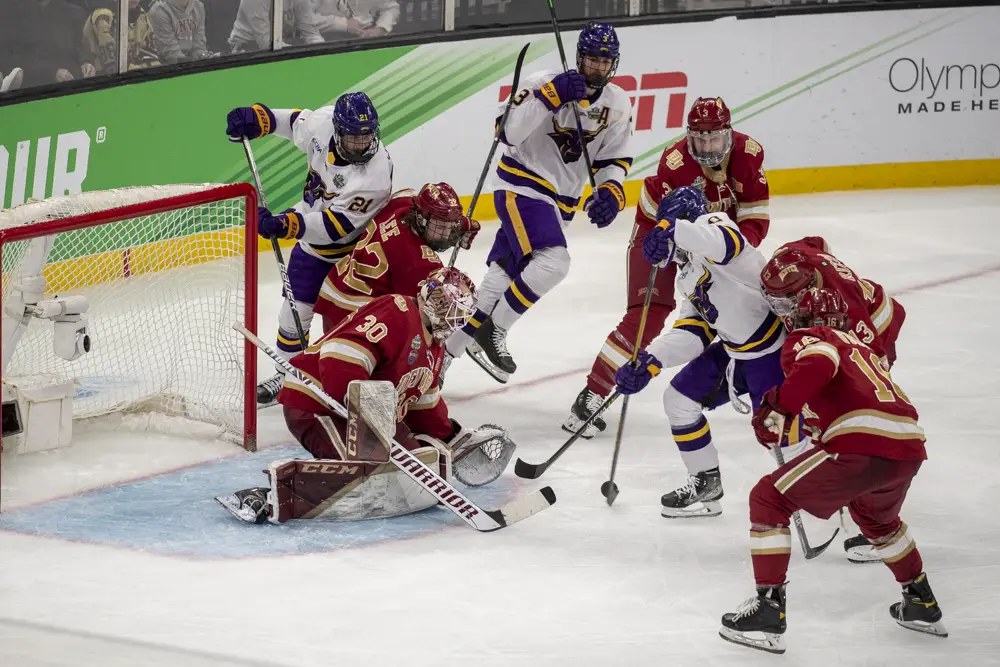 March Madness for men's Division I college hockey could look a little bit like college basketball in the very near future.
The Gazelle Group, a sports marketing and events company in New Jersey, has distributed memorandums to each of the men's college hockey coaches to gauge interest in the establishment of a second postseason national tournament, the "College Hockey Playoff" or CFP.
The event would be run similar to another grassroots postseason tournament that Gazelle Group created in men's basketball, the College Basketball Invitational, or CBI.
According to Gazelle Group president Rick Giles, the event is currently in the exploratory stages but if enough schools not only display interest but also a willingness to host each round of the tournament, things could ramp up quick enough for the inaugural event to take place this March and April.
The memo sent to the men's Division I coaches described an eight-team tournament played entirely on campus sites. The quarterfinal round games would take place on between March 24 and 26. The semifinals would occur between March 31 and April 2 and the championship game would be played on Friday, April 7. Games would follow NCAA rules, but advancement in the case of a tie would use 3-on-3 overtime for five minutes followed by a shootout, similar to NCAA regular-season games.
Giles acknowledged that there will be challenges to getting the event off the ground. Host teams would have to be willing to guarantee $30,000 to host the quarterfinal and semifinal rounds and $40,000 to host the championship game.
Selection would be by invitation with a small committee factoring in such things as the PairWise Rankings, team performance heading into and during conference tournaments, willingness to host a game or games on campus, and with consideration to geographic location where possible.
The memo emphasized that formal invitations to the tournament may be made ahead of the NCAA tournament selections in order to allow coaches to communicate with student-athletes that may be considering professional opportunities, something Giles admits could be a concern.
Television rights for the tournament are up for discussion, though Giles says it is difficult to discuss anything concrete with a network until receiving significant commitment from member schools. At least for the early stages of this event, streaming services may be the most viable option.
This news comes a day after multiple sources reported that the NCAA's Transformation Committee is considering legislation that could expand tournaments to allow 50 percent of participating teams to qualify for the NCAA tournament, a move that if successful could expand the NCAA men's ice hockey tournament to 30 or more teams as the sport continues to expand.