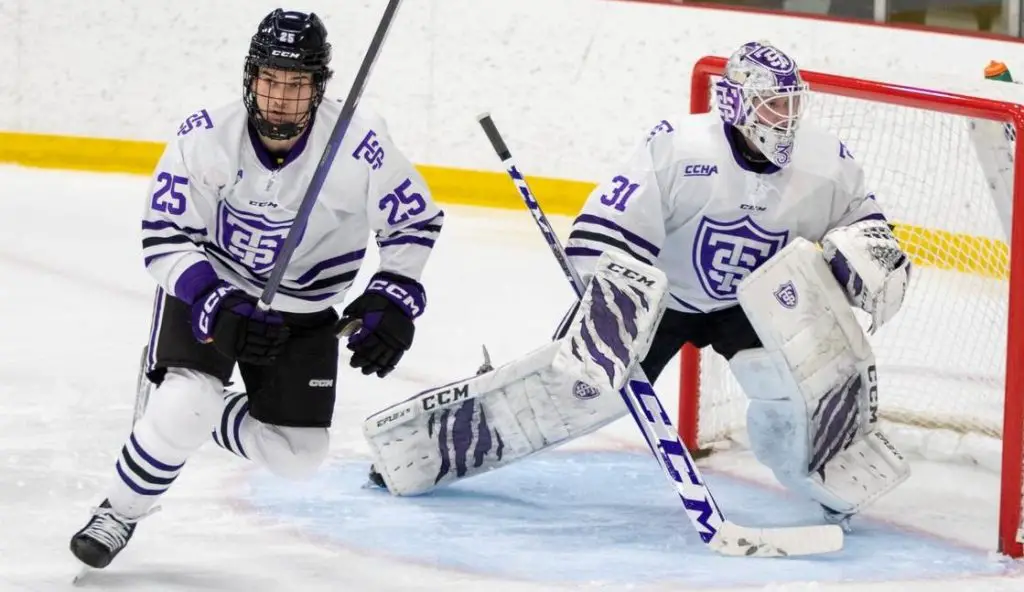 What a whirlwind of a week it was for St. Thomas and its men's hockey program.
On Jan. 14, the Tommies earned their first-ever victory against a ranked team in the Division I era when they beat Michigan Tech 3-2 in Houghton, Mich., to earn a road split – one of the toughest arenas to play in and win as a road team.
Three days later, the entire team was back in St. Paul to be in attendance for a program-changing announcement. Plans for the Lee and Penny Anderson Arena – which will be St. Thomas' brand-new, on-campus, multipurpose home ice rink – were unveiled on Jan. 17. The arena, which is estimated to cost around $131 million, has a target opening of fall 2025.
"It was a 'wow' moment for everybody," St. Thomas coach Rico Blasi said during his weekly media session on Monday. He said he managed to keep it a secret until the actual reveal, although a few players did figure it out.
"A couple guys came up and asked me, 'Is this the big announcement?' and I said, 'I don't know what you're talking about,'" Blasi recounted with a smile. "But I could see them when the announcement was happening, and I think you could tell there was a sense of pride with everybody about what we're building. They get to build it on the ice as well, which is important. This is going to be an important piece for our program. Some of those guys won't play in it, but I can tell you they're just as excited and proud to be part of St. Thomas, and that's an important piece."
To cap off all that excitement, the Tommies then hosted league leaders Bowling Green a few days later at their current home rink in suburban Mendota Heights. Buoyed perhaps by both momentum and excitement, St. Thomas took four of six points from the Falcons.
"It was a week we won't forget," Blasi said. "It was exciting for our program, exciting for our alums, our community, our fans, athletics at St. Thomas. To have good games following that up was important. I thought we played some pretty good, spirited hockey with good energy against a really good Bowling Green team."
The Tommies beat the Falcons 4-2 in Thursday's game before rallying on Friday to earn a 3-3 tie and a hard-fought point in a shootout loss. At three games unbeaten, it's St. Thomas' longest unbeaten streak in the Division I era.
That might not seem like much, but consider that the Tommies (7-15-2, 6-10-2 CCHA), with 17 newcomers on the roster, were again predicted to finish last in the CCHA at the start of the season.
For the first two months of the year, it even looked like that prediction would hold up. There was a point in mid-November when the Tommies were 2-12-0 and in the midst of a six-game losing streak, with consecutive sweeps at the hands of Minnesota State, Bowling Green and Michigan Tech. Since then, it's been quite the turnaround: St. Thomas is 5-3-2 – all against conference opponents – and has taken points from every single series.
"I think it's been a little bit of everything — the growth of our program, the confidence levels, the fact that we were in a lot of games," Blasi said when asked what the difference s between how the Tommies played early in the season during that losing streak and how the Tommies are playing now. He pointed out what he called a "stupid stat," namely that 18 of St. Thomas' 24 games have been decided by two goals or less.
"We're not just close, we're in every game," he said. "I think it was a matter of learning how to play in those close games and then finishing them off and not get rattled if things happen we weren't accustomed to."
It also helps to have those newcomers start to gel as an offensive unit. Northern Michigan transfer Mack Byers (13 goals) and freshman Josh Eernisse (12 goals) are both in the top 10 for goalscoring in the conference while Byers and freshmen Ryan O'Neill and Lucas Wahlin all have 17 points and counting – already a Division I record.
"To get those guys acclimated to how we want to play, to our identity, had taken some time," Blasi said. "We've been really pleased with the effort, the focus and the mindset to this point.
"I don't compare last year's team and this year's team; I like to compare our team from the beginning of the year to where we are today. The mentality, the mindset is way different. We've grown a little bit. If you go back to some of the early interviews that we had back in September and October, our goal was to play good hockey come January and February."
It seems like that goal has been achieved. The Tommies are currently tied with Northern Michigan for sixth in the league standings, although the Wildcats would be ahead of them with the tiebreaker. They will travel to Arizona State this weekend to play their last nonconference series of the season.
"We've got to go and play. We have to continue to get better," Blasi said. "There's lots of room for improvement on our team, and then when we get back into league play, hopefully we're playing well."