The fate of the longest game in NCAA tournament history was in their hands.
Freshmen goaltenders Rick DiPietro (Boston University) and Derek Gustafson (St. Lawrence) combined for 149 saves — shattering the old NCAA tourney record of 99 set in the 1995 Maine-Michigan triple-overtime semifinal — before Robin Carruthers scored the game-winner at 3:53 of quadruple overtime to put SLU into the Frozen Four.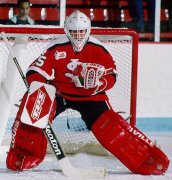 Both netminders broke Chris Terreri's mark for saves, 62, that dated back to the 1985 semifinal between Providence and Boston College. DiPietro finished with 77 stops and Gustafson 72, both spread in remarkably even fashion over the six-plus periods.
"It was maybe the greatest game I've ever been associated with," said SLU coach Joe Marsh. "You saw two magnificent freshman goaltenders here tonight."
Despite their youth, DiPietro and Gustafson both stood on their heads when their teams needed them most, making countless great stops in more than an entire game, 63:53, of overtime.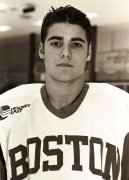 And it was anything but a fluke.
Gustafson set all-time school marks for a freshman this year and came into the NCAA tournament on pace to set SLU records for goals-against average, 2.16, and save percentage, .933. DiPietro's statistics, 2.52 and .908 respectively, weren't quite as gaudy, but placed him similarly within his league. Both earned Rookie of the Year honors as well as second-team all-league selections.
Both arrived on campus this fall looking to fill some very large shoes. DiPietro was replacing second-team All-American Michel Larocque; Gustafson hoped to do the same for first-teamer Eric Heffler.
The similarity, however, ends there.
Before the season started, DiPietro was considered the bluest of blue chippers. A native of the greater Boston area, he had starred on the U.S. National Development Team in Ann Arbor, Michigan. Although BU coach Jack Parker has most often opted for a goaltending rotation, DiPietro appeared to be a strong bet to override that tendency.
"He was one of the most highly-recruited goalies in a long time," said Parker at the time. "He's a top-notch goalie in his age group and he brings plenty of skill."
As a result, it was no surprise when DiPietro quickly moved into the number-one spot on the Terrier depth chart.
Gustafson, on the other hand, came in with less notoriety. A native of Oregon, not exactly a hockey development hotbed, he had become a first-team all-star in the British Columbia Hockey League but was still expected to battle juniors Jeremy Symington and Sean Coakley for the right to inherit Heffler's mantle.
"We just felt that we needed a goalie in the [freshman] class," said Marsh. "We've got two juniors that we were confident in, but we just figured for our third goalie we were just going to bring in the best guy possible."
Gustafson, however, proved to be no third goalie who would merely bide his time until the two juniors graduated.

"I guess we didn't realize that he was going to elevate his game to game to this point," said Marsh in obvious understatement. "He just kept progressing."
Marsh employed a three-man rotation for the first half of the season. While DiPietro quickly became a fixture in the BU nets, Gustafson played once every three games. Not until the stretch run, when he got 14 of 18 starts, did he become the Saints' go-to guy.
"We've got three great goaltenders and I was lucky enough to win the battle," he said modestly. "I'm very fortunate to be in this position."
Arguably, Gustafson had the easier introduction into collegiate play. Not only did the three-man rotation defuse any pressure, he also had a veteran blue line corps in front of him led by eventual ECAC Best Defensive Defenseman Justin Harney. In addition to Harney, two other seniors, two juniors and a sophomore manned the veteran group that was a major reason behind St. Lawrence's success.
BU's defense, meanwhile, had been the team's Achilles' heel in 1998-99 and would eventually consist of a junior, two sophomores who had missed major parts of their rookie seasons with injury and three freshmen.
Even so, DiPietro made his mark early, especially with his flamboyant style. While Gustafson was stopping pucks the old-fashioned way — staying in his crease and playing the angles — DiPietro roamed far and wide, acting as a third defenseman and looking for the day when he'd put one in the opposing net himself.
"He's talking about scoring a goal!" said Parker, shaking his head in bewilderment after one game.
The flamboyance was just an extension of DiPietro's personality. While Gustafson was quiet and thoughtful, DiPietro was the proverbial life of the party.
"Ricky is a great kid," said Parker. "He's got a lot of enthusiasm. I thought when I recruited him that he was a little full of himself, but it turns out that he's just a class clown. I don't have to worry about him not being loose enough because two minutes before the game he's still screwing around in the dressing room."
After a televised Beanpot win, Parker kidded DiPietro in the postgame press conference for his Hollywood tendencies in flipping a puck to center ice while stumbling around outside the crease.
"Do you think the camera was on you then?" asked a grinning Parker.
DiPietro, never at a loss for words, shot back quickly.
"I'm just a squirrel trying to get a nut in your world, buddy," he said.
BU fans responded to his flair. By the time of the East regionals, the two most visible Terrier signs proclaimed their affection for him in wrestling terms: "The Rick" and "The People's Goalie," referring to the WWF's ever-popular "People's Champion," the Rock.
Gustafson, on the other hand, just stopped pucks, though without DiPietro's flamboyance.
"They have very contrasting styles," said Marsh. "Ricky is very athletic. He's extremely aggressive on the shooter. He has tremendous confidence in his abilities and he's another defenseman out there.
"That's not really a component that's very strong in Derek's game. Derek is an outstanding position goaltender. He reads situations well, particularly if things break down. He's got good reflexes obviously and he's in good position to utilize those.
"But they both sure can stop the puck."
And while DiPietro's flair on the ice reflected his personality off it, the same held true, too, for Gustafson's quieter approach.
"My oldest daughter lives in the dorm at St. Lawrence," said Marsh. "She happens to live in his dorm. She wants us to win because of me, but she's not exactly a hockey fan. She told me back at the beginning of the year, 'Geez, Dad, Gustafson is the nicest kid in the dorm. He's such a nice kid. He's very humble.'
"I like that. He's a hockey player when he comes to Appleton [Arena], but he's a really good-natured guy. He's a great kid. He brings a lot of the boy into the game, which is one of the big reasons why he plays so well.
"What [I hear] about Ricky, there's probably a lot of that, too, [with him]. Both goaltenders are as contrasting styles as you could have, but the similarity is that you can be pretty certain that both love to play that position and they're awfully good at it."
Which they certainly were in this epic battle that lasted into a fourth overtime. With muscles cramping, a broken strap on Gustafson's glove that couldn't be repaired but was merely held together by tape symbolized the wear on the two goaltenders.
"I can't wait to get on the bus and sleep," said Gustafson after the game.
In the end, he came out on top. He earned tournament MVP honors, while sharing the goaltender berth on the all-tourney team with DiPietro.
The BU freshman set the saves record, but in defeat could take no pleasure in the achievement.
"I would give back all [77] saves if we had won the game," he said. "I'd rather have had 10 stops and we won the game."
Seldom has the old adage of it being a shame either side had to lose been more appropriate.