There probably isn't a team in the league looking forward to its freshman class as much as Brown. After two consecutive disappointing seasons, head coach Roger Grillo is looking for something — anything — to kickstart his program.
"We're not going to finish in 12th."
— Brown head coach Roger Grillo
"Last year was certainly a disappointment for us," said Grillo, whose team finished with a 4-15-2 league record. "It was not a lot of fun and not very enjoyable. We've brought in 10 new young men and hope that they can help us in an area which hurt us last year, and that was scoring up front."
Last year's squad probably realized that it would be a long season after dropping seven of its first eight ECAC contests. During that stretch, Brown's opponents averaged 4.4 goals per game, which included a dismal road trip to Central New York where Cornell and Colgate pounded the Bears for eight and seven goals respectively.
It certainly didn't help that goaltender Scott Stirling suffered an early-season injury that kept him out of the lineup for the first quarter of the year. In hindsight, however, Stirling's early absence did leave the door open for junior Brian Eklund, who gained valuable experience between the pipes.
Eklund finished the season with eight starts under his belt and a team-best .915 save percentage and 2.95 goals against average. His personal highlight came late in the season when he posted 32 saves during his team's shocking 6-0 victory over nationally-ranked St. Lawrence. The two guys who may give Eklund some competition for playing time are junior Graham McNally, who saw action in four games last season, and newcomer Yann Danis out of the Cornwall Colts system.
"Eklund, going into it, is the frontrunner," said Grillo. "He played well down the stretch and played some great games. He's a kid that has a lot of talent and he can certainly help us get the job done. Graham McNally is there should he falter, and the freshman, Yann Danis, can surprise a lot of people. He has a bright future for us."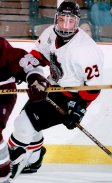 Grillo is banking on his returning blueliners, however, to keep games a lot closer than they were at times last season. After all, not many teams can flaunt the fact that they have the entire starting unit back in uniform this season. Years of experience will certainly help the likes of seniors Mike Pratt and Christian Warrington as well as the junior tandem of Josh Barker and Chris Dirkes.
"Overall our strength will be out back," said Grillo. "We have six key guys that are back. We were young and the three senior defensemen didn't get a lot of time, so it looks like we lost a lot of people but we really didn't. Paul Esdale [who led the defense in scoring last season with nine points] was one of the better offensive players in the league back there and has the potential to break it open. We have three young guys as well, and two of them will battle right from the get-go."
As the defensive corps brings it up the ice, who will be there to collect the puck? For a team that averaged 2.36 goals per game last year, Grillo is looking for a scoring threat or two to re-energize the attack and lift the team from the 12th place spot in the league that it held last season. The good news is that the team's leading scorer, Matt Kohansky, who finished with 17 points last season, returns to the lineup along with Jon Zielinski and John Petricig. All three players possess the ability to have breakout seasons and will need to unearth that talent pretty soon if the team is to be successful. Returning youngsters Chris Legg and Keith Kirley combined for 19 points during their freshman campaign and will need to step up their games as well.
"It's a situation where we didn't have one guy in the top 50 in the league in scoring. Our top scorer had 17 points and that's just not going to get it done," said Grillo. "It's an area of concern and we have six guys who were in the top two in scoring on their teams that we brought in."
The freshman class will be most critical on the front lines. The six incoming players are wild cards and any could turn out to be the prolific scorer that Brown desperately needs. Pascal Denis, Shane Mudryk, Scott Pratt, Nick Ringstad, Brent Robinson and Adam Saunders are all names that Grillo hopes to see inch their way up the scoring chart as the season goes along. Then again, it's always difficult to bank on players who have yet to really experience D-1 play.
"We hope that we can address the problems up front with scoring," said Grillo. "We focused mostly on up front with our recruiting, and with six new guys we hope they can help us right away.
"We were disappointed with last year and the way we ended it. Hopefully we can change what the [preseason] poll said and get into the upper echelon of the league. We're not going to finish in 12th."