It was an improvement, albeit a small one. Five more wins for the Union Skating Dutchmen and an appearance in the ECAC playoffs, where they lost twice to the eventual ECAC champion St. Lawrence Saints by one goal.
Small steps — what head coach Kevin Sneddon said it would take.
Sneddon hopes that 21 returnees, seven of them seniors and eight juniors, will lead this team to a higher place in the standings and perhaps a trip to Lake Placid. Add new athletic director Val Belmonte, the former head of USA Hockey, to Union College and the Dutchmen may add to their improvement. The benefit is already tangible, as the 1999-2000 team made the ECAC playoffs for the first time in three years.
"It was real good from the perspective of looking at our juniors and our seniors, and it was a monkey off their back to make the playoffs," said Sneddon. "And to go up to St. Lawrence and play two relatively close games, looking back on it gave our guys a sense of, 'Hey, we're not that far away.'"
And though the coaches voted the Dutchmen 11th in the poll, there is reason to believe that Union isn't that far away. Take a look in goal, for instance. The Dutchmen have junior Brandon Snee in the pipes with his 3.92 GAA and .892 save percentage. He faced a ton of rubber last year, but Snee could be among the favorites for the Dryden Award, given annually to the ECAC's top netminder.
"Brandon Snee is a phenomenal goaltender and we'll really count on him," said Sneddon. "He is the best returning goaltender in our league."
He will be counted on heavily, especially if the Dutchman defense gives up 35 shots per game, as they did last season, and if they score only 76 goals in front of him while giving up 121.
The task of avoiding that 121 goes to a defense that has two seniors and a lot of underclassmen. Led by Alex Todd and Paul Kilfoy, the defense will be called on to cut down the shots on goal — a daunting task for a young group. At the same time, the defensemen have to play an offensive role.
"Charles Simard can be one of the better offensive defenseman in the league and he has bought into the fact that if he is going to play 40 minutes a game he has to be in shape," said Sneddon. "Guys like (Randy) Dagenais and (Jason) Kean had successful freshman campaigns; the whole corps will be very improved."
A bigger trouble spot is on offense. Last season, the Dutchmen had trouble scoring, as evidenced an average of 2.40 goals per game. In Ryan Campbell, Jeff Sproat and Jay Varady, 20 of those goals are no longer on the team, so the question is, who will score for the Dutchmen?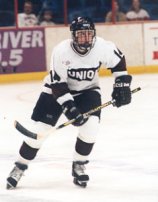 "We have to adapt to playing better defense so we can put guys like (Jason) Ralph (9-12–21) and (Kris) Goodjohn (4-8–12) into positions to score those goals," said Sneddon. "A guy like Jeff Wilson (8-8–16) is due for a breakout year and I am expecting big things from him.
"(Jeff) Hutchins (4-14–18) and (Drew) Taylor (5-11–16) will play together and I am excited about that opportunity. We've also got some great role players that will make up our third and fourth lines, and hopefully they'll make it a nightmare for some of the defenses in the league."
Nonetheless, a defensive philosophy will be on the ice at Achilles this season, especially with a home rink that seems to lend itself to low-scoring, physical affairs.
"One of my goals as a coach is to improve our defensive production, which will lead to more offensive production," said Sneddon. "That's the thing we really have to focus on, to be better defensively so we have more energy to go the other way and create things. We're not an offensively dynamic team and I am okay with that. We don't have the best forwards on our team, but if you play as a team and we'll create some chances. There's nothing wrong with winning 2-1, and our guys are buying into that."
"There's nothing wrong with winning 2-1, and our guys are buying into that."
— Union head coach Kevin Sneddon
Another intangible that Sneddon is sure to look at is the leadership of the upper classmen. There would have been nine seniors in the group, but last year's captain, Jay Varady, was forced to retire from hockey with a back injury and will be the volunteer assistant coach for the Dutchmen this season.
"We have eight seniors, and to be honest, not a lot of talent in that group, but they will push our younger players and be there every night," he said. "The strength of our team is our camaraderie. Our seniors want to take the torch and run with it this year. We've improved our defensive corps and our forwards are ready to score some more goals.
"I'm hoping we can improve as a program. We got a little taste of playoff hockey last season — our players will use that experience and be in the mix in March and maybe experience Lake Placid this season."
The last intangible could be the addition of AD Belmonte, late of USA Hockey, who takes over for Dick Sakala.
"It's a very exciting year, a lot of changes are happening and it's positive, mostly due to [Belmonte]," said Sneddon. "It's a fun place to work again."