One word described the St. Lawrence Saints of 1999-2000.
"Magic."
The 1999-2000 season was one of wonder for the Saints. An outright ECAC regular-season title, their first ever; the ECAC tournament championship; a bye in the NCAA tournament; a thrilling overtime victory in the quarterfinals there and a trip to the Frozen Four.
The Saints didn't capture the NCAA championship, but they certainly set the table for the 2000-01 season.
On the down side, lost to graduation are Jason Windle, Kris Margherio, Ryan Ward, Dale Clarke, Justin and Jake Harney. Worse, gone as underclassmen are the last two ECAC Rookies of the Year, Derek Gustafson and Brandon Dietrich.
The Saints still return a lot, as evidenced by a first-place polling in both the coaches and media preseason polls.
"We've got some outstanding players, I feel," said head coach Joe Marsh. "We were pretty well-balanced last year and relied on the third and fourth line and a second set of defensemen. And the guys that stood out deserve a lot of credit — they stood out so well that two of them left early. It wasn't any surprise that they left early.
"Last year will be a year I will always remember, not so much as to the finish, but the process. It was such a low-maintenance team and there wasn't a lot of babysitting. It was a great group."
"Everybody contributed in different ways. The Muir brothers are unheralded, but they're good, clean, hard players and reliable guys. I use them as examples because we have a lot of guys in that role. We have to play to our strengths, rely on our balance and play all of these guys and develop that depth by increasing the players' roles. At the end of it, that every player thought they had something to do with it."
"You have to caution guys not to be looking at polls — ever. Our guys have been through enough to have what it takes."
— St. Lawrence head coach Joe Marsh
The key to the Saints, as Marsh mentions, is the ability to rely on third and fourth lines. That looks to be the same this year, losses or not.
"It will afford some people to have some more significant roles," said Marsh. "(BU transfer Russ) Bartlett is a quality player with good offensive skills, and he's pretty hungry to get going. He's anxious to play. I try not to predetermine things in terms of who should be where; I want to focus on getting guys ready."
In the nets, the loss of Gustafson could mean a lot, but remember that the Saints started last season with a three-goaltender rotation, and two of those three are back.
"There wasn't any question that when Gusty left we felt that we were fine," said Marsh. "(Sean) Coakley and (Jeremy) Symington did a great job for us last year. They did a great job when they were in there, and when they weren't. They were supportive and when they started they were quality starts. I was impressed with what they did for our team.
"There was no question in my mind that we were going with those guys, and I felt it was unfair to them to then introduce somebody else. They've earned this. Right now we'll start with a tandem and maybe we go with a rotation, or maybe not. I love what those two guys did for our team, and all the other guys on the team recognize that too. You love Gusty and you hate to see him go, but we have two quality guys here."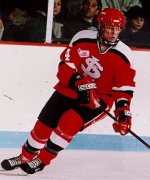 In front of Coakley and Symington, the defense loses Clarke and Harney, but should be led by Matt Desrosiers.
"Matt played in the shadow of Clarke and Harney last season," said Marsh. "He leads a group which is still outstanding," including Josh LeRoy, Kevin Veneruzzo and Ray DiLauro.
Up front, the loss of Dietrich means that others have to step up, but Marsh feels that there are some underrated guys in his forward group.
"I really feel (Erik) Anderson, (Mike) Gellard and (Al) Fyfe, our big three line, they are underrated a little bit in that they just a lot for you," he said.
"They are special team players, all around guys, but well balanced and intelligent and coachable players. All three of those guys have had major roles."
The captain of the Saint team will be Anderson, who Marsh leans on.
"He's a great two-way player and a quiet leader," said Marsh. "He's a guy that gives you so much. He does so many of the little things."
With nine seniors on this Saint squad, a return to the NCAA tournament is definitely not out of the question.
"Our seniors are guys that we've counted on since they were freshmen," said Marsh. "We've built the team around them, along with the class last year. We're seeing the development of the grant-in-aid scholarships, and these are guys we have been able to get into St. Lawrence and have done a great job for us and justified us taking that path."
The Saints will have that number-one bullseye on their backs this season, something that could be a distraction or a motivating factor.
"We tell our guys not to make a big deal out of polls," said Marsh, "But I think it does change in how you approach things a little bit. You have to caution guys not to be looking at polls — ever. Our guys have been through enough to have what it takes.
"The leadership, the camaraderie, the work ethic will be there every day."