Yes, North Dakota lost a few important players, and the Sioux are somewhat smaller this year, but Dean Blais may be looking at his team's situation a little drastically:
"We're rebuilding this year."
Blais has a great poker face, but that's line's easy enough to see through. Offensively, Lee Goren, Jason Ulmer and Peter Armbrust are gone. OK. Defenseman Mike Commodore signed with the New Jersey Devils in the offseason. Fine.
But rebuilding? North Dakota doesn't rebuild; it reloads.
And that appears to be the case again this year for the defending national champions. Despite losing three offensive stars, the Fighting Sioux have the capability to score more than four goals a game. Commodore's loss leaves an open spot on defense, but Blais still has most of his corps back.
So the challenge is still there: repeat.
And if there's a WCHA team used to the pressure of repeating, it's North Dakota. The Sioux won three straight regular-season titles before Wisconsin broke their string last year.
But the Sioux actually played better when the pressure was off.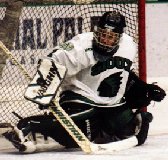 "They're used to [the pressure]. I don't think it was a real factor last year," Blais said. "We chased Wisconsin and when we lost both those games in Madison, it took a little bit of wind out of our sails and it took us a while to recover. Once we knew we weren't going to catch Wisconsin, we played better. The pressure was off. You look last year at all the teams that were No. 1 in the country and probably lost the next weekend."
Despite all that talk of rebuilding, Blais can look realistically at his team this season.
"You can't start thinking it's going to be a down year, but we won't have the explosiveness we had last year," he said.
Without Goren (the goal scorer), Ulmer (the helper) and Armbrust (the leader), the Sioux offense may not have the firepower that carried them to so much success in the last half of the '90s.
But Ryan Bayda, Wes Dorey, Jeff Panzer and Bryan Lundbohm will be more than happy to try and fill some pretty large skates.
"We had a lot of guys that weren't 20-goal scorers but had real good years, especially as freshmen," Blais said. "There probably wasn't a corps of freshman that had as many goals. Some of the freshmen came on at the end of the year, when it counted."
Maybe the biggest question on offense will be depth. Those freshmen that had good rookie seasons — Bayda, Ryan Hale, Jason Notermann, Tim Skarperud and others — will have to come through again as sophomores.
The Sioux have long been known as a team with scoring, no matter which line is on the ice. Some freshmen will have to play big on the third and fourth lines for that to continue.
"If you don't have goaltending in Division I hockey, it doesn't matter how good of a team you have in front of them. It's like having a quarterback that can't throw the football."
— North Dakota head coach Dean Blais
Commodore's loss will take down the average height and weight of the team, plus decrease the experience on the blue line. But, with all apologies to 1990, it's Hammer Time.
Trevor Hammer returns for his senior season in a potential leadership role on the blue line. Blais said his offseason workouts have reflected his desire to make his mark on the team.
"Trevor had a real good summer, he lifted weights and followed the off-ice training program to a T, kind of the same way [former Sioux defenseman] Tim O'Connell did between his junior and senior years," Blais said.
"You look at Chad Mazurak, Aaron Schneekloth, Chris Leinweber and Travis Roche, those are four pretty good defensemen. And we're counting on David Hale and Derrick Byfuglien to play a lot, two freshmen."
But Commodore will be missed, if nothing else, for his ability to intimidate opponents with his aggressive play and 6-foot-4, 225-pound frame.
"He was a great leader for us," Blais said. "You can have all the talent in the world but if you don't have leadership, you have nothing. We lost five seniors last year and Mike Commodore, so not only did we lose some great players, we lost a lot of leadership and we lost a lot of size."
There are questions at forward and some at defense, but the Sioux's goaltending may be the most solid of any team in the nation. Karl Goehring and Andy Kollar make up one of the best goaltender combinations in the league today.
Blais probably won't lose much sleep about his netminders unless injuries come into play — like the dueling concussions that plagued Goehring and Kollar last year. But the importance of having quality in the net every game isn't lost on the coach.
"If you don't have goaltending in Division I hockey, it doesn't matter how good of a team you have in front of them," Blais said. "It's like having a quarterback that can't throw the football."
The Schedule
A defending champion should have a defending champion's schedule. Fine with Blais.
The likes of New Hampshire, Maine, Boston University, St. Lawrence and possibly Colgate, Michigan and an extra nonconference game against Wisconsin are in the works.
The Sioux open the season at the Ice Breaker Cup in Ann Arbor, Mich., playing New Hampshire in the first round. UND was also a late addition to the four-team field at the Bank One Badger Hockey Showdown on Dec. 29 and 30, where they will try to become the first team beside host Wisconsin to defend the title.
But for the second straight year, the Sioux and the Badgers will play only one WCHA regular-season series, this year in Grand Forks, N.D. And it comes late in the season, Feb. 9 and 10.
"It's probably the toughest schedule we've had since I've been here," Blais said. "But that's OK."
Et Cetera
The new Ralph Engelstad Arena is on pace to open its doors in time for the start of the 2001-2002 season.