Mike Sertich, the former Minnesota-Duluth coach who took over the Michigan Tech program on an interim basis in November, has been named the permanant replacement. He was formally introduced at press conference today.
"I can't express in words how happy I am," said Sertich. "I've had such great respect for the Michigan Tech hockey program all my life and to think now that I am the head coach here is quite humbling indeed."
According to a report in Duluth News-Tribune, the deal is for four years, with a salary expected to be over $100,000 annually.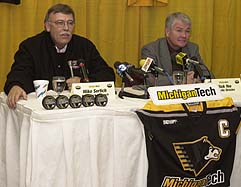 "We're extremely excited to have Mike Sertich guiding our program into the foreseeable future," said MTU athletic director Rick Yeo. "Mike is a tremendous teacher and motivator and has the support of our players, community, and alumni. There is no doubt in my mind Mike Sertich is the right person for this job."
Michigan Tech is currently 5-16-1, but has been improved so far under Sertich, particularly with an impressive performance at the Great Lakes Invitational, where the Huskies defeated Michigan, then took Michigan State to overtime before losing.
"Mike Sertich is well respected as a coach nationally and certainly within the WCHA," said Wisconsin coach Jeff Sauer about the move. "The best part about Mike is that he is a good guy and great to compete against. I have no doubt that he'll do an outstanding job at Michigan Tech."
Sertich has acknowledged the difficulty in coming to a team mid-streak, but has tried to get by with his trademark wit.

"Coach Sertich has put the fun back in hockey," said Huskies junior Paul Cabana. "He's a great college coach and I'm glad he's going to remain as our coach."
Sertich, 54, coached at Minnesota-Duluth for 18 years before leaving at the end of last season. His teams won three WCHA championships (1984, '85 and '93) and had a 335-306-44 record. Along with legendary Michigan Tech coach John MacInnes, Sertich is the only four-time WCHA Coach of the Year. But the Bulldogs had tailed off in the '90s.
Michigan Tech's decline has been longer. The Huskies were once dominant on the national scene, including three national championships, the last coming in 1975. Things began to fade after that, and Michigan Tech hasn't finished higher than seventh in the WCHA since 1992-93.
Sertich replaced Tim Watters earlier this season. Watters, a Michigan Tech alumnus, was in his fifth year as head coach before being replaced after a 1-7 start to this season. Sertich's first game was in Duluth, where his new team beat his old team.
"We had reached the point where we felt we had to make a change," said Yeo to the News-Tribune. "People were asking if we had any talent, and I thought we did."
A past president of the American Hockey Coaches Association and chair of the NCAA Ice Hockey Rules Committee, Sertich has been active in an array of coaching endeavors with USA Hockey over the last two dozen years. In the summer of 1999, he was the head coach for Team White at the U.S. Women's Ice Hockey Festival in Lake Placid, N.Y. In August of 1998, he served as an associate coach with the WCHA All-Star team which competed in the three-game Kolin Cup in Zug, Switzerland.
"I look forward to the challenge ahead," said Sertich. "My wife and children are excited to be Huskies as well. I'm thankful to Rick Yeo and President Tompkins for giving me this chance. It's kind of a new lease on life for me and I intend to make the most of it."