Middlebury's Michelle Labbe was named the American Hockey Coaches Association (AHCA) Women's College Division Player of the Year. Labbe, a dual citizen from Pt. Claire, Quebec, scored 24 goals and 32 assists for 56 points in her senior year. All told, she has accumulated 227 points, the most all-time at Middlebury.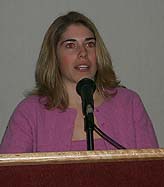 Labbe, a double major in Environmental Studies and Economics, was selected to the All-America team the past two years, and once again has led the Panthers into the national championship tournament — taking place this weekend in Rochester, N.Y. Middlebury won the title last year in Boston.
"Michelle is the captain of this year's team, and she is a true leader," Middlebury coach Bill Mandigo said. "She is a disciplined, determined and hard-working player who knows only one speed. Perhaps her greatest hockey attribute is that she practices as hard as she plays."
Labbe also had kind words to say about her coach during her acceptance speech at the players' banquet held Thursday at the Airport Holiday Inn. Labbe thanked her coach for convincing her to go to Middlebury, and for all the fun she had.
"It's been a pleasure playing for my team and my coach," she said.
A Middlebury player also won the inaugural award last season, Sylvia Ryan.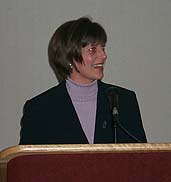 Finalists for the honor were Tiffany Hayes, sophomore goaltender for Vermont; Heather Murphy, junior forward from Colgate; Angie Rieger, senior forward from Augsburg; and Molly Wasserman, freshman forward from Williams and the ECAC Rookie of the Year.
Also announced by the banquet's guest speaker, Julie Sasner, Team USA women's assistant coach, were the finalists for the Women's College Division Coach of the Year, which will be announced at the AHCA Convention in Naples, Fla. on April 28. They are:
Mike Carroll (Gustavus Adolphus)
Jason Lesteberg (UW-Stevens Point)
Bill Mandigo (Middlebury)
Joe Milan (Williams)
Duncan Ryhorchuk (St. Mary's)
Jeff Smith (St. Catharine)