The games begin on Friday, as the teams battle for the right to call themselves NCAA Champions. But Thursday night was a chance for the NCAA to celebrate the accomplishments of the four teams that made it to the 2001 Division III Frozen Four with a banquet.
Troy Aurthur, NCAA Assistant Director of Championships said it best: "There are over 300,000 student-athletes that compete under the NCAA umbrella every season. Only around 30,000 get to participate in NCAA sanctioned tournaments. and we have over 120 of those here tonight. You should all feel proud."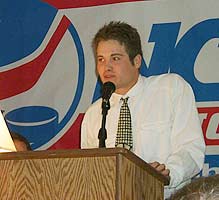 Each of the teams had a representative say a few words during the banquet ceremonies. Senior defenseman Bryan Murray spoke first for Plattsburgh. Murray graciously thanked all of the entities involved in hosting the tournament, and making things went so smoothly so far.
Jared Anderson, a senior forward from Wisconsin-River Falls, followed. "We're very excited about being here, and know that we are going to face some great competition."
Jeff Glowa livened up the room next. Glowa, a senior forward from Wisconsin-Superior, warmed to the occassion before he even got to the microphone and was just off the wall as he dropped several one-liners. "The fans are the winners this weekend, as they are treated to some great games."
Wrapping up the comments from the teams was senior forward Jonathan Day from host RIT. "It's just a great honor to host this event."
With the team representatives completed, Plattsburgh coach Bob Emery officially announced the AHCA All-American team to conclude the banquet.