Much has been made of the fact that this year's Frozen Four is loaded with teams that have been here before. Michigan has made 20 Frozen Four appearances, while BC has now been here 17 times. North Dakota has joined the elite quartet 14 times, while Michigan State has chalked up ten Frozen Four visits.
That said, some of the fans in attendance at this year's semifinals and finals have run up an impressive number of Frozen Four appearances of their own, overcoming the hurdles of distance, age, and — yes, even parenthood–to follow college hockey wherever it is played each season.
Talking to fans throughout the Knickerbocker Arena — oops, that should be the Pepsi Arena — one definitely comes away with a warm, fuzzy feeling about the zeal and camaraderie of college hockey's devoted fans.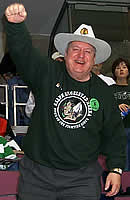 Any Sioux fan worth his salt knows Al Pearson, 63, of Grand Forks, North Dakota, by appearance if not by name. Al sports a big white cowboy hat with the old Sioux Indian logo on the front, and for over 20 years he has exhorted the Sioux faithful by shouting out the spelling of the nickname while forming the letters with his arms.
"I happen to have a loud voice," Al says with a shrug.
Enthusiastic and avuncular, Al roams the aisles to check in with his fellow fans and travelers.
"This is my eighth national tournament," Al says. "I've put hockey trips together for 27 years. I'm just a hockey fan. No kids played hockey: I just follow the Sioux. We're just having a wonderful time."
As usual, Al organized this year's trip to the Frozen Four for the Sioux fans who are the true devotees. With Al's help, 49 Sioux followers flew out to Boston before boarding a chartered bus to Albany.
Like many fans who habitually make the trip — whether to Albany or Anaheim — Al has high praise for the friendly atmosphere and tradition of life as a Frozen Four junkie.
"I just met a couple from Maine that I met last year in Providence," Al said. "They're coming to North Dakota next year; they said, 'Hey, you got tickets?' I said 'You got tickets. If you can't find a place to stay, stay at my house.'
"We've met so many people over the years, going to the games, and the same people come back," Al adds. "It's just a social event. We have fun with Michigan State and Michigan fans. We're here to beat you, but we hope you show up: It's just fun."
On the day off between the semifinals and championships game, Al and the group are going to make the most of a rare trip to the East. They will be typical tourists, with the exception of the fact that the average traveler probably doesn't find it necessary to work a hockey arena into their itinerary.
"Ninety percent of the people haven't been to New York City," Al says. "So we're going to drive by the Statue of Liberty. We'll go down to Madison Square Garden, the Empire State Building, Central Park."
Then Al makes an interesting verbal slip.
"We're just taking a tour of Grand Forks," he says before catching himself. "Ha! We know Grand Forks!"
The way North Dakota has been playing hockey over the last two years, an exuberant fan could perhaps be excused for confusing Manhattan with the minor metropolis located on the North Dakota-Minnesota border.

One of the more interesting fans accompanying Al and company is 91 year-old Virginia Kalopek, who laid it on the line with Al while trip arrangements were being pondered: "This might be my last shot — I'm coming."
This is Virginia's third Frozen Four. Given the acuity of her observations on Sioux hockey, don't count on it being her last.
"Well, the one line — the Panzer division — is tremendous," Virginia says. "We have a couple of good defensemen but our defense corps isn't as good as last year's and some of the other years. You have to have real good defense to win, but I think our fast offense has sort of counterbalanced the less than A-1 defense for this year."
Whew! If the above assessment as attributed to Coach Dean Blais, no reader would raise an eyebrow. If we ever need another USCHO correspondent for North Dakota, Virginia seems to have the eye of objectivity to match the enthusiasm of the hardcore fan.
"I just love to watch hockey," she says. "It's so fast."
Virginia is going to pass on the Big Apple trip for a very good reason.
"I want to be in on the Hobey Baker Award — I want to be here for that," she says.
Of course, Virginia hopes that North Dakota's playmaking wizard Jeff Panzer beats out BC's Brian Gionta and others to win the award.
"Oh God, I hope Jeffy gets it," she says. "He deserves it. Have you seen him play? Then you have seen him in action and how fast he is for a little guy. He may not get all the goals, but he's in on all the goals."
Speaking of little guys, one of the youngest fans in attendance — Russell Albee — was seated just one section over from Virginia, who certainly had to be one of the most venerable.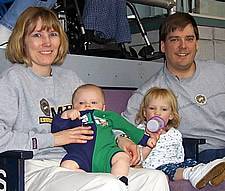 Some have hockey greatness thrust upon them, while others are born into it. Three-month old Russell certainly is an example of the latter. His mom Tanya is the Frozen Four Champ of the household, as this is the 15th year she has come. Russell's dad Tom is on his 13th trip, while their eldest child, Alyssa, has three under her belt at the age of three.
That makes a total of 32 Frozen Fours for the Albee household of Brookfield, Wisconsin. No wonder that Russell is decked out with a hockey-related baby outfit, complete with Michigan Tech socks.
"He actually likes all the action," Tanya says of her son. "You can tell that he's following the people moving."
Although many parents of young children would be daunted by the challenges of parenting amidst planes and rental cars and flying pucks, the Albees have the undauntable air of the true believer. They even took Alyssa to Boston at the tender age of ten weeks for the 1998 tournament.
"It's a little work, but actually when they're small, they're not that hard to take care of," Tom says. "My daughter here, it's our third tournament. It hasn't been much of a problem except once when our seats were right in front of the Sioux band. That made it a little more difficult."
"It's a lot of fun; we see people we know every year," Tanya says. "Actually, our team is Michigan Tech, so we mainly come for the hockey, not for the teams."
Tom concurs when asked what keeps him coming, paying tribute to both the sport and its followers.
"I guess it's the caliber of hockey," Tom says. And we've met a lot of friends along the way.
"With the number of games that have gone into overtime and the excitement and enthusiasm and level of play, it's really unparalleled."
The same can be said of college hockey fans. Next stop: St. Paul.