The Rensselaer Engineers rode a rollercoaster last season. One win, one loss. One winning streak, one losing streak. It went on like that all year. After winning two straight to end the regular season, the Engineers lost two straight in the playoffs at Dartmouth.
Suffice to say, that was not the ending Engineer fans had hoped for.
"I think they learned a lot," said Engineer head coach Dan Fridgen. "As much as there was to learn in regards to how hungry [Dartmouth] was; they got us on our heels and we weren't able to recover.
"I am sure that it wasn't what we scripted as far as our season ending was concerned, but we're moving forward. Last year was last year and we certainly are a different team this year."
The Engineers look to have a sound start, as they only graduated one senior. But that's a little misleading, since the Engineers have lost a total of five players from the start of last season. Two transferred, two simply left the team. But only one, graduated senior Glenn Coupal, was a regular.
But, as Fridgen has already pointed out, this Engineer squad is not last year's.
"Even though you have only lost one player and you have five guys coming in, you're a totally different team this year," he said. "It's already evident now. It seems like we've got more guys that are focused and we really want to make sure that we start off on the right foot instead of having a rollercoaster season to have a more consistent season in terms of our play. You learn from last year, and we're more experienced. We've got more leaders this year ready to apply themselves, whereas last year we were too young to have guys step forward."
Co-captain Matt Murley (24-17–41), Marc Cavosie (13-16–29), Carson Butterwick (9-21–30) and Jim Henkel (11-18–29) lead the Engineers up front. Cavosie spent time last season in the World Junior championships, while Butterwick was injured for a three week stretch.
There is some emphasis on Murley, as many in the league point to him as a possible Player of the Year contender, playing for his hometown team.
"He's certainly come a long way and Matt was thrilled," said Fridgen on Murley's captaincy. "He's earned it, and he realizes now that this is his senior year and just like us as a team he needs to have a good season. He's taken responsibility. We've felt that he and [fellow co-captain] Steve Munn can lead our vision of this team."
Munn was last year's sole captain and returns to anchor a defense that also returns 26-point scorer Jim Vickers, Danny Eberly, Scott Basiuk, Hamish Cunning and Francois Senez. In addition, Matt McNeely and Blake Pickett join the blue line.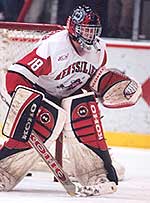 In goal, the Engineers saw freshman Nathan Marsters pick up most of the playing time last season, earning a spot on the All-Rookie Team. His classmate Kevin Kurk also performed, and senior James Palmer rounds out the netminders.
"Nathan has done a real good job coming back and working on the things he needed to work on," said Fridgen. "Kevin probably lacked some confidence last year and this year as far as early going, he's certainly doing a real good job. His attitude has changed and I can see real good competition between those two. We'll be okay in goal; this year it will be a team type of effort."
The Engineers also add three forwards up front, Nick Economakas, C.J. Hanifan and Vic Pereira. With the five freshmen, the Engineers have some size — and age.
"Last year as a coaching staff we felt we needed some size up front and on defense," said Fridgen. "Some of these incoming freshmen are older than our juniors — we needed some experience as far as age is concerned. Last year we were a young team and this year we've evened it out.
"You know what you have in some situations, you're hoping that guys that stepped up last year and came through, and I am expecting them to continue it," he said. "We're not going to be a team that will rely on just a couple of guys. We're going to have to play together at the get-go."