Prologue
It was evening all afternoon.
It was snowing
And it was going to snow.
The Puck Heads stood
In the parking lot.
Every season brings renewal. Spring may usher in the warmth of summer, the days that swell with sunlight almost to the point of endlessness, the balmy breeze that greets the midnight stroller, but fall — with its glimmering sunlight, pungent evenings, and party-colored trees — ushers in that loveliest time of the year, when friends and families come together to celebrate the true meaning of life: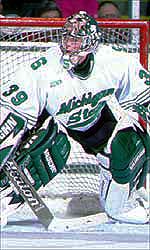 College hockey.
Last year, the CCHA made a sincere effort to recover from the 1999-2000 season, when nonconference opponents shamed our beloved league more often than not. This year, the CCHA celebrates by inviting everyone to the postseason playoffs. All 12 teams will have a shot to go to The Joe, with the top six teams hosting first-round, best-of-three series.
There are other changes as well. The whole Joe Experience will be a three-day affair. Fred Pletsch replaces Mike Harris as director of communications (Harris is now an assistant athletic director at Miami). Frank Anzalone returns to coach Lake Superior State, after Scott Borek's firing; for the sake of his tenure, let's hope Anzalone's team is healthy.
But some things remain the same. The clusters survive. The Spartans and Wolverines despise each other. The center will hold.
Here's a very brief look at each team. Click on the team name for the full preview. Teams are listed in order of predicted finish.
Michigan State University Spartans
Coach: Ron Mason
2000-01 Record: 33-5-4 (21-4-3 CCHA)
Key Losses: Forwards Rustyn Dolyny, John Nail, Sean Patchell
Key Returnees: Forwards Adam Hall, Brian Maloney; defensemen Brad Fast, John-Michael Liles, Andrew Hutchinson; goaltender Ryan Miller
Freshmen to Watch: Forwards Kevin Estrada, Lee Falardeau: defenseman Duncan Keith
Synopsis: Boring? No way. Discipline, patience, and Ryan Miller, Ryan Miller, Ryan Miller … . "Would we like to score a few more goals? Sure. But I think everybody would," says Ron Mason.
University of Nebraska-Omaha Mavericks
Coach: Mike Kemp
2000-01 Record: 22-13-3 (15-10-3 CCHA)
Key Losses: Forwards James Chalmers, Jason Cupp, Dave Noel- Bernier, Billy Pugliese, Jason White; defensemen Ed Cassin, John Rosso, Joe Yurecko
Key Returnees: Forwards David Brisson, Jeff Hoggan; defenseman Greg Zanon; goaltender Dan Ellis
Freshmen to Watch: Forwards Anthony Adams, Jeff Filewich, Gus Groslie, Dan Hacker; defensemen Chris Claffey, Bryce Lampman
Synopsis: The Mavericks have shown the CCHA they are for real, with back-to-back trips to The Joe to cap their first two seasons as full members of the league. After narrowly missing an NCAA playoff berth at the end of the 2000-01 season, UNO will try to make it to postseason play with a youngish team. "It will be a difficult challenge to replace the 10 graduated seniors from last year's squad," Mike Kemp says.
University of Michigan Wolverines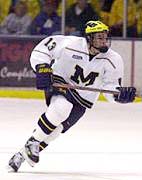 Coach: Red Berenson
2000-01 Record: 27-13-5 (16-9-3 CCHA)
Key Losses: Forwards Andy Hilbert, Mark Kosick, Josh Langfeld, Scott Matzka; defenseman Jeff Jillson
Key Returnees: Forwards Mike Cammalleri, Mike Komisarek; defensemen Andy Burnes, Mike Roemensky; goaltender Josh Blackburn
Freshmen to Watch: Forwards Milan Gajic, Dwight Helminen, David Moss, Eric Nystrom, Michael Woodford; defensemen Reilly Olson, Nick Martens, Brandon Rogers, Eric Werner
Synopsis: As tough as the Wolverines' offseason losses appear, when was the last time this team didn't have a breakout freshman? This rookie class looks good, and if the entire team can remember the emotion with which they played to beat Mercyhurst in the NCAA tournament last season, they'll be nearly unbeatable. "I think it will be a year of opportunity," says Red Berenson.
Ohio State University Buckeyes
Coach: John Markell
2000-01 Record: 16-16-2 (13-13-2 CCHA)
Key Losses: Forward Jean-Francois Dufour; defenseman Jaisen Freeman
Key Returnees: Forwards Miguel Lafleche, Scott May, Dave Steckel, R.J. Umberger; defensemen Doug Andress, Pete Broccoli, Jason Crain Eric Skaug; goaltender Mike Betz
Freshmen to Watch: Forwards J.B. Bittner, John Toffey; defenseman Thomas Welsh
Synopsis: The Buckeyes return a time-tested veteran team fueled by losing a hard-fought, first-round, three-game CCHA playoff series to Nebraska-Omaha. If Mike Betz plays with the fire and focus he displayed in Omaha, and the team remains focused through a tough schedule, OSU won't be traveling for the first round this year. "We're looking to build from within," says John Markell.
Coach: Enrico Blasi
2000-01 Record: 20-16-2 (17-10-1 CCHA)
Key Losses: Forwards Ernie Hartlieb, Gregor Krajnc, Pat Leahy
Key Returnees: Forwards Jason Deskins, Matt Chandler, Even Cheverie; defensemen Matt Medvecz, Ken Marsch, Pavel Nejezchleb, Jake Ortmeyer, Clarke Walford; goaltender David Burleigh
Freshmen to Watch: Tom Stone, Vince Pulera, Brendan McCartin
Synopsis: The RedHawks are a scary team, returning nearly every impact player from one year ago. Jason Deskins is my darkhorse bet for league scoring champion. "We know that the CCHA is a tough league to play in and my expectations are that we're coming ready to play every game," Enrico Blasi says.
Northern Michigan University Wildcats
Coach: Rick Comley
2000-01 Record: 16-11-7 (12-10-6 CCHA)
Key Losses: Forwards Fred Mattersdorfer, Ryan Riipi; defenseman Mike Sandbeck; goaltender Dan Ragusett
Key Returnees: Forwards Bryce Cockburn, Chris Gobert, Terry Harrison, Chad Theuer; defensemen Sean Connolly, Jimmy Jackson; goaltender Craig Kowalski
Freshmen to Watch: Forwards Ryan Moderson, Marc Norrington; defensemen Jesse Baranuik, Neil Gidney
Synopsis: The hardest-working team in college hockey can never be counted out of the mix. The Wildcats are another team returning the corps of a solid squad, including the excellent and underrated Jimmy Jackson. With consistency between the pipes, Northern Michigan will be, as always, competitive.
University of Alaska-Fairbanks Nanooks
Coach: Guy Gadowsky
2000-01 Record: 9-17-8 (7-14-7 CCHA)
Key Losses: Forwards Pat Hallett, Jim Lawrence, Ryan Reinheller; defensemen Chad Hamilton, Darren Tiemstra
Key Returnees: Forwards Bobby Andrews, Blaine Bablitz, Tom Herman; defensemen Daniel Carriere, Aaron Grosul; goaltenders Lance Mayes, Preston McKay
Freshmen to Watch: Forwards Aaron Voros, Jason Grinevitch
Synopsis: The Nanooks are one of three teams that fielded large rookie classes during the 2000-01 season, and like the Buckeyes and Wildcats, UAF returns an experienced veteran squad with depth and maturity. The goaltending duo of Lance Mayes and Preston McKay provides a solid last line of defense. Says Guy Gadowsky, "I think one of the biggest factors will be how our sophomore class can add to what they did last year."
Bowling Green State University Falcons
Coach: Buddy Powers
2000-01 Record: 13-18-5 (8-15-5 CCHA)
Key Losses: Forwards Ryan Murphy, Curtis Valentine, Ryan Fultz; defensemen Doug Schueller, Louis Mass
Key Returnees: Forwards Greg Day, Scott Hewson, D'Arcy McConvey, Roger Leonard; defensemen Marc Barlow, Kevin Bieska, Grady Moore; goaltender Tyler Masters
Freshmen to Watch: Forward Steve Brudzewski; defensemen Taylor Christie, Erik Eaton, Paul Weismann
Synopsis: The Falcons are another squad that needs to show some consistency, but for Bowling Green that doesn't mean the net isn't well minded. Tyler Masters has proven to be one of the more solid goaltenders in the league, but the team in front of him — while talented — can be a bit schizophrenic.
Western Michigan University Broncos

Coach: Jim Culhane
2000-01 Record: 19-11-6 (12-10-6 CCHA)
Key Losses: Forwards Dave Gove, Brett Mills, Steve Rymsha
Key Returnees: Forwards Mike Bishai, Jeff Campbell, Brent Rumble; defensemen David Cousineau, Mike Jarmuth; goaltender Jeff Reynaert
Freshmen to Watch: Defenseman Mat Ponto; goaltender Mike Mantua
Synopsis: The Broncos flew high during the first half of the 2000-01 season, only to play among the mortals again for the remainder of the year. Without the big guns of Dave Gove and Steve Rymsha, the WMU offense will undoubtedly look a little different this season. Without a stronger showing in net and better team discipline, however, it will be a long year for Western Michigan.
Lake Superior State University Lakers
Coach: Frank Anzalone
2000-01 Record: 13-23-0 (8-20-0 CCHA)
Key Losses: Forwards Mike Vigilante, Ryan Vince; defensemen Matt Frick, Ryan Knox; goaltender Jayme Platt
Key Returnees: Forwards Jeremy Bachusz, Chris McNamara, Jason Nightingale; defensemen Chris Thompson, Tyson Turgeon, Will Magnuson
Freshmen to Watch: Forwards Ryan Bennett, Bo Cheesman, Andrew Contois, Barry Pochmara, Derek Seal; goaltenders Terry Denike, Matt Violin
Synopsis: Many hope the return of former coach Frank Anzalone will usher in an new era of Laker hockey, but Anzalone has his job cut out for him. In addition to working with a team new to him, he'll have to find a goaltender while living in a fishbowl. "We expect all of our players to give us 100 percent effort," says Anzalone.
University of Notre Dame Fighting Irish
Coach: Dave Poulin
2000-01 Record: 10-22-7 (7-15-6 CCHA)
Key Losses: Forwards Dan Carlson, Chad Chipchase, Ryan Dolder, Brett Henning, Matt Van Arkel; defenseman Ryan Clark; goaltender Kyle Kolquist
Key Returnees: Forwards Connor Dunlop, Rob Globke, David Inman; defensemen Brett Lebda, Neil Komadoski, Evan Nielsen; goaltenders Jeremiah Kimento, Tony Zasowski
Freshmen to Watch: Forwards Alexander Lalonde, Cory McLean, Yan Stastny; defensemen Derek Smith, Joe Zurenko; goaltender Morgan Cey
Synopsis: The enigma of the CCHA continues to puzzle. "Inconsistent" doesn't begin to describe the talented Fighting Irish, who — on paper — are very intimidating. After losing their corps of defenders after the 1999-2001 season, the Irish look to replace a hard-working senior class and Brett Henning, who was forced to retire because of a neck injury. Who will play in net? That's anybody's guess. "I am very excited about what this team can do," says Dave Poulin.
Ferris State University Bulldogs
Coach: Bob Daniels
2000-01 Record: 13-18-5 (9-15-4 CCHA)
Key Losses: Forward Kevin Swider; defensemen Jim Dube, Scott Lewis; goaltenders Phil Osaer, Vince Owen
Key Returnees: Forwards Rob Collins, Chris Kunitz, Phil Lewandowski; defensemen Troy Milam, Chad McIver
Freshmen to Watch: Forwards Jeff Legue, Derek Nesbitt; defensemen Skip Renauld, Matt York; goaltender Mike Brown
Synopsis: Phil Osaer kept the Bulldogs in many games last season, and his early departure — along with the loss of talented and authoritative seniors — leaves Ferris State very vulnerable this season. Says Bob Daniels, "I'm hesitant to put a label on this team or list expectations due to the fact that we have a large turnover in personnel."