The Raiders In Action
Yes, you heard it correctly, Colgate's new nickname is now just plain Raiders. No more Red Raiders, just plain Raiders. Needless to say, there is some controversy surrounding this, but we won't touch on it this week.
We will touch on hockey as the Raiders are in action at home this weekend, opening up the season against Nebraska-Omaha. The Raiders are hoping that the young blend of talent they have will add up to the ECAC Playoffs this season; last season, the Raiders missed the playoffs on the last night of the regular season, one year after making the NCAA tournament.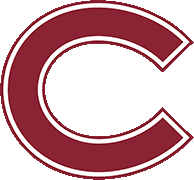 "We've put last season behind us and we tried to do that right away and not to dwell on it," said head coach Don Vaughan. "We hope that it was a speed bump and the sooner we put it behind us and focus on this year, [the better]."
This year is a nice mix of youth and upperclassmen, but Vaughan also knows that there is work to be done.
It doesn't start easy, with the Mavericks coming in to Starr Rink ranked No. 15 in the latest USCHO poll. But, Colgate has had success early in the season against rated teams. Last season, the Raiders went to Michigan for the Ice Breaker and tied the Wolverines, won the shootout, and then lost to New Hampshire in the championship.
But again, opening the season against a ranked opponent is not going to be a stroll through the park. Vaughan knows that well and is optimistic.
"We're going to have to be patient, and the schedule may be ambitious to begin with," he said. "We have to find out where we're at and we'll find that out early. We're so young that our guys may not know better. We'll try to play an up-tempo game early on to see if we can't pull some confidence offensively early on.
"Of course, we may be changing our tune after the first night. That's the game plan as we speak."
We Meet Again
St. Lawrence travels to the Upper Peninsula of Michigan once again this weekend, this time to take on Lake Superior State. The last time head coach Joe Marsh and Laker coach Frank Anzalone were on opposing benches was in Lake Placid, in the 1988 NCAA Championship Game. Anzalone won that game, 4-3, in overtime.
Last weekend, the Saints were swept by Michigan Tech, but, as is always the case, there are positives coming out of a sweep.
"We had a chance this weekend to see some different combinations and some of the younger guys in game situations," Marsh said. "We'll probably do the same kind of experimenting in our series at Lake Superior next weekend. We want to use these games to get ready for the start of ECAC play and see what is going to be our best lineup."
Why Not Union?
An email came across our desks this week and it posed a simple question, "Why Not Union?"

We don't know that we can answer that. The question was asked in the context of the college hockey polls. Union is the only ECAC team to have a win thus far. Union is 2-0-0 on the season, sweeping Notre Dame last weekend. The Dutchmen won two different kinds of games, a tight defensive game, and a wide open offensive game.
Union did get 39 votes in the poll, but didn't make the Top 15. Providence lost two games, received 141 points and was 12th. Colorado College lost two games, received 305 points and was 6th. So we have to ask it, right?
Why Not Union?
Notes
Vermont hosts Boston University this weekend. The Cats have won two of the last three, and three of the last five between the two teams. Last season, the Cats dropped a 3-1 decision to the Terriers.
Rensselaer will host New Hampshire, the team that defeated Vermont last weekend. Marc Cavosie is off to the same start as last year with his hat trick against Boston University. Last season, he also tallied a hat trick against the Terriers in the first game of the season.
Clarkson will host Miami for two games this weekend. Last season the Red Hawks defeated the Golden Knights on the first evening and the two teams tied the second night. After struggling in a loss to St. Cloud on Friday in the Ice Breaker, the Knights dominated the Bowling Green Falcons. Mike Walsh lost his shutout when he was scored on with 3:23 remaining in regulation.
ECAC Fantasy Hockey
When asked, every coach would say that they wouldn't trade their players for anyone or anything. It's right up there with trading in your spouse or mother! After all, these coaches watched hours of tape, made house visits and often put their neck on the line with the admissions office to get some of their kids to wear their school jerseys.
Unlike the professional ranks, it's not all about talent level and money figures. Scanning through the value chain of attributes, it's more about what coaches want over the long four-year haul. Some consider size and strength a must, while others put a premium on the potential for development. Many coaches now value something they call "team culture" and will not look at players who do not fit the mold of their team.
Aside from the fancy recruiting jargon, however, each coach does try to get the best talent. So although they may be content with the guys who decorate their rosters, what would happen if they were given a golden opportunity to pick any other player in the league to be on their team? Out of all the superstars out there that are playing in the ECAC, who would they pick? Who would they take in a game of ECAC Fantasy Hockey?
We put a few of the ECAC coaches on the spot this year and asked them that very question. Although there were a few recurring names, the answers may very well surprise you. Here is what a sampling of the coaches had to say about some of the guys they would want on their teams:
In goal:
Matt Underhill (Cornell) was mentioned as, "a proven senior, he's a rock right now."
Nathan Marsters of Rensselaer is, "right up there. He's somebody that shows big time potential." And "he's big, fills the net and is just starting out in college hockey." And "he's a big kid and I would love to have that guy in my net."
Then there is Dartmouth's Nick Boucher. "He doesn't get as much credit as he deserves. He's a big catalyst on that team."
How about on defense?
"I'd pick Dave McCulloch from Harvard. He's a tough kid. I talked to him a lot during the recruiting process and watched him play a lot. He plays with a lot of integrity, and he plays the game tough as well."
"[Brown's] Josh Barker is big, strong, skates well and moves the puck well. If Desrosiers were back, I would take him."
Then there is Cornell's Doug Murray. "He is a big defenseman over there. He doesn't get the recognition he deserves."
Dartmouth also has someone the coaches talk about. "Trevor Byrne is solid and a great two-way player."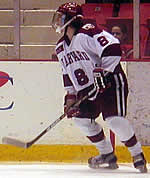 Then you head up front.
"I really like Dom Moore from Harvard. He was one of the better players in the league last year, and from what I've seen, he'll be one of the best this year as well."
"Stephen Baby is a big presence on the ice and comes to play every night."
"Matt Murley, he has great potential and he just winds up on the score sheet."
"Marc Cavosie is an excellent offensive player, his offensive skills stand out and then there is Mike Maturo who is a strong two-way hockey player."
"Tyler Kolarik, to have him for three more years would be real nice."
So, as you can see, not a bad collection of players. Maybe we should just put together a team comprised of these guys. We don't think they would do that bad at all.
If It's So Easy, You Try It
The first episode of the Iron Columnists will take place on Nov. 2. What will you challengers bring to the table? How will the Iron Columnists strike back?
So line up if you are interested in putting your money where your mouth is, drop us an email to be eligible to take on the Iron Columnists this season.