After giving birth to the Niagara hockey program in 1996 and serving as its only head coach until leaving for UMass-Lowell last spring, Blaise MacDonald might have been forgiven if he'd gone to the wrong bench for Friday night's season opener between the two schools.
The diminutive coach quipped, "I went to the one with the extra riser in back."
Both MacDonald and his former assistant, now head Niagara coach, Dave Burkholder, had mixed feelings about facing each other to open the season, a matchup scheduled long before MacDonald left for Lowell. The two had not only shared five years leading the Purple Eagles, but also a national championship in 1983 as players at Rochester Institute of Technology.
"All week I was pretty excited about it," said Burkholder, "but when we got to game time it was like, 'Oh boy, I guess I wish I wasn't coaching my first college game against him.'
"There were a lot of mixed emotions. One part of me was thinking of how I'd feel if I spoiled his home opener and then I thought, 'If he blows me out, how am I going to feel?' I didn't know if we'd end up fighting in the parking lot."
MacDonald similarly wanted a win, but preferably not at the expense of the program he built.

"I wanted us to play well and I was excited a lot about that, but I'll be honest," he said. "I wanted [Niagara] to play well, too."
As the game unfolded, many things remained unchanged from last year's River Hawk team, both on the plus side and minus.
The promotions during intermission still featured students shooting, mostly ineptly, at the net for scholarships, followed one period later by the notorious Chuck-A-Puck contest. Soft pucks rained onto the ice for 100 dollar prizes to those who landed one in the shopping cart pushed by the River Hawk mascot. One puck hit the scoreboard and knocked out a small 3-by-3 square. Presumably, that was not considered progress.
On the ice, Ron Hainsey's dominant presence was missing, but newcomer Baptiste Amar looked smooth as silk as a potential quarterback replacement. On the down side, last year's early-season goaltending woes had a nightmarish flashback when Jimi St. John came out of the net to play the puck only to whiff on his clearing attempt, allowing Nick Kormanyos to snare the loose puck at the right faceoff dot and temporarily tie the score at 2-2.
Even the result, a 7-3 win, was similar to last year when the River Hawks opened with wins against nonconference foes and would eventually post a 9-5-0 record outside of Hockey East.
"Culture drives behavior. Behavior drives how things get done. And how things get done drives performance."
— UMass-Lowell coach Blaise MacDonald
Arguably, MacDonald won't have his greatest impact until his next few incoming classes arrive at Tsongas Arena. (He was hired after offers had already been extended to this year's freshman class.)
It might be said that MacDonald could recruit a surfer from Southern California to play in Siberia. His record backs up this reputation. As an assistant at Lowell from 1988-1990, he helped recruit the core of the program's breakthrough 1993-94 team. Led by seniors Dwayne Roloson, Shane Henry, Mike Murray and Ian Hebert, that squad came within a clanged post of reaching the Frozen Four, losing to Minnesota, 2-1, in double overtime.
MacDonald then moved on to Boston University where he served as the associate head coach from 1990-95 and recruited not only All-Americans like Mike Pomichter, Mike Grier, Jay Pandolfo, Chris Drury and Jon Coleman, but also perfect role players like Ken Rausch, now an assistant with him at Lowell.
With the 1995 BU national championship ring on his finger, he took on the challenge of creating a Division I program from scratch at Niagara. Taking primarily those recruits who had been overlooked by the more established programs and able to offer far fewer scholarships than the NCAA limit of 18, MacDonald fashioned a team that not only went 30-8-4 in 1999-2000 to earn an NCAA tournament berth, but also defeated New Hampshire, 4-1, to advance to the quarterfinal game.
Clearly, this was one of the most talented young coaches in the game. Lowell fans might have wondered why a greater effort to retain former coach Tim Whitehead hadn't been made in light of last year's impressive stretch run, but once he left there was no arguing with the choice of MacDonald.
Still, it takes time for a new coach to make his mark, especially one with considerable prowess in recruiting. In that arena, improvement is measured in terms of years, not months or even games.
Given that fact and the apparent similarities that fans could see between past editions of the team and its play in Friday night's season opener, the assumption might be that not much has changed yet.
That assumption would be wrong. It will take years for him to realize his vision of where the program is heading, but MacDonald's fingerprints are nonetheless all over this team only one game into his tenure.
Just 1:19 into the contest, defenseman Jerramie Domish dropped down from the point and ripped a shot high into the net from the slot for a 1-0 lead. By the final buzzer, three River Hawk blueliners had scored even-strength goals.
"We had trouble with their 'D' crashing down," said Burkholder, who was hardly surprised at the strategy. "That's how we played with Blaise at Niagara."
Other than Hainsey, the blue line totaled 12 goals last season. If opening night is any indication, that number will grow considerably this year.
"I look at the Lowell teams that were successful in the past and they had some great [offensive] production from the defensemen," said MacDonald. "That was true even when they didn't have the prototypical offensive defensemen."
Up front, this year's River Hawks displayed a greater emphasis on speed than their bulkier predecessors like the graduated Beef Brothers, 240-pound Kyle Kidney and 215-pound Jeff Boulanger. Last season, the team dominated physical play along the boards and down low; this year Lowell still cycles effectively, but looks to be emphasizing more of the speed and transition game that MacDonald's teams displayed at Niagara.
"We're going to utilize our speed this year rather than our size," said co-captain Chris Gustafson.
If the way some of the Niagara defenders impersonated turnstiles is any indication, the style change will suit the team well.
Still, MacDonald expects to remain flexible stylistically.
"You need to coach the players that you have and bring out their abilities and talents," he said. "In a perfect world, I'd like to be an offensive team that can create chances on the initial rush and the counterattack, but we have to take what the game gives us. As long as the red light goes on, it doesn't really matter how.
"A lot of good teams in college hockey — the Maines and Lake Superiors in the past and even the BU teams — [created offense using different approaches]. There are a lot of ways to get it done. The critical thing is, you have to be well-defined in how you're going to get it done."
That said, MacDonald stressed two key goals when he was introduced as the new coach in April, and neither had anything to do with style of play or scoring from the blue line.
One goal was to instill "a very detailed, structured and high-performance culture."
"Duke basketball has a pretty strong culture there," he said. "North Carolina basketball when Dean Smith was there did cultural things to develop a tight bond that is unique.
"It's as silly as: I don't let guys wear hats indoors. I don't let guys have their shirts untucked. When we go on the road and eat, we bus our own tables. It's things like that that create this culture.
"My biggest mission is to instill this culture. I feel very strongly about that. It's a culture I've played in and coached in.
"Culture drives behavior. Behavior drives how things get done. And how things get done drives performance."

MacDonald's emphasis on this culture was front and center one game into the season. While the official game program showed Yorick Treille on the cover, Treille sat in the stands, not on the bench. One of the team's top players had violated a team rule and was paying the penalty.
"I have no problem with sitting players out," said MacDonald. "What are your expectations? Are they clearly communicated?
"Consequences were clearly communicated so it shouldn't be a surprise when [they're meted out]. Discipline has no handicap of skill level. You don't say that he's a good player, so maybe you [let him get away with it].
"You need to be consistent. If you're inconsistent, then your team doesn't have trust and you've lost your team."
What does MacDonald say to an offending player that he must discipline?
"You can get bitter or you can get better."
Treille, who intends to get better, will only miss the one contest.
"He'll be changing diapers for another week, but it's only one game," quipped MacDonald.
As planned, the culture has affected more than just the occasional offender.
"There are a lot of changes," said Gustafson. "Guys are learning to stay in at night. We have curfews. We have a team environment.
"We're trying to get together with the rest of the school. Be a family and be as tight as possible."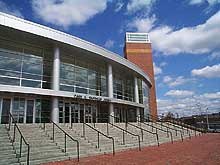 Which translates into working on MacDonald's other stated goal: put fans in the stands, especially those from within the school. Empty seats have been a problem since the construction of the Tsongas Arena. In the old Tully Forum, a crowd of 2,000 translated into a reasonably full arena. In the 6,500-seat Tsongas, however, the building looks barren.
The River Hawks share the building with an American Hockey League entry, the Lowell Lock Monsters, which not only creates competition for the fan dollar, but also dictated a much larger building than would have otherwise been ideal for the school. It's a great venue, but filling those seats has been a priority since it opened in 1998.
"The one thing that is missing that I'm desperate to try to capture is the fan support," said MacDonald back in April. "If we can do that, the sky's the limit. … I'll do whatever it takes to get people to support this team. This team is worthy of it and they deserve it. When we come out here, I don't want to see a lot of blue seats."
While he still saw a lot of blue seats on Friday night, there was improvement from comparable games one year earlier. The official attendance was listed at 2,263, a figure better than any nonconference games last year, but a good deal short of his goals.
"I was hoping for about 4,000 people," he said. "Don't ask me where I came up with that number. It just sounded good."
The team has worked hard to foster greater support, especially on the campus itself. Players helped freshmen move into the dorms while MacDonald has spent time in the cafeteria, giving out free tickets to students, going from table to table talking to them about their majors and their interests.
"I've been told we get about 100 students to a game," he said. "We need to get that up to 500-600 students."
Presumably with that many students — always the most vocal group — the other segments of the fan base will fall in line soon after.
"It's going to be a long process that we have to persevere through and break down perceptions," said MacDonald. "But people on the campus are excited about the hockey program because of the success last year. …
"We obviously have to be creative. We've got a great product, playing in a great league. It'll happen. It'll definitely happen."