I've lived in New England all my life and intend to stay there. So I'm an Eastern guy, a Hockey East guy to be specific.
But I'd been really looking forward to this pilgrimage to college hockey's Mecca. We can show our appreciation for the sport out East, but you Minnesotans have the reputation for taking such matters to another level.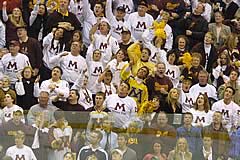 After all, you have a reputation for regular 10,000-plus sellouts at the Mariucci Arena. Some of you, I've been told, actually buy standing room only season tickets. Standing room only season tickets! Every Minnesota game is televised, a fact that turns Easterners green with envy. We've had championship games shown on tape delay because of conflicts with the Boston (yawn!) Celtics.
It's not that we don't have great fans out East. We do, including colorful ones, such as Boston University's Sasquatch, a guy so hairy that he probably has to shave his fingernails. Sasquatch takes off his shirt and waves it to incite the crowd while the BU band plays "Iron Man."
New Hampshire fans also throw a fish onto the ice at home games after the Wildcats score their first goal. The tradition, which symbolizes the goaltender having to fish the puck out of the net, is a pretty good one.
So we've got a bit of color out East, too.
But I've got to say that Mecca has not disappointed.
First, my complaints. Or to be accurate, my complaint. Singular.
Let me be honest and say that some of you talk funny. BU coach Jack Parker was initially denied admittance to the Xcel Center dining room because the attendant couldn't figure out what Parker was giving as his name. How hard is Jaaack Pah-kah to understand?
That's about it in the complaint department.
Arguably, the only other blemish to a wonderful Thursday has been… well, Hockey East referee John Gravellese. His performance during the emotion-filled Minnesota-Michigan contest seemed a bit like a zit on the Mona Lisa.
But he's our fault. Instead of exporting the refereeing equivalent of a Boston Lobster, we stuck you with the Big Dig.
Mea culpa.
St. Paul, Minnesota, you've been great.
From a breakfast spent talking college hockey with complete strangers while staring out at the Mississippi River to the electric atmosphere of the gorgeous Xcel Energy Center, it's been a blast.
The hometown crowd noise at Boston's FleetCenter in 1998 and Providence's Civic Center in 2000 were pretty impressive during Boston College's runs at a national championship, but the consistently high decibel level at the Xcel Center topped them both.
Let me also be honest and say that I've become a big fan of your cheerleaders. Hey, I may be 40-something years old, but I still have all the maturity of a teenager. (Question: if I write a cheerleader feature on Saturday, do I get locker room access?)
Given a choice between Maine's mascot that does a striptease down to his boxers and the Minnesota cheerleaders, well … you could find that one in the dictionary under "no-brainer." And not just because the young women are beautiful.
Not that it hurts.
Not that I noticed.
Hey, if my meandering comments have obscured the message — that I've loved your environment here — my apologies. It's been great from the sea of Minnesota jerseys to AdamHauser.com to the Minnesota license plate FRZN 4 to your very exciting hockey team.
On Sunday, I'll regret having to leave. How about submitting a bid for a Frozen Four return real soon?