For three years, he rode the bench. As a freshman in 1999, he watched Alfie Michaud backstop Maine to its second national championship. As a sophomore and junior, he played second banana to Matt Yeats.
If collegiate athletics was all about instant gratification, Mike Morrison would have thrown in the towel long ago.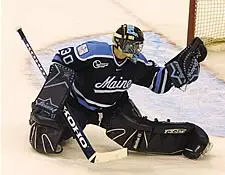 "It's been four long years," he says. "I can remember walking the halls of Anaheim [during the 1999 Frozen Four] and seeing Alfie Michaud talking to all of you [media] guys, not even really thinking that might be me some day. He was just on another level. I just wanted to help with the team as much as I could."
Potentially faced with being pigeonholed as a backup, Morrison had the age-old choice of athletes: get bitter or get better. He got better.
This year the hard work finally paid off. With a 2.19 goals against average and a .921 save percentage, Morrison moved from career backup to First Team All-Hockey East.
Until the playoffs, that is. Yeats, who had suffered through a miserable five months, had been Maine's postseason goaltender the last two years, and with suddenly strong performances had suddenly injected himself back into the picture.
In the Hockey East semifinal game, Morrison was back on the bench where he'd spent so much of his collegiate career. What's wrong with this picture? The First Team All-Hockey East goaltender isn't starting?
As it turned out, Yeats played well so Morrison was again back on the bench one night later for the Hockey East title game.
It seemed the cruelest of all developments. A kid gets a taste of success as he breaks out of his limited role, only to once again be cast as a Not Ready For Prime Time Player.
Morrison did get the start against Harvard in the East Regional first round, but when Yeats played well against Boston University in the quarterfinal it looked like Morrison might have seen his last collegiate action.
"I thought maybe [I'd played my last game], but I was okay with that," he says. "Hey, if Yeats can go out and play in the Final Four and be the MVP and win it, then go get it."
With 10 days between the NCAA quarterfinals and the Frozen Four, the two goalies had plenty of practices to state their case for a start.
"We did like we always do, treat it like the Stanley Cup finals," says Morrison. "Me and Mattie were competing all week, making save after save. I just wanted to be ready because you never know who Coach is going to choose."
All season long, Maine interim head coach Tim Whitehead has told his goalies who would start the day before a contest, waiting until game day to inform the rest of the world. Although the cover story, designed to keep the New Hampshire coaches guessing, was that Whitehead had stuck to this practice at the Frozen Four, Morrison got the good news a day earlier than usual.

"I found out I was playing the day we flew in, Tuesday," he says. "We dropped our stuff off at the rink and Coach Whitehead told me I was playing. That was a surprise to me. He would usually tell us the day before our game when we're on the ice for practice. It was definitely fun keeping it from you [media] guys."
When he was announced as the starter with his mother, father and sister — Jean, Kevin and Patty, respectively — in the stands along with 19,211 non-relatives, it was payment in full for years of practice, patience and perseverance.
"I just said to myself, 'You're in! You're in the net!'" he says. "Everyone sees it and it's just a proud moment. I'm glad my family and my sister got to come out and see it."
The pure delight lasted all of 21 seconds. A horrendous turnover in the Maine zone led to a shot from the slot which Morrison had on his radar until teammate Cliff Loya deflected it past him.
"I saw the turnover and was ready," says Morrison. "The shot was relatively easy. It was coming right at my five-hole. I had my stick ready to get it and I saw Cliffie's stick jump in front of it and tip it right off and I thought, 'Aw, here we go!'
"It was a tough way to start, but maybe it got [UNH] thinking they were going to get the bounces right away."
That, presumably, is finding the silver lining in the cloud. Maine rebounded to kill a penalty called three seconds later and then tie the game at the 3:34 mark.
But the contest was a goaltender's nightmare, one with weird bounces and hops galore at both ends of the ice, leading to some odd-looking goals, including a second UNH one while shorthanded to take a 2-1 lead.
"As a goalie, whenever that puck is around your net and is bouncing around like that, you've got to sit back and be careful and not be too impatient," says Morrison. "Just stay poised and stay on your feet as long as you can."
Not being impatient was something he'd had to refine to an art. Rather than get frustrated, Morrison stayed on his game and shut out the nation's top offense the rest of the way. Meanwhile, his teammates scored two second-period goals to take the lead and four more in the third to break the game open.
With the oh-so satisfying win under his belt, Morrison can look ahead to the title game with a sense of fulfillment whether he plays that one or not.
"I'm glad we got the win and got to say to myself that I'd won a game and my team is going to be in the national championship game," he says. "Whether I play or not, I could care less because I know we're in good hands with either goalie."