At a school where Touchdown Jesus shines His blessings upon the football faithful, it's time Notre Dame hockey fans were rewarded for their loyalty as well.
And after years of saying that the Irish hockey program is on the verge of arriving, the Notre Dame coaching staff may just be telling the truth this season.
Do You Believe In Miracles?
If you are a person of conventional faith, you believe that miracles occur every day. The birth of a child. The gentle rain falling onto drought-stricken lands. The shooting star that blazes a path through the twilight.
The return of the Fighting Irish to Joe Louis Arena at the end of the 2001-02 season, via the Omaha Civic Center.
"I think the key for Notre Dame hockey is starting as we finished," said Dave Poulin. "We had a real strong last six or eight weeks of the [2001-02] season and got back to Joe Louis, and then played very well against Northern in a very good hockey game. We have to take the next step as a program."
The next step for this program would be to consistently return to Joe Louis Arena year in and year out — something that a school with the budget, size, and reputation of Notre Dame shouldn't have to think twice about doing. (Lest Irish fans think I'm picking on their program, the same goes for OSU.)
Poulin believes — and perhaps rightly so — that his team can take the next step only by relying heavily on sophomore goaltender Morgan Cey.
"We're a goaltender-dominated league; I believe we had eight of the 10 national leaders in goalie minutes played last year," said Poulin. "You have to have a good one. I feel that Morgan will be even better his sophomore year, stronger, and he also has the luxury of having his entire defensive corps return in front of him."
The return of a solid defense is something that Notre Dame needs, after losing a tough blueline corps two years ago.
Edicts And Rhetoric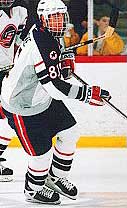 Admit it. If you're not a fan of the Fighting Irish, you don't believe that Notre Dame has what it takes to be competitive. You've heard the rhetoric before. "Breakout season." "This is our year." Blah. Blah. Blah.
Listen here, all you skeptics. This girl reporter — a true skeptic in the past — was made a believer last season when she watched the Irish play with poise, heart, confidence, and ability. This is a disciplined, well-coached squad, one that is capable of scoring goals.
If the Irish can maintain their level of offense this year while improving on an eighth-place defense, Notre Dame will play competitively against every team in this league.
But the question is defense.
"Evan Nielsen may be as good an all-around defenseman as there is in the league," said Poulin truthfully. "He brings us that explosive part of defense; you have to get the defense involved in the offense these days."
Poulin would like to focus most of his talk on his offense, as Connor Dunlop is the top returning scorer in the league and the Irish field several good forwards, including Rob Globke, but it's not offense that troubles the Irish.
Daily Affirmation
This is something I believe in, personally, truly, deeply, passionately.
Notre Dame deserves a better place to play than some crummy, curtained-off half-arena.
Every Notre Dame fan, every Irish player, should repeat this simple mantra, daily:
"New building, please."
The cosmic forces that be appreciate courtesy.