The Black Bears could face a different set of emotional hurdles compared to last year when many of them felt that the spirit of "old SW" gave them a seventh player on the ice. Shawn Walsh's death struck the team down early last year, but provided a unifying theme that it could rally around on the way to the national championship game. One year later, coach Tim Whitehead may need to be just as masterful, but in a different way, in handling his team's psyche.
That said, on paper this is a very talented team. For every question mark, there is at least one exclamation point.
The biggest unknown is in goal, where last year's seniors, Mike Morrison and Matt Yeats, played every second of every game. That leaves Frank Doyle, who practiced with the team, and newcomer Jimmy Howard.
"Goaltending is like pitching in baseball or quarterbacking in football; you've got to have it," says Whitehead. "Our intentions are to give both Jimmy Howard and Frank Doyle the opportunity to help the team and just let things develop from there. It would not surprise me if we're alternating them throughout the season, but at the same time, if one guy elevates above the other as the year goes on, we'll probably go with that guy. But I'm confident that both of them will contribute and help our team quite a bit.
"Frank practiced with us all last year and he's a couple years older so I think his adjustment will be a little quicker. Jimmy is a true freshman, which normally is not a good formula for a goalie, but at the same time I think the experience he's had over the last two years with the U.S. Development program is going to speed up his adjustment.
"We're very excited about both of our guys. They just don't have any game experience in college hockey."
After losing Peter Metcalf to graduation, the blue line took another hit during the offseason when Michael Schutte turned pro, forgoing his final year of eligibility. Schutte had moved up front midway through his sophomore year to add a sniper to Martin Kariya's line, but returned to the blue line for the stretch drive last season. Replacing the two offensively-gifted defensemen will be a challenge.
"That's our other big issue," says Whitehead. "Michael really solidified our defense near the end of last year and was really the heir apparent to Metcalf in that quarterback role. So we don't have the answer to that yet, but we'll find it.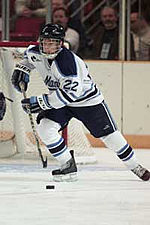 "Francis Nault, Prestin Ryan, Troy Barnes and Cliff Loya will be our most experienced players coming back, [and we're looking to them to] elevate their game and take a leadership role defensively. Peter Metcalf had his best season, elevating his play in his senior year, and we're hoping that some of the juniors and seniors can take on more of a leadership role that way.
"Certainly that's going to be an area where it's going to take some time. It's going to be a process. And if we have to move a forward back again [like last year] then so be it."
Without question, the strength of the team is up front where seniors Martin Kariya, Robert Liscak, Tommy Reimann and Lucas Lawson all return with 30-point seasons under their belts along with super sniper Colin Shields, who buried the puck 29 times last year.
"I really like our forwards," says Whitehead. "Niko Dimitrakos was one of those unique forwards who could break a game open at any moment. He'll be tough to replace, particularly on the power play. But I think we have a real good core of forwards. If we have a couple guys who elevate and continue to improve like they did last year, then I think we're going to be in great shape up front.
"We're definitely going to put the onus on our forwards to help our young goalies and defense. We're going to put a lot of pressure on our forwards to play strong defensively. We're not just looking for offense out of them. We need them to be very defensive-minded to help us develop that way."