A year ago at this time, we were writing articles about how things had changed. Attitudes, fears, perspective, politics, religion … we, as Americans, it seemed, were changed in many ways. College hockey, too, had lost three ex-players in the September 11 terrorist attacks, and coaches were grappling with uncertainty as their players (kids) came back to school. In the aftermath, the NCAA made a change, implementing a policy that forced a reduction in travel for the NCAA tournament.
Unrelated, but equally unsettling in many ways, was the news that Maine coach Shawn Walsh had succombed to cancer, and Merrimack coach Chris Serino was also afflicted with a cancer scare of his own.
In some ways, that all seems like yesterday, and in others, like it happened so long ago.
One year later, while many of the same issues hover like a surreal fog — with still plenty of darkness in the geo-political realm — there is a noticeably more optimistic atmosphere as the 2002-03 college hockey season begins. For one, this summer, coach Serino received a clean bill of health. That was a nice start.
Life always changes, and sports does too.
This year, we again are writing about changes. Thankfully, this year's changes are all about college
hockey, and they're for the better.
Regionalization
Ding, dong, regionalization's dead.
The NCAA's Management Council, thanks to near-universal agreement on the issue, decided to eliminate the controversial one-year practice that came to be known as "Regionalization."
This policy required that any team within 300 miles of a regional site, must be placed there, and could not fly. Especially in a sport like hockey, that had, at the time, just two regionals and 12 teams, it made things very inflexible. And because there was such an imbalance of power between East and West last year, the regional brackets were lopsided.
Thankfully, we weren't the only ones criticizing this policy. When the NCAA asked for opinions from its members, the response was overwhelmingly against the practice.
In fact, only one of the nation's overall top scorers from a year ago returns, New Hampshire senior Colin Hemingway. Scoring could be at more of a premium than ever.
The fear was that a practice begun because of a noble, though misguided, intent to deal with the travel issues in the aftermath of 9/11, would be maintained solely because of the residual monetary benefits.
For college hockey, the move to four regionals only made the elimination of this policy that much more imperative.
The Tournament
From the day the 12-team tournament was approved in the late '80s, college hockey people pined for the day the first-round byes could be eliminated and the tournament expanded to 16 teams.
Over the last few offseasons, the momentum built for this, finally reaching the highest levels of the NCAA. This summer, the expansion of the Division I men's tournament was officially approved.
So here we are. Four regionals, 16 teams.
The positives are obvious. Hopefully we don't have to hear any more whining from a school's fans who don't make the tournament because a MAAC or CHA team did.
The only question was whether there would be four four-team regionals, or two eight-team regionals.
It ultimately came down in favor of the former, because of the beauty of having four distinct regional champions, giving it a March Madness appeal.
But there is a concern that the relatively limited college hockey audience will be spread too thin over four regional locations. Long term, considering the growth of the sport over the years, that will cease to be a concern.
Join the Club

College Hockey America is a full-fledged member of the college hockey family now, thanks to its automatic berth to the NCAA tournament. It's hard to foresee what the long-term makeup of college hockey's "secondary"-level conferences will be, whether there will be more or less, or whatever, but for right now, it's all looking up for the CHA.
In fact, the conference already has an NCAA win, thanks to Niagara's victory over New Hampshire in 2000.
Right now, however, the favorite for the first-ever automatic berth is Wayne State, under the leadership of the only coach in the conference who's been to a Division I tournament, Bill Wilkinson, who last took Western Michigan there in 1996.
Join the Club, Part Deux
The ECAC now allows its teams to play a full complement of 34 regular-season games allowed by the NCAA, which is a big step in the right direction.
Ivy League schools, on the other hand, are still restricted to 29 games. It was a magnanimous move on the Ivies' part to allow the switch for the good of the league, even if their own schools would be at a further disadvantage.
Of course, no one is crying for a pair of Ivies — Cornell and Harvard — who are expected to be the class of the league this season.
The ECAC has also followed in the CCHA's footsteps by allowing all 12 of its teams into the ECAC tournament. But after some hue and cry, the league decided against the Final 6 format, and instead is adding another weekend of best-of-three playoffs that will allow just four teams to make the final weekend.
Meanwhile, that final weekend moves to Albany this year, from Lake Placid — which is like moving the Yankees out of The Bronx (although it's not like that's never been talked about).
Changing the Rules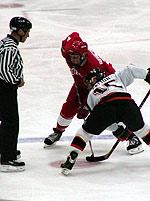 There was a usual assortment of rules changes, the most noticable of which will be the 15-second faceoff rule, adopted throughout hockey after its success in the recent Winter Olympics.
Other rule changes were discussed in a June article. They mostly deal with points of emphasis concerning safety, obstruction and sportsmanship. There's a new penalty called "clipping" which is intended to prevent hits to the knee.
A couple of nice changes concern the awarding of goals. In instances where the net comes off its moorings, but a puck clearly was headed in anyway, a goal may be awarded at the discretion of the referee. Also, video replay now has the ability to disallow goals based on hand passes or high sticks.
And the two-referee system was officially stricken from the record book. It's not allowed. Good riddance.
Another change, that isn't a rule, per se, is the allowance of pre-enrollment players to opt-in to the NHL Draft without jeopardizing collegiate eligibility. This change came as a result of the sweeping NCAA amateurism de-regulation package, finally passed in heavily watered down form last August.
Unfortunately, this does not address the plight of 18-year old true freshmen already in college, who still must decide between making themselves eligible for the draft or staying in school.
Nice to Know You
A tremendous amount of talent left college hockey this offseason, which says something for the tremendous amount of talent that's in college hockey.
The start of this is actually in the coaching ranks, where the NCAA's all-time winningest coach, Ron Mason, and a two-time national champion, Jeff Sauer, both retired.
Mason went on to become Michigan State's athletic director, and his first move was to find his replacement. For that, he tagged long-time friend, and a national champion coach, Rick Comley, who had been the only coach Northern Michigan ever knew.
As the coaching wheels spun, Northern Michigan went into its past and named Walt Kyle its new coach. Kyle had been an assistant with the NHL's New York Rangers, is a NMU alum, and was an assistant for Comley on the Wildcats' 1991 championship team.
Meanwhile, at Wisconsin, Sauer's departure left no lack of big-name candidates. The job ultimately went to Mike Eaves, who had been running the U.S. Junior National Development Program in Ann Arbor, Mich. Unfortunately for Eaves, his two sons are already committed to Boston College.
As for the players, it wasn't so much the quantity, but the quality that departed the CCHA. The NCAA leader in all-time shutouts, and the 2001 Hobey Baker Award winner, Ryan Miller, left Michigan State one year early. The same for Michigan and huge, stud defenseman Mike Komisarek, and potent forward Mike Cammalleri. All of which gave hope to the rest of the conference's schools, none of which have won a league title since Lake Superior in 1995-96. In fact, if you take once-dominant Lake Superior out of the equation, the only school in the last 15 years to win a regular season title other than Michigan and Michigan State was Miami in 1992-93.
On the other hand, the WCHA lost both quantity and quality. In addition to some major seniors that graduated — led by Minnesota Hobey winner Jordan Leopold — underclassmen bolted as well, led by Minnesota's Jeff Taffe, Hobey finalist Mark Hartigan from St. Cloud, and North Dakota's Ryan Bayda and Tim Skarperud. Only two of the league's top 10 scorers are back — Colorado College's Peter Sejna and Denver's Connor James.
In fact, only one of the nation's overall top scorers from a year ago returns, New Hampshire senior Colin Hemingway. Scoring could be at more of a premium than ever.
Change … as in, Chunk of Change
In case you haven't noticed, the days of the free Internet are over. Well, at least for many of the services that used to be free.
Most notably, this means college hockey fans may be without the live Webcasts of games they've been accustomed to listening to over the years.
Some colleges have their own on-campus facilities that enable them to continue to serve live feeds of games. Some teams are on stations that serve a feed 24/7.
But, first of all, the number of those stations are dwindling, thanks to royalty rates controversies and other factors too numerous and annoying to get into at the moment.
Most importantly, however, is the demise of Yahoo! Broadcast. After charging increasingly larger fees, and becoming more and more dependent on corporate clients, Yahoo shut down the live radio programming part of its service. None of which should be a surprise given the fast flameout of BroadcastAmerica.com, a former USCHO sponsor that suddenly disappeared one weekend under an avalanche of debt.
This means that, in order for sports teams to get their games on, they must pay a fee to specifically get their games on. It won't be picked up through the radio stations. Plus, that fee keeps getting higher.
Only New Hampshire is using this now.
It's the end of a wild, yet ultimately fruitless chapter, in the history of the Internet and sports broadcasting.
Let's head into the wayback machine, all the way to that ancient time of 1996 (if anything is longer than a dog year, it's an Internet year).
Mark Cuban — long before he was sentenced to a life of funding NBA commissioner David Stern's Christmas parties — was living in Texas and wanted to hear live broadcasts of his beloved Indiana basketball. Instead of calling "Teamline" he founded AudioNet, a company devoted to the redistrubtion of radio feeds via the Internet. The goal was to become the Internet broadcast network.
The idea took off like wildfire. In the first year, four college hockey teams broadcast regularly through AudioNet. By the next year, it was 10. AudioNet was gobbling up college affiliations, and not worrying about anyone paying for the service. They were building a name, they were building providers, and building a clientele. Then they changed their name to Broadcast.com, went public, and their shares were going for over $200 a pop when they finally sold to Yahoo for $6 billion.
Mark Cuban was rich, and smart. He bought the Dallas Mavericks, and Yahoo hung on by a thread as the market collapsed, and the idea of a ubiquitous Internet radio network fell apart as fast as it rose.
The dynamics of all of this is, again, enough for an entire other article. And it's a shame it had to happen. But the bottom line is, right now, more and more colleges are switching to services that charge a fee to listen.
Hey, at least you've got USCHO.
USCHO
One thing that hasn't changed is USCHO's devotion to providing the best coverage of college hockey possible. But we have changed our look.
Hopefully, you enjoy the aesthetics and some of the other bells and whistles. Behind the scenes, even more is going on, things that allow easy access to USCHO information through devices like PDAs and cell phones. So, now, you can pull up stats, or whip up a roster or preview while at the games.
Maybe with the money you save on game programs, you can buy that Webcast subscription.