Amid the controversy surrounding the University of North Dakota's use of the Fighting Sioux nickname and logo, there's one person whose perspective on the issue is truly unique.
Marc Ranfranz, a junior goalie on UND's roster, is one-eighth Sioux. His father, Tom Ranfranz, is president of the Flandreau-Santee Sioux tribe in South Dakota.
For the past 30 years, some Native American organizations and activist groups have demanded that UND change what they consider a racist nickname that exploits and unfairly stereotypes Native Americans. Noting that he speaks for himself only, Ranfranz says that he doesn't share that point of view.
"I hope, for myself, that they don't change it. I honor it. I enjoy it. I think it's a great nickname and logo. It makes me feel proud when I come into the rink and see the Sioux logo all over."
Ranfranz was born in Rochester, Minn., where he attended Rochester Mayo High School. He played goalie on teams that did well in the state tournament during his sophomore and senior years. After he graduated, his parents moved to Flandreau, S.D., where his father became tribal president.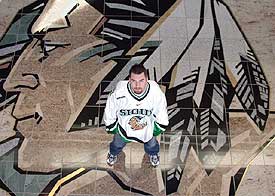 Following high school, Ranfranz played for the Rochester Mustangs of the United States Hockey League and then the Billings Bulls of the American West Hockey League. In the junior leagues, he developed a reputation as a solid goaltender known for good sportsmanship and playing to the crowd.
"I had quite an experience at the national tournament. I got the wave going while I was out on the ice," he says with a smile. "I just like to have fun when I'm out there. It takes some of the pressure off."
Before the start of the 2001-2002 season, UND coach Dean Blais offered Ranfranz the opportunity to try out as a walk-on for the Sioux hockey team. He accepted the offer.
"I knew before I came in here that there was a logo issue that's been going on a long time," he says. "It wasn't a major issue at all. UND was the place that was giving me the opportunity to get my education and to play hockey, and that was the only reason that I came here."
Ranfranz was cut just prior to the start of last season, but it only made him more determined to make the team this season.
"I knew right then that I'd be back here again next year. I had no doubt in my mind," he says. "I spent the whole summer here. I worked out in front of the coach. I was working with the kids at the UND camp. I was on time for everything and putting my time in. If he [Blais] gives me an opportunity, I'm going to get in there, I'm going to perform and I'm going to play well."
Assistant coach Dave Hakstol says Ranfranz's work ethic and attitude are the primary reasons he's the only walk-on to make the team this season.
"He works hard every day. He's one of the players who's out there early, stays out and takes extra shots after practice. His hard work makes the team better," Hakstol says.
While Ranfranz patiently waits for a chance to prove himself, the Sioux name issue continues to be in the news. He follows the issue, listens to the arguments — both pro and con — and forms his own opinions.
Of Ralph Engelstad, the former Sioux goalie and UND alumnus who donated $100 million to build the new Engelstad Arena, he says, "Ralph Engelstad has done nothing but promote hockey and sports at the University of North Dakota. I think it's a great treat for our hockey team to be able to play in an arena like this. I enjoy every aspect of it.
"The stuff said about him being a Nazi was all blown out of proportion," Ranfranz says. "For as long as I've known him, I have nothing but respect for him. He's donated so much of his time and money that I think he's a man who should be respected."
He doesn't accept the idea that when fans of opposing teams abuse the Sioux name, it's intended as an offense to Native Americans.
"I take it as an offense toward our team," he says. "Some people just read too much into it. They're saying it at a game. They're saying it about the team, not about the Sioux people. It goes along with the rivalries of each school."
Ranfranz also doesn't believe the logo creates a negative image or outdated stereotype of Native Americans.
"There are stereotypes of just about anything," he says. "If you're going to stress out about stereotypes of your background, it's a lot of wasted time. You can't control what other people are going to say."
Being a member of the Sioux hockey team hasn't caused any problems with his friends or relatives.
"My family and friends are the ones who support me the most," he says. "My dad's been to games up here. My aunts and uncles call me constantly, e-mail me and ask me how things are going. They want to see me play. They want to come up and see the arena."
Ranfranz continues to show up for practice every day, working hard and hoping the time comes when he can play in a game while wearing a Sioux jersey.
"I see a little of myself in the logo, I guess," he explains. "When you get a chance to put on a jersey with the Sioux logo on front and your name on back, it's an honor."