It would be an exaggeration to say that Boston University winger Matt Radoslovich is the kind of a player that comes along once in a lifetime. However, it would be accurate to describe him as a phenomenon that has occurred exactly twice in the 30-year coaching reign of the Terriers' Jack Parker.
Radoslovich is what you could call the ultimate walk-on. Most D-I programs are allowed to have only 18 scholarships, so invariably every team has players who are referred to as walk-ons. However, the majority of these players are individuals who have been scouted by the team and encouraged to come play at the school.

It's extremely rare for a player to show up as a complete mystery man and end up making the team. Becoming a regular player on a team that consistently flirts with Top 10 status is almost unprecedented. The only one that comes to mind is Kenny Rausch — who came out of nowhere for the Terriers as a freshman walk-on and worked his way up as a valuable swingman, culminating in a Beanpot MVP award and a NCAA Championship as senior. The question is, how many true walk-ons have played significant roles on Parker's teams over the years?
"I was just going to say two: [Radoslovich] and Kenny," confirmed Parker. "Pure walk-on, we didn't hear anything about, never heard of, never saw play. Kenny came in to see us in the summertime because he wanted to play. We kept him on the team just because of his roommate [All-American defenseman Kaj Linna], and I don't think he played a game his freshman year.
"Mike Boyle made him stronger — he was a little wisp of a thing when he first came in here, but he was always a smart player. A lot like Rado — very similar in their style — but he's the only guy I can remember who was absolutely a pure walk-on before."
Radoslovich's improbable story started with a terrific senior year in high school, playing for Bergen Catholic in New Jersey. The Wanaque, N.J., native scored 31 goals (including nine game winners), split time between forward and defense, led his team to the overall New Jersey state title, and was named Player of the Year by the Newark Star Ledger and the Bergen Record.
He clearly had some skill and a passion for the game. So why would he take a chance by trying to walk on at one of the top hockey schools at the nation instead of setting his sights a little lower — maybe starring for a D-III school or playing in the MAAC? Amazingly enough, no one else wanted him.
"I applied to four schools: two of them were Division III, the other one was Division I MAAC," Radoslovich said. "I sent them all a letter and made a phone call to all the coaches — just like I did to BU — but none of them really showed any interest or anything; the only one was Coach Parker. He called me back at home, and he showed some interest, so I gave it a shot."
A mystery man played a starring role in getting the Terriers to take Radoslovich seriously as an invitee.
"I'm ashamed to say I don't know who it was," Parker said. "Honest, it just bugs me. It was a former BU football player who was a high school football coach down in that area and knew the family and knew Rado but didn't coach him or anything.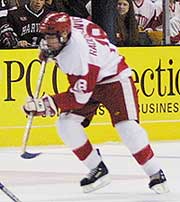 "He said, 'I know this kid, and he's a hell of a kid. He's got a good reputation as a hockey player here — I don't know how good because I don't know anything about hockey. But I can guarantee you one thing — he's a hell of a kid character-wise, and you won't have a guy who will work harder than him.'"
"Nobody can remember his name," Radoslovich said. "I owe a lot to that guy, though — got my foot in the door."
Just playing shinny in the early going, the coaches could tell that Rado had good hockey sense. The next challenge was to crack the lineup. That didn't happen until a pair of games at Nebraska-Omaha after Christmas, when a few lineup slots were vacated due to the World Junior Championships.
"I thought he'd be a nervous wreck," Parker recalled. "I thought he'd maybe play two shifts as a fourth-line center, but he played fairly regular that game. … Then he got in four or five more games. At no time did we say, 'We're going to build our team around this guy.' But at the same time it was obvious that this kid could play."
He played well enough to win the Terriers' Most Improved Player Award at the end of last season. To garner more time in this year's lineup, though, he had to make serious strides in conditioning.
"He was weak as a kitten, and Mike Boyle's made him so much stronger now," Parker said.
"There's no ego involved here," Parker said, chuckling as he recalled hearing Radoslovich's humble preseason goals, which included "to play more games than I played last year (11)" and "to get at least five points."
Despite his progress, he still sat out the first four games this season before, once again, facing Nebraska-Omaha in his first game of the year. He promptly picked up his first collegiate goal.
"It was in the neutral zone, and I picked up the puck and I dumped it deep toward the goal line," Radoslovich said. "I had my head down, and I was pulling it from my backhand to my forehand. As I released the puck, some guy from the other team came and just absolutely drilled me and knocked me down. I got up after that as quick as I could and skated down, and the puck just squirted out in between the hash mark and the faceoff dot. I saw the open net and just fired it, and I was lucky enough to put it in.
"As we were going to the faceoff dot afterwards, I was just laughing because I just scored my first goal and I'm looking at my cage and something's wrong. I get to the bench and take off my cage and look at it and there's a big dent in my cage where the guy's shoulder went. It was a good first goal."
With two goals and six assists in 22 games thus far, Radoslovich has had to revise his modest goals for his sophomore season. However, it's not so much his scoring that has kept him in the lineup.
"He doesn't get rattled; he's got a lot of poise," Parker said. "The thing that makes him such a valuable commodity is that he's so smart — he really knows what's going on out there.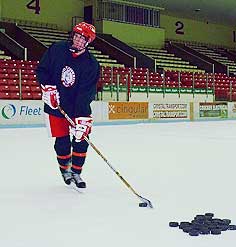 "He's as smart a player as I've ever coached in terms of having what I call 'Larry Bird court-sense.' He knows where the next pass is going; he knows how to chip the puck out of the zone when there's a little pressure; he knows how to cover a guy on the backcheck. That was the thing that jumped out at me all the time from the very first time I saw him play was the fact that the kid knows how to play ice hockey. And there's not a lot of kids who know how to play ice hockey — there's not a lot of scholarship players who know how to play ice hockey."
Radoslovich isn't sure exactly what gives him such great hockey sense but figures some of it transfers over from his days of playing competitive soccer and lacrosse.
"I love to play; I love to watch the game any chance I can," he said. "I've played a lot of sports in my life so far — everything from Little League to soccer — so I can relate some things I saw in soccer to hockey. I played as a goalkeeper in soccer, and you see the whole field — you see plays develop — you get some anticipating and learning from it."
His coaches and teammates also rave about his work ethic. At Thursday's practice, Radoslovich and backup netminder Stephan Siwiec predictably were the last two on the ice.
"He works so hard!" exclaimed Siwiec as he skated over to the bench for a water bottle, steam rising from his head when he lifted off his helmet.
"Everybody raves about that," Parker said of Radoslovich's work ethic. "You want to be the last guy out on the ice? Expect to miss supper. If we had the ice till 7:30 last year Rado would be here working on something, trying to get better. Now that he's in the lineup, he's still out there all the time — the first guy on the ice; the last guy off the ice. And he wasn't doing that to impress the coaches — the coaches were already gone. … So it wasn't like 'If I stay out here long enough, maybe they'll notice.' He was doing that for one reason — he wants to get better."
Watching him practice, though, it looks as if it's also for the sheer fun of it. After most of the players had walked off to showers, Rado lingered on the ice with Mark Mullen, Dan Spang, and Siwiec. At one point, Mullen picked up a puck in one end of the ice, flipping the puck high in the air to Radoslovich at the red line. Much to Mullen's amusement, he caught the puck behind his back and then laid it down to skate in for a shot.
Until the Zamboni came out shortly before six to ready the ice surface for the BU women's hockey practice, Radoslovich alternated between trying various stickhandling moves, shot attempts, and the odd whimsical moment — trying to score on a breakaway by lifting the puck off the ice with his stick before attempting to beat the goalie high with it.
"I just like to stay active," Radoslovich said. "I've always tried to get guys together to play soccer or shinny, whether it's basketball or shinny or wall ball. When I'm on the ice, I like to shoot pucks and fool around. It's like pond hockey — I just enjoy myself out there, so I stay out there a long time. I try and work on my shot, work on my stickhandling, making moves on the goalie. It's not as if I'm out there doing sprints — they've got us well-conditioned."
Between his work ethic and love of the game, it's not hard to imagine him behind a college bench some day — just like kindred spirit Kenny Rausch, who is now an assistant coach under Blaise MacDonald at Massachusetts-Lowell.
Radoslovich admitted that he has given the notion some thought.
"Yeah, I have," he said. "I just want to further my hockey career any way I can and then I'll think about coaching. Hopefully that'll be something in my future, but I don't know right now."
"Tough way to make a living," Parker said about that. "He's a great guy — he doesn't need this job! He hasn't expressed that to me. He knows hockey; that's for sure."
No one needs to worry about the sophomore getting a big head.
"I guess I found a little niche here on the fourth line, and I'm happy with that, totally," said Radoslovich. "I'm just going to keep working hard and hope that I keep my spot, 'cause I've got some great teammates competing for spots — any time I don't do so well there'll be somebody waiting to take my spot."
The day after I spoke to him, he suffered a concussion against the Minutemen on Friday, knocking him out of the lineup for the Beanpot Championship. After the historic win, Parker noted that he played the fourth line less–partly because they were missing their defensive specialist. Don't expect that he'll find too hard to reclaim a spot in the lineup when healthy again.
Not bad for a guy who couldn't even get a call returned from a MAAC school and a couple of D-III programs.