At one point in midseason, the Minnesota coaching staff took a long look at the 2002-03 Gophers. Maybe it wasn't cringing they were doing, but it wasn't smiling.
The thoughts that crept into some minds: This wasn't a national championship team. This certainly wasn't the same team that, in retrospect, looked perfectly suited for those 2002 championship rings.
Back-to-back titles? They were happy to have claimed the first end.
The players, meanwhile, didn't exactly have the same view. They had a fairly high opinion of themselves — so high that the coaches even had to put them in check every once in a while.
Then they got to Colorado College in February. The afternoon after being humbled in a 6-2 loss, the Gophers got some choice words from their coaches.
Ring, ring. Wake-up call. That night, they claimed a critical 3-2 victory by battling back from a 2-1 deficit after two periods.
And it's that team meeting that symbolizes what Don Lucia and assistants Mike Guentzel and Bob Motzko have accomplished this season. With superstars last season, they had to make them believe it was their time to win the national championship. This season, they had to build.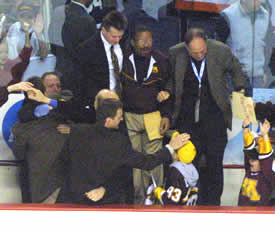 Motzko worked with the forwards. Guentzel had the defensemen. Volunteer Robb Stauber, a Hobey Baker Award winner when he was with the Gophers, worked with the goaltenders.
"I think head coaches in some ways are overrated," Lucia said after his team's 5-1 championship victory over New Hampshire on Saturday. "I think it's a real staff. Bob and Mike, they probably work harder at it than I do.
"When you're successful is when you have a great staff. And I'm fortunate to have three outstanding coaches."
Lucia typically deflects the attention away from himself, but he seems sincere in this. And with good reason. This Gophers team had to do more growing than any other Lucia has coached, he said.
They lost stars Jordan Leopold, Johnny Pohl and Jeff Taffe from last year's championship team. The players heard some comments that they couldn't win another championship without those players and took offense to it.
"It's different this year because we relied on basically three guys last year," Gophers forward Barry Tallackson said. "They helped us all the way through and every time our team was down, they would get us out of it. This year, our coaches did a great job. They kept pushing us and telling us we're not as good as we think we are, telling us we've got a lot of work to do in practice and everything."
It was that reality check that kept the Gophers on the road to a championship. The players had to get the coaches to believe they were able to go all the way. Lucia said for a long time that he didn't consider his team to be a great one. He didn't even go so far as to say that after Saturday's game.
But their effort Saturday made them stand alongside their counterpart last season. Lucia will get much of the credit, which he in turn will filter down to his assistants. That's just the way it is.
"I've seen this orchestrated from the beginning," Minnesota athletics director Joel Maturi said. "From October, the first time I was in the locker room, Don never talked about the national championship. But he talked about this team reaching its potential, this team getting better.
"Then, as the season went along, this team getting home ice, then this team winning the tournament, then his team winning the Regional. He's kind of orchestrated it, and the kids followed the plan exceptionally well, responded to him, responded to each other. And this didn't happen by accident. It's not easy — as Don has said so often, it hasn't happened in 31 years for a reason. But he orchestrated it extremely well. The staff had these kids prepared and they followed it. A little luck here and there and here we are, we're national champs."